Top 10 Social Media Tools & Their Use You Need to Know in 2021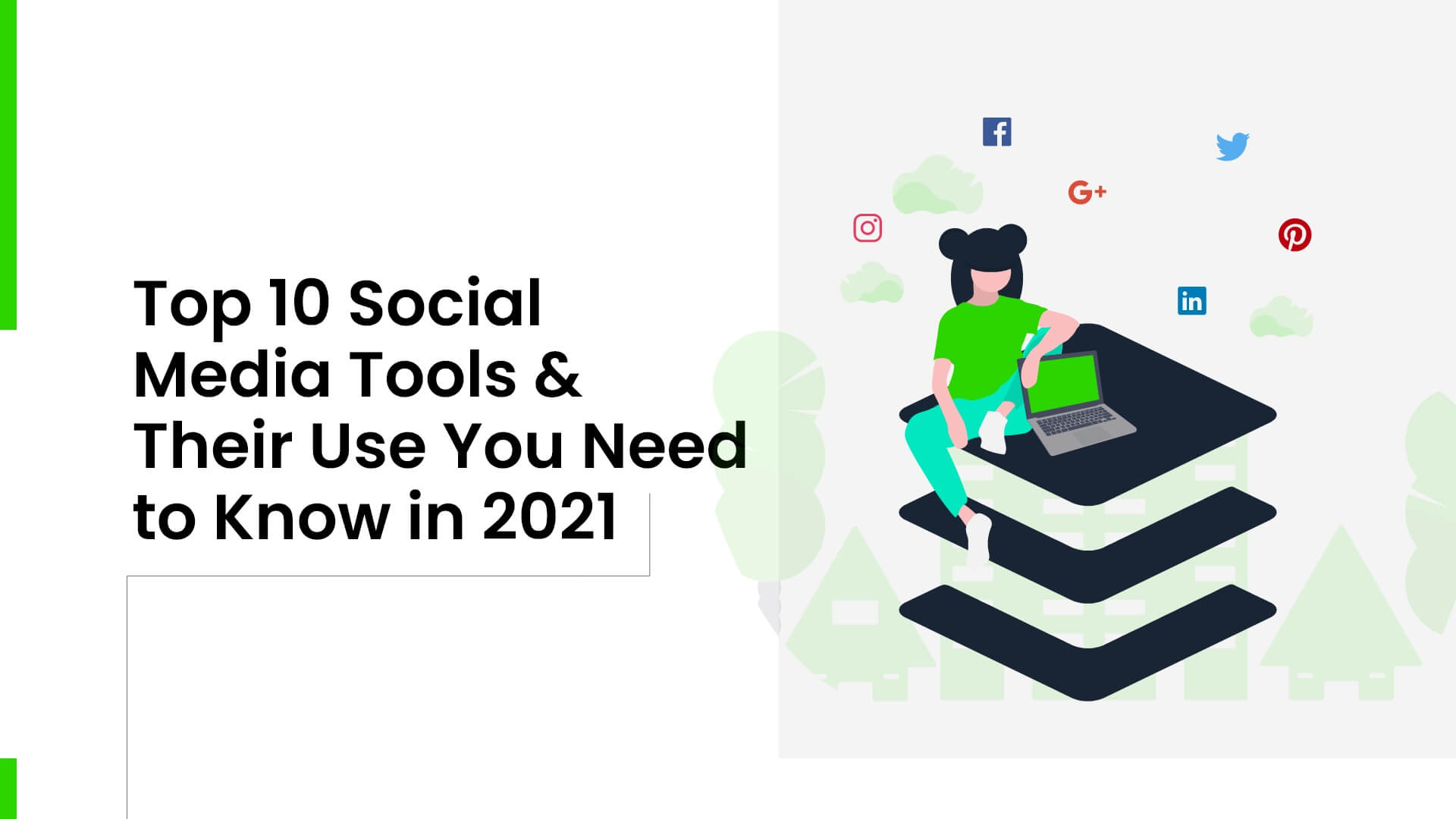 In the 21st century, It is hard for a business to survive if they are social media deficient. Therefore, Businesses use social media tools to attract:
Engagement
Increase social accountability
Build social calendar
Monitor growth and receive insights   
Map relevant keywords
Social Media & Inception
The Internet came into being in the 1960s; since then, businesses have hunted down ways to communicate with each other and listed down ways to use the future-ready mechanism. 
As years went by, Friendster and Six Degrees came into being, which led people to share about their daily chores and feelings via blogging that could be read by anyone. 
By the time social media reached the late 90s the essence of social media shifted from a mere online communication platform to an integral mandate for businesses and professionals. Social media has evolved into a 24*7 digital CV for professionals and businesses.
Even before humans were exposed to mobiles, Marshall McLuhan a media and communication theorist coined the term global village.
He predicted that in the years to follow, the world would be intertwined like an electronic nervous system, where people could communicate and share irrespective of the international border.
All these leisures would result in the production of a movable product that could fit our pockets. Social media has evolved and expanded multifold in many perspectives. Let's have a look and take an in-depth report about the stages of evolution and use of social media.
Social Media & Resume – A Mingled Tale
For instance, I am a human interest journalist aspiring to work with She The People TV. Ever wondered about the reason for that particular aspiration? It's because of She The People TV brand-building and the influence they carry. 
Earlier, MBA and technical aspirants desired to work with renowned companies like TCS, Google, Microsoft, etc, due to a whopping salary.
But, with changing time and blooming internet reach, an added reason for aspiration is the impactful content marketed by the corporates on social media. Social media has become a lucrative medium that is to lure the audience with creative/controversial content.
 For instance, I aspire to be a part of SheThePeople TV, the reason being – the impactful and continuous content posting on their website and social media. These social-media handles act as their detailed CV.
To work as a human interest journalist for SheThePeople TV, I should possess good writing skills, own a blog site, and have peripheral qualities (if required). But, that isn't enough, I should also doll up LinkedIn, Facebook, Twitter, and Instagram as it speaks more about me and gives an unfiltered image to the recruiters. 
Unlike a straight resume, social media and blogs paint your offbeat, analytical, skillful, and social side.
Social Media Moguls: Beginnings of The Renowned
LinkedIn – Professional Social Networking Haven 
A bunch of think tanks found LinkedIn in 2002. This platform was designed to provide a beneficial and creative communication haven for freshers and experienced professionals to connect, share, and seek employment. 
Fact Junction
The search interest for the term 'LinkedIn' has increased more than 60 percent in the past ten years.
LinkedIn is a booming hub for more than 740 million people with over 55 million registered organizations.
Not the highest of all in social media, but LinkedIn gains over 1 billion interactions every month.
44% of LinkedIn users take home more than $75,000 per year, striking right?
Hubspot found that LinkedIn is 277% more effective at generating leads than Facebook and Twitter.
A study found that over 122 million people got an interview call via LinkedIn lead. Furthermore, 35.5 million are hired by the recruiter they connected via LinkedIn. It implies that every minute at least three people are hired via LinkedIn. Mind-boggling, right?
According to the research, LinkedIn helps B2B websites drive over 46% of social traffic. LinkedIn is a reliable hub for credible information. Therefore, over 98% of content marketers use LinkedIn as the creative tool for content marketing.
MySpace – The Rise & Dip
MySpace, a mere tool that started as a file storage platform, later turned out to be a successful and influencing social media site connecting millions across the globe. In 2005 Rupert Murdoch took over MySpace for $580 million.
MySpace reigned through the social world from 2005 – 2009 and surpassed Google as the most visited website tag, reaped over $800 million. 
However, the success of MySpace was short-lived. In a few years, Facebook came by and replaced MySpace as the most visited site in 2008. 
One of the reasons for the dip was the overload of advertisements. By signing a deal with Google to generate more revenue, little did they pay heed to the audience crisis. With growing ad hindrance, the public turned their backs on MySpace.
Facebook – From Elite to All
I believe it's hard to find a soul who doesn't have an account on Facebook. Earlier, Facebook was restricted to Harvard intellects, but in no time, it was used by other renowned universities. And by 2006 Facebook was used by every 13+ souls.
In 2012 Facebook went public and earned a valuation of $104 billion. Even today Facebook is the most used social media network.
Furthermore, Facebook has acquired other meaningful social sites such as Giphy, Instagram, and Whatsapp to widen their reach and reap fruitful revenue.
Twitter – State Your Views Within Their Character Limit
Twitter is a microblogging site that helps you to communicate in limited characters. Some feel Twitter doesn't unleash the liberty to openly express themselves, whereas a few know how to wisely voice their opinion.
Currently, Twitter has more than 353 million active monthly users. Many people follow their preferred brands and influencers, connect, comment, share, and post content (audio, video, graphic, and written). 
Twitter might not seem exciting for many, but it is a potential hotspot for credible news, where hashtags change every minute based on the demographic trend.
Instagram – Highly Expressive 
Got something to share? Instagram is the new highway for instant expression. 
Instagram is all about posting stories, tagging friends, and expressing ourselves freely with relevant hashtags.
Immediately after the launch, Instagram grew aggressively and registered over one million users within two months. 
Furthermore, Instagram is also used as an effective medium for influencer marketing, as it is claimed to be more personal and active than Facebook.
Social Media & Impact
Social media is the synonym for – connectivity, responsiveness, impact, instantness, and that is why most businesses are having an online presence. The agenda is to propagate about their brand and engage with the audience.
Zomato – Hitesha Chandranee & Kamaraj Controversy 
You all must be remembering Zomato's recent 'Hitesha Chandranee and Kamaraj (delivery boy) case'.
A few months ago Hitesha released a video on social media, where she was seen vulnerable with a broken bleeding nose, accusing Kamaraj of hitting her when she inquired about the delay in delivery. 
People shared, reposted, and commented making the video viral. 
While people were constantly accusing and abusing Kamaraj and Zomato, the brand's CEO, Deepinder Goyal, came into the scene, took it to Twitter, and gave a diplomatic reply. 
Deepinder didn't add fuel to fire, instead, he played diplomatically.
He  did not accuse either of the parties
Mentioned how Zomato is helping both Hitesha and Kamaraj
Stuck to the word truth and support
At last, dumped a fact about Kamraj's unblemished delivery records. 
After this, the audience got divided, and Zomato was back on track with support.
Booking.com – #FutureOfTravel (2020)
In this digital campaign, Booking.com used influencer marketing on Instagram, where they picked five influencers to define the impact of COVID19 on the future of travel. 
In this, the influencer was required to post their favorite pic from their travels, and share their experience, and also share which place they love to visit in 2021. 
The motto of the campaign was to stir conversation, be optimistic about 2021 and emphasize the value of travel in people's lives. 
To encourage conversation the followers had to share their travel goals for 2021, and tag both booking.com and influencer's social media handles to spread the word. 
As a relief and persuasive tactic, booking.com gratified some followers by giving them gift cards for their 2021 travel goals. 
The campaign turned out to be a success, over 60 million people engaged and reacted to the campaign, and over 5 million reached via social media, resulting in 462K engagement.
Such success stories explain why social media is important, and if used rightly amalgamated with the right mechanism, it could generate fame and wealth for the business. Mass communication mediums like TV, newspapers would cost you lakhs to get the sales up. However, social media is a convenient, cheap, and lucrative tool that can be utilized to push sales and the brand.
According to Smart Insights, there is a 43% increase in someone spending their time on social media. Therefore, let's list down the top 10 social media tools that brands are using to succeed in 2021:
Buffer
This genie in the bottle helps you to streamline your work as per the requirement and adds value to your work.
Buffer analyzes your post and gives an overview of when to post, how often to post, and what type of post should be done. 
After getting the overview, you prepare the post to increase reach, traffic, and engagement (you build a timeline about when and what to post).
Then hog onto the posts that need your attention, and never forget to comment at the needed and important post (it helps in inducing the engagement).
At last, repeat the cycle, analyze the numbers and monitor the growth.
Sprout Social
Sprout Social and Hootsuite work on similar lines. It is one of the few social media tools that provides customer relationship management (CRM) features other than the regular provisions laid by social media tools.
They extend their services to platforms like Twitter, Facebook, LinkedIn, Youtube, and Instagram. They offer:
Listening feature: Under this feature, you will be exposed to valuable global actionable insights that would help your brand to grow positively, help identify the lapses, and curate ideas to build the brand. 
Publishing feature: This provision helps in building a blueprint of the post calendar and would also help you in multiple ways in how to efficiently and effectively post on social media channels. 
Engagement feature: Under this umbrella, you get to know the target audience and build a loyal community for the brand.
It saves time by offering automation features and customizable workflows that will help in monitoring social growth and organizing incoming messages from a single location.
Analytics feature: Apart from intangible factors, numbers are something that proves ROI. This feature helps you in understanding the metrics, note actionable insights, and compare the report.
eClincher
eClincher is a messiah in disguise that has integrated multiple networking sites and guarantees better business, effective ROI, and impact. Be it scheduling, publishing, driving engagement, assisting content creation, social listening, and actionable insights.
Furthermore, they also help you with reputation management and brand monitoring. It is a necessary feature that would help in understanding the audience, their feeling, and behavior with the brand.
It would help in uncovering better insights and in changing the dynamics as per the audience's need.
Sendible
If you are a marketing agency and work for multiple clients, this could be an ideal option for you. If you need:
Best image quality
Better content strategy
Scheduling
Mapping
Automated publishing with RSS feed
Analyze with one click instant reports
Sendible could be the pal for your agency.
HubSpot
If this all-rounder costs $1,120 per month, then it would be offering something more additionally inclusive and guarantees an exclusive ROI. HubSpot integrates social media, email, SEO, and CRM into a single platform. 
Offerings:
Map every engagement with your message/comment 
Create custom keyword monitoring streams for your team to analyze and streamline the interactions.
Neat work for blogging, SEO, ads, analytics, social media, lead management, etc, 
HubSpot has your back.
Agorapulse
Agorapulse media owns a built-in CRM functionality to add in-depth quality to your work. Apart from offering the traditional mandates, it also offers additional perks such as competitor analysis and Facebook contest apps.
On average, Agropulse is used by over 31,000 social media managers on a daily basis. Moreover, this social media tool scores 93% on GRCrowd, the largest review site in the world.
SocialBee
As the name suggests, this tool does wonders for your business via social media. It helps you to schedule, organize, publish, and share content across several social channels from one place.
It caters to Facebook, Twitter, LinkedIn, Pinterest, Instagram, and Google My Business. Furthermore, it even integrates with Buffer.
Entrepreneurs, Freelancers, Solopreneurs, SMEs, and Startups can use it.
Tailwind
Unlike other social media tools, Tailwind offers its niche work only for  Pinterest and Instagram. Therefore, apart from offering traditional digital services, it also provides recommendations for improving your Pinterest and Instagram performance.
Offerings:
Create automated optimized designs for social media channels
Pitch personalized SmartSchedule (picks the time when the audience is ready to take the brand)
automated publishing.  
It is the best to match for eCommerce, Startups, SMEs, & freelancers.
Spredfast
Spredfast might be known to many, as it's used by huge corporations such as LinkedIn, J&J, Microsoft, HP, etc. 
Offerings:
Strategic services
Professional services
Product coaching 
CX software to organize customer interaction data to analyze user interaction with the brand 
Social media insights
Measures through actionable insights 
Customer is the king and Spredfast caters to them rightly.
NUVI
Just like Spredfast, NUVI is also trusted by many renowned brands. 
Offerings:
They offer CX problem solutions and implement CX strategies
Social listening
Scheduling, tracking, and managing the workflow
Automatic publishing on social media
Monitors the engagement cycle with the brand on social media handles
Conduct an in-depth analysis of the metrics, supports A/B testing, and also analyze competitors' campaigns and their performance. 
Performs reputation management and business listing management
These are the top 10 social media tools that you could use to succeed in 2021. 
The moment you start using social media as a wise weapon, you could create a likable impact. Digital is the future, and so is social media, add wings to your brand by using social communication.
"Don't use social media to impress people; use it to impact people." ~ Internet