Organic Growth Marketing: Meaning, Importance, Strategies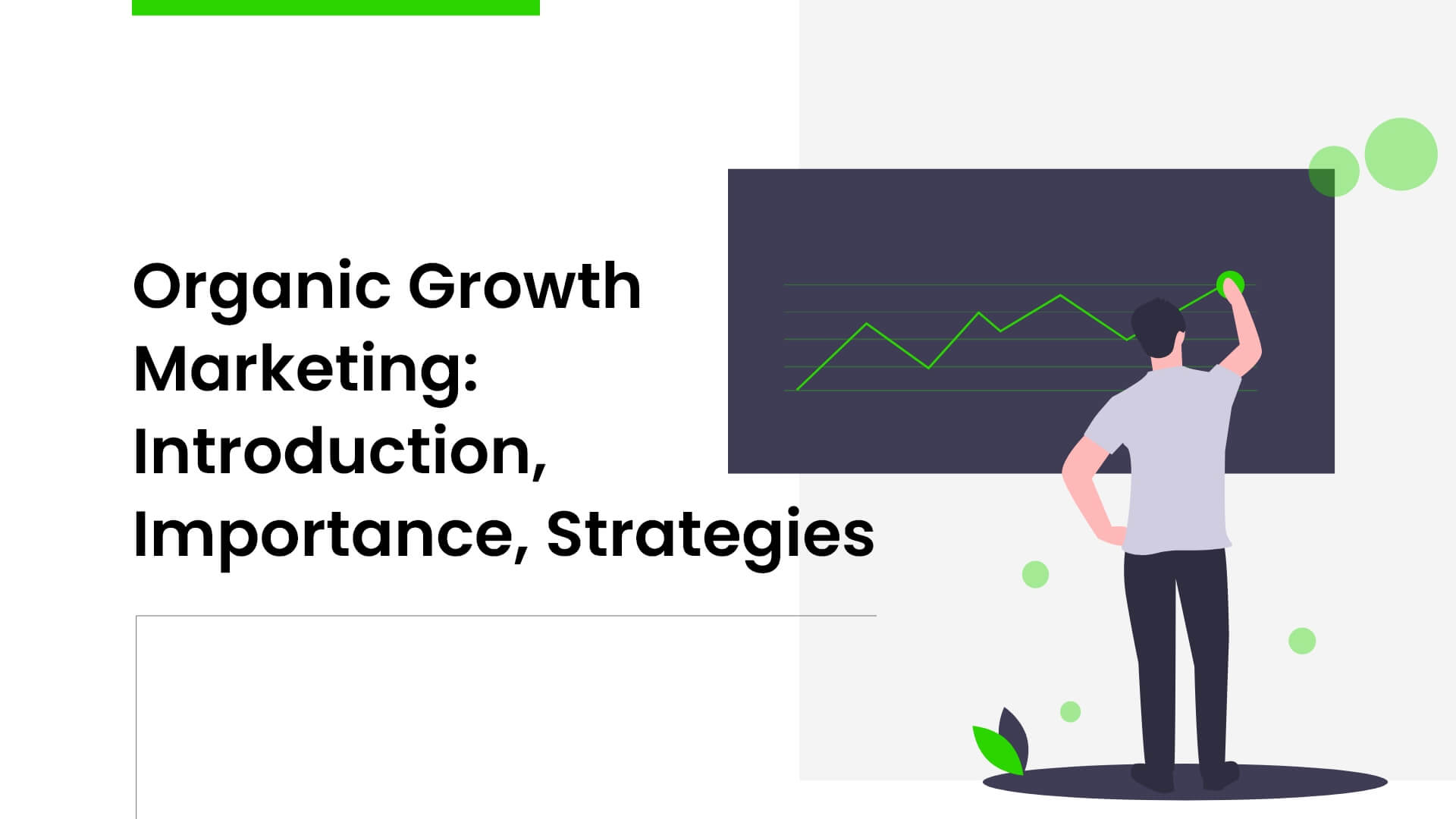 Why do we run for organic? Because it's an unfiltered, pure, and lasting solution. Similarly, organic growth marketing is a gradual yet effective process a brand can use.
" There is a difference between content marketing and marketing content " ~ Adelyn Zhou.
Therefore, it is important to understand the difference because it unfolds how organic growth marketing is the next big thing. Let's have a walk through the intricacies of organic marketing.
Introduction
As the term suggests, organic is natural. Therefore, organic marketing is where you do the marketing to build a way to grow in an unpaid manner.
But, organic growth comes with patience, determination, and opting for the untrodden paths.
For instance, Alex runs a lifestyle brand and does pricey paid promotions on social media and mass media to attract a wider audience because his brand is inclusive of all ages, gender, and occasion.
His brand becomes a blockbuster on-screen, and sales witness spike, but this joy is short-lived because he merely invested in imposing the brand into the audiences rather than engraving it to their minds.
To understand this better let's take an example of two renowned butter brands in the Indian market – Amul and Nutralite. Though there are two contenders, Amul has an imprint in the minds of the Indian audience because Amul has been there in Indian households for decades.
Apart from Amul's longevity in the market, it is also known for its quirky, creative, relatable, and timely content that pleases millions of Indians on various platforms.
They did use multiple paid mediums but didn't forcefully impose. It was subtle and straight. Moreover, the creative tanks of Amul used various social media platforms and their website that gives updates, recipes, contests, etc.
Moreover, they also have an audience that tags them on their social media platforms (purely unpaid). This organic deed paves the path for the brand to grow in the minds of the audience unconsciously.
Even though Nutralite is a competition, they couldn't beat Amul's out-of-the-box strategies.
What is Organic Growth Marketing?
Are advertising and marketing the same? No, right!
Similarly, the organic mode of marketing is where funding for paid ads isn't involved. Various ways of organic marketing are:
Guest blogs.
Audio, video, and written content on the website.
Content on multiple social media platforms.
Word of mouth (possible chance).
Traction via tags and mentions on social media (depends on the audience).
These are the few organic marketing measures where you give things for free, but growth happens gradually. As it is a series of sustained marketing efforts, engagement and mental imprint will take some time.
Chunks of Successful Content Marketing
Witty Zomato & Personalized Swiggy
These online eatery brands create a different momentum of content marketing on various social media platforms and websites.
If you have used Swiggy once in your lifetime, they will never let you forget their brand and fun food offers via e-mails and customized messages with your name.
Zomato is known for its wittiness on Twitter. For example, on Ganesh Chaturthi, they posted
Two very important things to remember:
*Modak
*Mooh Dhak
They offer creative content that makes people giggle and becomes shareable content.
Durex
This brand is more than 9 decades old and apart from its fruitful functionality, they are known for its witty content on social media. They know how to play with content, illustration, and human emotions.
Just Saying!
Corporate Social Responsibility (CSR) also can be considered as a type of organic marketing because you aren't endorsing your deeds on paid ads. Organizations performing CSR provide aid, assistance, or employment to the underprivileged and vulnerable sections of society.
Dabur is a known brand, and we know them as an old ayurvedic wellness brand. But, people at a lower level (rural areas) recognize Dabur as a brand that's mending their dilapidated lives.
Dabur runs a CSR project named SUNDESH, where they offer the underprivileged with:
Education (non-formal, working children, remedial education, and education for the women).
Health.
Employment.
Dabur has been serving them for decades, and it is a brand that has a direct imprint on their minds as it is the only messiah in a brand that has been assisting them for years through important tangents of life.
Organic Vs Inorganic Growth
A business witnesses two types of growth, and both have their charm. The two types of company's growth are organic and inorganic growth:
Inorganic: This is where mergers and acquisitions happen. Here, the company wishes to grow faster by buying other companies or leaving its footprints in various nations/states to boost its growth in the market. It is one such easy manner to skyrocket the earnings.
But,
Organic: In this growth strategy, the company grows internally with a dream to become a brand that beams the potential to sail through the competitors. They travel on the deck of sustainable growth.
Earlier, Maggi was limited to the magic masala flavor, but the need for change and growth made them introduce various flavors catering to a specific set of audiences – Maggi brought in Chicken (non-veg lovers), Atta and Oats noodles (health-conscious souls), No Onion No Garlic noodles (for Jains), etc.
Inorganic growth, the company plans to grow organically via – launching additions to their brand, customer service, and brand value becomes the priority, and fundings happen via internal/profit fundings.
Just like humans, organic and inorganic marketing is also multi-faceted that has its positives and negatives.
Why is Organic Growth Necessary for Business?
Inorganic growth is necessary, but organic also holds a value that is beyond the monetary value. It has the power to be a livewire, challenging, and creative muse of the brand.
Organic growth marketing is necessary because:
It helps in increasing sales.
Adds creative wings to the brand.
Helps in making the brand more associating with the target audience (at times emotional appeal).
Helps in expanding product/service range in new markets and gaining a new set of target audiences (national or international level).
Lasting in the audience's minds (lucrative measures).
It's a slow-paced process, but the results are impactful. The audience won't remember you for your mergers and acquisitions with or over other corporations. But, the quality your brand provides to the customers will always be cherished and remembered (if another brand doesn't surpass you).
Organic growth isn't an overnight or weekly magic. Therefore, if you have the patience, determination, and creative think tanks, then hold on to the long drive of impactful growth of your brand.
How to Drive Organic Growth: 4 Best Strategies in 2021
Audience & Their Need is The Key!
If I am running a lifestyle business, there is no point in acquiring two clothing brands in a year. It would increase my stake and earnings in the market, but what is the point if my brand fails to influence the audience?
Cadbury might have reaped millions of sales, but as a customer, Cadbury is a chocolate brand that has an offering for every occasion. Therefore, your brand should define that your customers could engage and relate.
Curate. Rollout & Wait
You create the idea, product, or service, curate it accordingly, then launch in the market, and wait.
In this fast-paced world, patience is something hard to attain.
If you want to walk with them and be a part of them then, patience is the key because it takes time for a product or service to be adapted in one's pocket.
Launch Campaigns That Have An Emotional Approach
With the world becoming busier and humans facing an emotional deficit, emotional appeal in your organic marketing channels can have a positive impact.
For instance, you own a brand that sells essential oils for hair and body and use social media for marketing. If you are using influencer marketing, it will create an impact amongst the youths.
An influencer telling their story about hair fall or body acne and later explaining how your product has helped them get through the crisis to their new flawless natural skin and hair will create an impact.
Understand The Medium & Then Shoot
To begin with, you should be thorough with your target audience, moving ahead, you should know the medium penetration of your target set and then bifurcate the mediums.
Bifurcating your market on various levels depending on the mediums would help in increasing the impact and rightful traction.
Conclusion
You and I grew into assets, right?
Was it instant? No,
When we were born, we just weighed 2-3 kgs, but we evolved and grew into double-digit think tanks, and today we are handling businesses and multi-tasking.
It took time, right?
Similarly, results take time to be visible when you are conducting organic marketing for your brand.
"No road is too long to the man who advances deliberately and without undue haste, and no honors are too distant for the man who prepares himself for them with patience." ~ Jean de La Bruyère