Organic Growth Marketing Channels for Fintech Companies and How!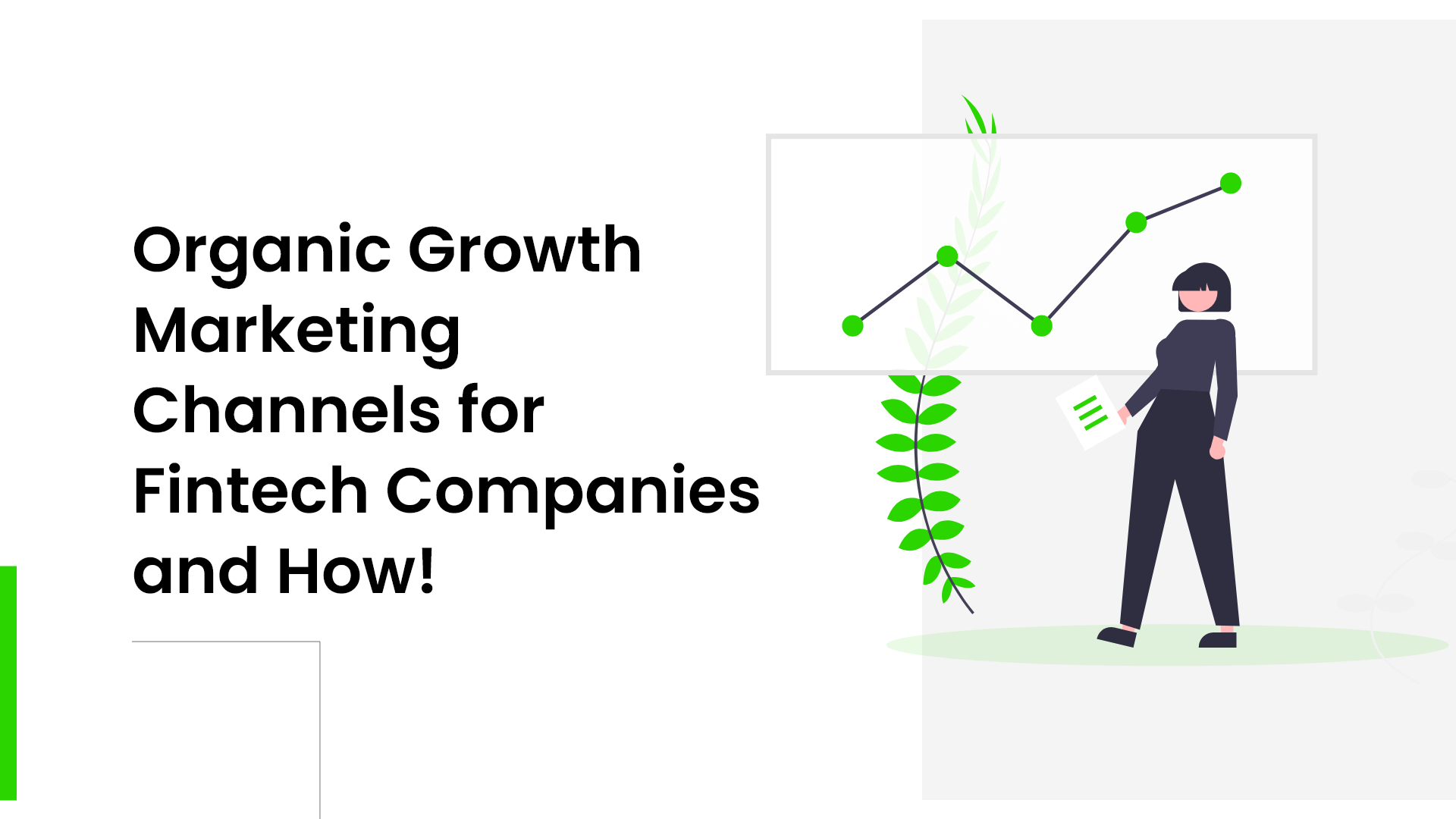 We are not on the same page technology-wise as we were a decade ago. Be it our mobile phones, payment methods, communication channels, and software, we have evolved drastically, thanks to innovations and technological advancements that have leveraged organic growth marketing channels.
A decade ago, we were familiar with tokens for metro travel but, the scenario changed, and most of us upgraded ourselves with a metro card that is easy to carry, queue-free, and above all, hassle-free payment with a few clicks from our phone.
But, a worthy and pleasant change that we accepted and use thoroughly is – online payment providers. Yes, most of us, especially smartphone users, are committed to one or more online payment providers such as – Google Pay, PayPal, Payoneer, Amazon Pay, etc.
We buy ice cream, do online shopping, book movie tickets, pay the bills, do money transfers (national/international), pay or receive your salary, etc stress-free because most of the financial activities are now efficiently catered by the reliable fintech industry that is thriving massively.
Fintech Growth
Considering the global fintech market, the market is valued at USD 5504.13 billion in 2019 and is expected to grow at a CAGR of 23.58% between 2021-2025.
If we talk from the Indian perspective, the Indian fintech industry has boomed in recent years. With a spike in the use of mobile, India has gradually become a powerhouse for many fintech startups such as – Paytm, Pine labs, PayU, PhonePay, Faircent, etc.
SoftBank has been actively investing in many potential fintech startups. Moreover, followed by the US, India has secured the second position in the world with the largest fintech startups in 2018.
Technological advancement is one of the key factors for the growth of the fintech industry, also there is a good share of investment in technology-based solutions by banks and other financial institutions.

Moreover, infrastructure-based technologies such as AI, blockchain, APIs are reshaping the future of the fintech industry and successively proliferating and preparing themselves to move along the needs of the customer and booming fruitfully.
The Transition
Earlier, cross-border payments occurred via cheques, bank transfers, and payments in advance (trade), but now the scenario has changed, so do our wants and payment behavior.
With the coming up of various online payment alternatives in the fintech market, the borders for financial transactions have blurred and are free from all the chaos and wait that we earlier faced.
Thus, with the growth in the mobile and fintech industry, many payment providers are popping into the market. Many established fintech brands are facing challenges because their audience is diverse and tend to bifurcate from their company when they receive flashy offers from peers in the market.
We aren't stating that the budding players in the fintech industry merely serve mirage effect or breathing fraud. We are implying that fintech companies should use effective marketing methods rather than merely depending on the flashy offers to keep a loyal hold on their customers so that they aren't lured into attractive offers easily.
Let's look down to a handful of effective marketing methods that fintech companies can channelize to drive organic growth:
1. SEO is the Heartbeat
Have limited pounds but want to invest it wisely? Put in those pounds and worthy pennies in hiring an SEO specialist because these are the souls who could pull in traffic. They do their work effortlessly, and you reap a fruitful outcome in return.
You might have an attractive website, post informative content, conduct meaningful workshops, and host video sessions with influencers, all this labor shall go in vain because it wasn't well-structured in an SEO-friendly manner.
By boosting up the SEO game your brand/company will start ranking in the upper positions in search engines as compared to the websites or content that stays at the bottom.
After optimizing your website and content it would create an easy passage for the seekers to find your page, which in return will help in growing the traffic.
But, one thing that you should understand is SEO isn't a one-day job, you need the patience to reap positive results. Patience is a crucial element that most businesses lack in today's corporate world.
Because of the increasing players in the market, the motive of overtaking has turned most of the corporate moguls and budding brands impatient.
Those who can't wait long for results can dissolve the mantra of pay-per-click and SEO together to reap better results.
To know more read – Fintech Marketing Case Study | Yaser.uk
2. Don't be Static – Give Solutions
Fact!
According to HubSpot's State of Inbound Report, 77% of the B2B purchasers prefer to do their research before ever speaking to a salesperson. This means you might have an efficient customer service team, but it's useless until they do full-fledged research about your company, offerings, and potential solutions.
Therefore, start providing solutions via blogs, workshops, or interviews with influencers or field experts, infographics, Youtube videos, etc. The more relevant content you provide, the better foundation you build for yourself.
Do not completely copy the content or do not be 'inspired' by someone else's idea. Divide your blog into a reasonable ratio of 6:4, where 6 is the restructured format of information from a plethora of websites, and 4 should be your observation, opinion, and expert advice.
Put in quotes and opinions by the leaders of the field, this means attribution where you are supporting the statement with an expert opinion. This makes your blog or content more credible making it stand out from the others on search engines that simply endorse wordplay.
Fact!
As per the Demand Gen Report, 96% of B2B buyers opt for content that delivers more input from industry thought leaders.
3. Gamification
Gamification is a strategy that increases the buzz and eagerness around the brand. In this process, the company wishes to indulge the audience in some kind of collection, referral, rewards, or other kinds of games to pull in traction.
For instance, if we consider Google Pay, they too use gamification as a marketing channel. Here, you could get rewards (monetary/offers) after sending or receiving payments.
Apart from rewards, Google Pay also introduced 'Google Pay Diwali Stamps' where the user had to collect five kinds of stamps using three different ways of collection before a stipulated date and time.
The luring offer was, if the user completes the task then, they will be rewarded with ₹250 and also get a chance to win Rs. 1 Lakh.
But Google Pay also had a psychological punch that made it a success for their company. To know about it click
4. Affiliate Program
The affiliate market was a passive sector until 2009, it gradually picked up the trails of progressiveness and now is an established and thriving billion-dollar marketing channel.
It offers limitless partnerships and opportunities to have a side income by recommending the product/service in your dedicated community and persuading them to join the brand.
In the Fintech industry, affiliate programs are growth tactics used for traction. It is also used to highlight the benefits of the joiners.
Moreover, it is one of the best ways to get quick and direct access to your target market and earn consumers' trust.
In addition to that, affiliate programs encourage potential customers to produce quality content about your company. Here, 'word of mouth' is the means to recommend products/services offered by you. We could call it free publicity.
5. Partnership marketing
In this type of marketing, one company collaborates with the other (that is in tandem with their product/service), to reach a broader audience, and to inflict a greater magnitude of awareness.
Now, such partnerships could include:
Co-branding
Sponsorships
Joint Ventures
Influencer Marketing and many more.
For instance, Tide is working with NASA to make the first laundry detergent for astronauts in space. The news of this collaboration project left people in awe.
These are a few ways through which fintech companies can leverage organic growth. But always remember organic methods consume time, so patience is the key.