How to Setup Your Successful In House Marketing Team in 2021?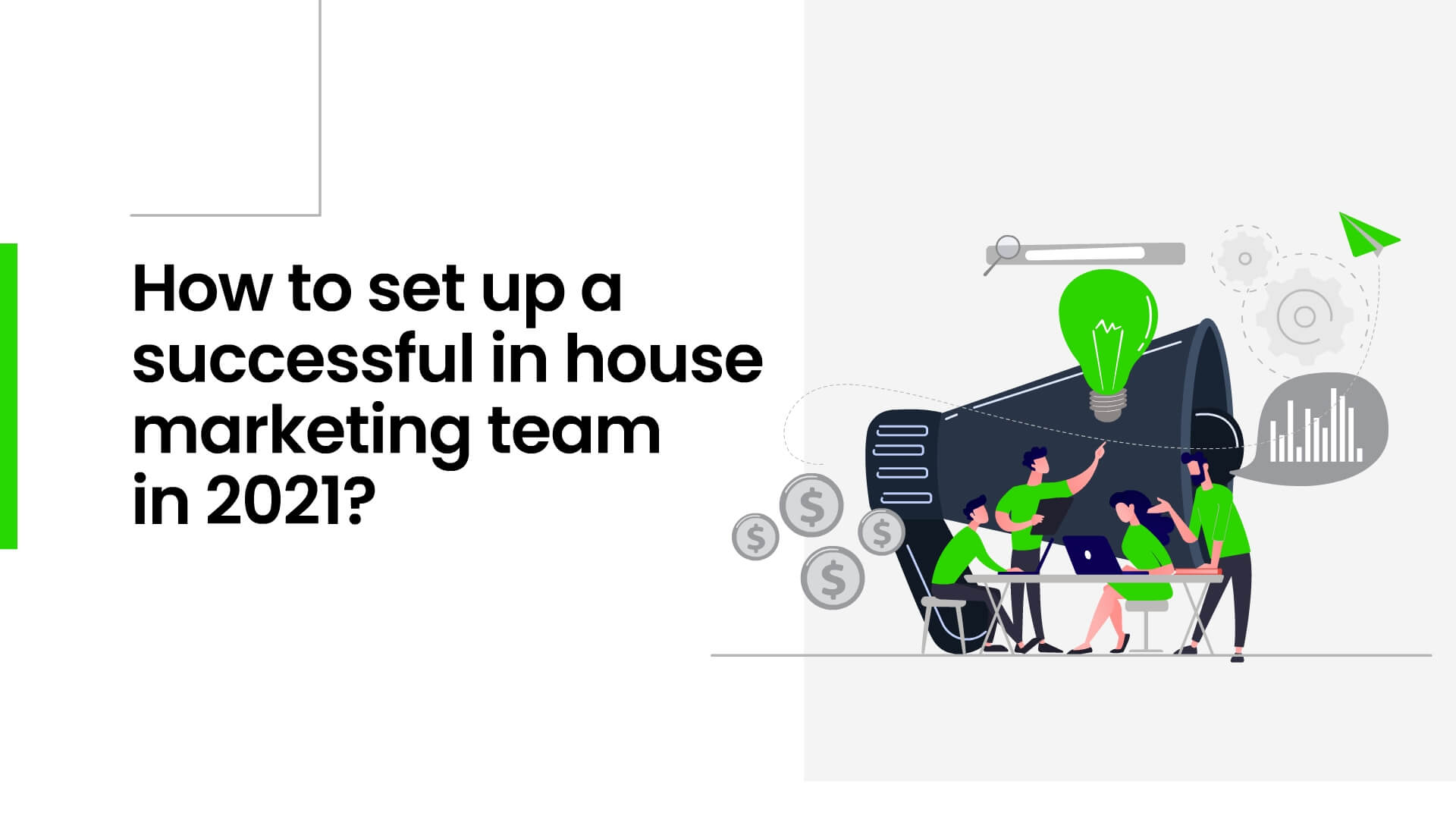 Imagine that your business requires an agile marketing team but your team strength is just one or two. What should you do to build an in house marketing team? Read on!
Contemporary marketing departments are under mounting pressure to be more efficient in terms of creating content and assuring brand presence in the market as the global market becomes digitally savvy.
The conventional marketing structure and modifications in their internal methods and team structures were therefore disrupted. You have to ensure that your marketing team has the right skills to perform if you plan to build and structure one in order to meet its demands.
A well-structured in house marketing team for many organizations is now regarded as a must-have requirement. They work on various projects, answer the requirements of other functional teams and provide guidelines for maintaining the image of an organization.
So, when you designate an in-house staff, you may have to make many tough decisions. This blog covers some of the key aspects that you should review before setting up your in house marketing team.
The easiest way to do this is to make sensible business decisions concerning who you hire and what you utilize in a firm, so it's your duty to ensure all things work well. So, let's check them in detail.
Consider The Expertise
Your in-house team might not know everything about marketing. So you can't expect all jobs to be done effectively without exceptional marketing skills. And, you must take the workload into account.
So, sometimes you may need to outsource your marketing functions especially to generate more revenue and stay ahead of the competition.
On the other hand, all work cannot be given at once to your marketing team. Chances are, the workload may demotivate the team.
Instead, why not add a marketing agency to your future endeavors that will help you alleviate all the problems you are facing?
If you want to know more about outsourcing your marketing function in detail
Where does the real business lie, and what can an external agency do to facilitate your company's work? These questions usually arise when businesses are relying solely on the in-house team. This will definitely affect the quality of your sales and marketing.
Hire The choicest
When you hire, during the interview process, ask the candidates whether they are salary-focused or not. Also, check whether they are updated with current marketing tools and techniques to target your niches.
If they are experienced, you can also ask for their previous campaign results and examples such as social media ads, email marketing, and SEO monitoring, etc.
After hiring them, you should be able to teach them how income growth works and how to sustain growth over time. This can help them both professionally and personally. Also, they must be experienced in working in different markets.
Furthermore, your in-house team should usually have some basic skills, and your entire team must grasp how each marketing part fits. For instance, your social media marketers must comprehend how SEO enhances Organic Traffic, Google Rankings, Brand Visibility, and more.
Finally, keeping your in-house team innovative is always an amazing start. Never let them interfere in any other area of your business. Their sole attention must be to improve the marketing of your brand.
Train Them Properly
Do you feel that training a new or existing in house marketing team might be an easy task? Never! It may take approximately six months to train an employee with only basic knowledge sometimes, one year!
Because the effort to provide them with good training is vital to nurture productivity, companies should not be lazy in this regard.
Training should be able to provide them with a thorough overview of the business requirements, your USP, target markets, competition and competitors, and many more. On completion of training, your new in-house team should leave with plenty of food for thought.
You can also help your in-house team to choose some free online marketing courses and seminars to enrich their talents and acquire new tactics to enhance their diverse skills. Google's marketing Certifications, HubSpot's certified courses can be the best choices.
Create Subgroups Inside The Team
You can break the team into smaller groups if you have good employee strength in your in-house team. The teams can be categorized according to their roles and responsibilities, particularly to handle social media, manage website content, SEOs, and offline marketing.
By placing them in smaller groups, they tend to operate effectively as they focus on one component of marketing rather than working on many at the same time. For example – Content team.
The content team mainly develops content, as the name says, for the blogs on your website. They must learn about the keywords of SEO, the target audience (for whom they write), and how much content they must consistently give.
A social media team should also be developed. This team posts and distributes various types of content across all social media channels interact with your audience and establishes customer satisfaction.
Your Team Must-Haves
If you are building your new in house marketing team, the following teams should be with you on your future journey –
Content Team
The significance of an efficient and creative content team cannot be underestimated. Content is the fuel of your marketing function now. So make sure you hire creative writers – it's not always necessary to have considerable experience in this industry. But, a solid grasp of your business is vital when you hire a content team.
Social Media
A significant part of any marketing team lies in the hands of social media managers. Be it B2C or a B2B, today, social media is equally as crucial as Google Search rankings.
Creativity and innovative ideas again play the game well in this area. Recruit people with creative thinking and proven experience – not just a person who has accounts in all social media.
During the interview process, ask them about the functionalities and utilities of various social media channels.
Design
The ideal designer for a marketing firm should have considerable technical skills and knowledge of the industry they work in. As an employer, you should have a better idea about their previous working conditions in a team atmosphere.
The role of a designer typically involves cross-team activities, so that a designer that works well under pressure must be a perfect fit for your company.
The easiest method to determine if the candidate selected by you is right is to offer him/her a test project. Give them a time restriction and evaluate the work quality with other applicants.
CMO
The CMO in your organization would be the main strategist, team leader, and coordinator. Most preferably, it would be ideal if you choose somebody who understands their team's diverse skills.
In particular, you need to choose someone who knows more about marketing than you. He/she can be a strong person who can challenge your team to reap better results both internally and externally from a business point of view.
Naturally, based on your business dimension and needs, the roles and headcount will differ. The main thing to remember is to be patient in establishing the appropriate team.
Paid Campaign
It's now on the rise thanks to the pandemic. Paid marketers today combine data-driven marketing with innovation and creativity within the campaigns.
They should have a lot of experience not only with your preferred channels but also with your industry. As we all know, B2B and B2C best practices differ significantly.
With regular modifications to algorithms, they'll need a strong desire to stay on top of the newest industry trends.
Analytics and SEO
Data Analytics and SEO to thrive— it's all about highly relevant information. Every advanced marketer will tell you that you have to evaluate and act on the efficacy of your campaigns.
Ensure you employ a top-notch SEO and Data analytics staff who is highly skillful and sophisticated in data analytics and Marketing so you can make use of your first-party data.
The selected candidate should possess not only industry experience but also a broad knowledge of market advancements.
Final Words
It can be challenging to have an all-in-one in house marketing team. However, if you find an outsourcing agency with the perfect mix of creative and strategic thinkers with innovative and fresh marketing culture, they can deliver outstanding results better than your in house marketing team.
If you wish to outsource your marketing function for generating better outcomes, feel free to visit