Outsourcing Your Marketing Functions: Pros and Cons [2021]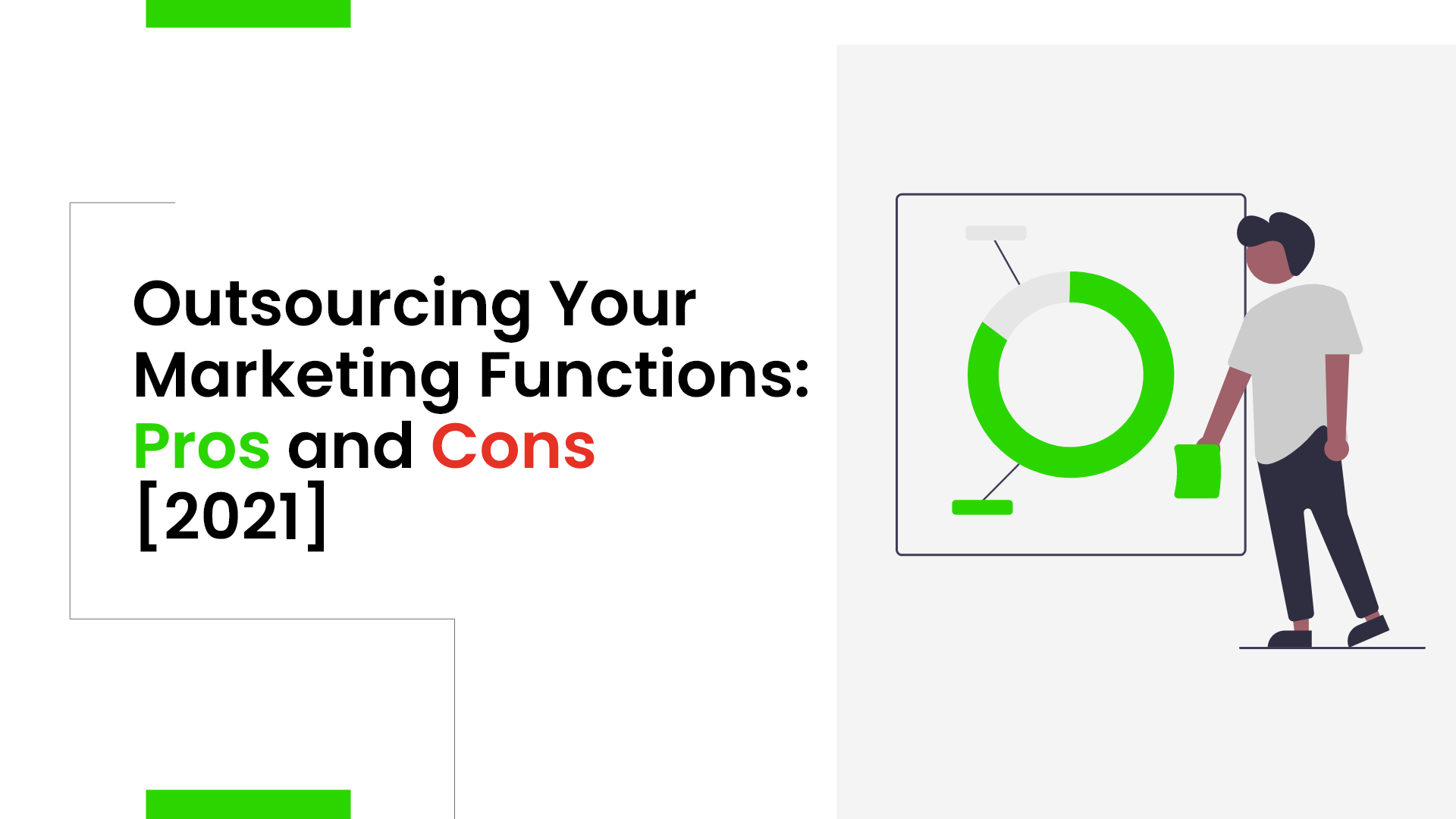 Outsourcing marketing functions for tiny companies and big organizations have generally expanded over the past decade.
Furthermore, the outsourcing market in recent years amounted to $85.6 billion, with USD 62 billion being supplied by the IT sector, according to the latest statistics.
With the increasing rivalry between companies, managers are seeking means of re-developing marketing activities. Outsourcing is one method that companies take into account in improving marketing efficiency, expanding sales capacity, and cost reduction.
With marketing outsourcing, a firm may concentrate on its core products or services while allowing a marketing organization to perform the finest it can.
Which All Marketing Activities to Outsource?
Each marketing problem does not take sufficient time a year unless you have a team of companies, and even huge brands engage partnerships externally. Check out the marketing operations most frequently outsourced:
Content Creation
Whitepapers
Blogging
Infographics
Researches and surveys
Sales sheets
Copy editing
Brochures
Case studies
Social Media
Managing social media posts
Creative ideation
Social media calendar
Generating Followers
Customer support
Marketing Technology Services
Lead generation
Lead scoring
Landing pages & CTAs
Reporting
Email campaigns
Website Design
On-page SEO
Website Redesigns
Website Maintenance
Module developments
Public Relations
Blog Articles management
Creating Press Releases
Creating guest blogs
Nurturing relationships
Managing editorial calendar
Analytics
Sales funnel
Organic and paid traffic
Lead Conversions
Monthly growth reports
Keywords strategy
Why Do Companies Outsource Marketing?
The fight to show better ROI for marketing functions is one of the reasons. But, it is not an intentional attempt to persuade staff to leave the business.
On the other hand, it is hard to locate new talents because executives feel that they cannot enhance the current skills of workers that temporarily bring in revenue.
The truth of the case is the contrary. The lack of extensive experience significantly affects financial objectives and also overlaps between teams. 
For example, poor visual communication is also a significant indication of the absence of a talented internal marketing team. Therefore, creative abilities will be 'useless' because there's no ROI; but their work is essential to advertising, promoting, and creating content.
Consequently, considering the lack of potential lead generation, in-house designers generally do not bring any revenue and are thrown off their employment.
The one and only factor that counts is ROI if marketing has a presence in the management suite. The CEO relies on the income line and the CFO relies on the outcome of its activities.
In most firms, all of these business roles contrast greatly to the CMO, who controls the interactions between the customer and the business. But, conventional CMO's that rely on marketing strategy is now a legacy.
Pros of Outsourcing Marketing
For many digital marketers, achieving more with less spending is a way to success. The marketing function may become more manageable than ever with the ongoing emergence of cutting-edge technologies and tactics to generate leads.
Because marketing is key to gain more ROI, businesses today love to outsource their marketing function. They realized that outsourcing their marketing functions to a marketing agency is an intelligent way of doing business. Let's know the pros here;
You Can Get Great Talents
You can choose either you need great talents or just an ordinary team. For sure, a great team of highly skilled professionals will offer you more opportunities.
They make use of state-of-the-art marketing solutions, cutting-edge technologies, and new strategies to elevate your brand awareness. Therefore, outsourcing your marketing function means that a team of skilled professionals is involved in your marketing operations.
Skilled experts have access to the most advanced tools and technologies to better coordinate the marketing functions so that they can invent different tactics that can assist you to generate a more satisfied ROI from the market.
With that being said, remember that outsourced marketing is always a great combination of skills and expertise. 
You can also hire talented professionals in your team, however, a creative team with a good package of expertise can develop top-of-the-range, search engine friendly, well-researched marketing deliverables.
In addition, outsourcing marketing functions not only offers you skills that are essential for your organization which additionally provides you with the expertise that in-house salespeople might lack.
Saving Time
Businesses are often satisfied by their in-house marketing teams to monitor marketing activities. They forget to concentrate on skills that will offer an organization long-term growth.
Here, the management is happy because they have the expertise and they need not deal with marketing unless final marketing outcomes are reviewed and evaluated.
Reduction of Costs
70 percent of a worker's remuneration package is based on their salaries, according to the United States Bureau of Statistics. The other 30 percent comes from taxes and perks. If you are outsourcing your marketing function, you can save 30% cost for each marketing personnel.
The resources your firm needs will diminish as the number of workers is reduced. The company which you hire will have its own software, workstations, office supplies, and devices.
If you are running a small business your workspace might be less for your leases or purchases. Externalizing your marketing can save costs and minimize your business expenses in a number of ways.
Strengthen Your Marketing Approach
Often small companies require support to determine what their target market is precise. Identifying your target helps a company develop a strong plan instead of just imagining how users would draw and connect.
Marketing outsourcing enables you to collaborate with marketing specialists who assist you to reduce your target and boost your marketing approach.
Better Manage The Business Responsibilities
Perhaps more opportunity to concentrate on other business functions is now the most apparent and beneficial move. You will likely not really want to devote the whole day planning social media posts or reach local news organizations for media attention.
Here, the agency not only takes care of these tasks but also concentrates on what you do best. This does not mean that you will not participate in the creative ideation or supervision of social media advertising.
Instead, outsourcing the operation frees you, as it does not require you to manage the unwanted efforts required for handling marketing strategies.
Result Oriented Marketing Management
If your company is a small-scale business or a startup, especially for the first three years of your journey, you may usually struggle to survive.
Therefore, you have to concentrate more on what you provide as a product and services and you need to let those years go with gaining more experience in the field of marketing. 
So, a reliable agency offering 'marketing outsourcing services' can better help you with all your marketing functions.
Simultaneously, you can freely handle other business operations such as organizing business days, tracking holidays and employee turnovers, dealing with leaves, and so on.
Cons of Outsourcing Marketing
You Can Do The Work Yourself
Outsourcing should not be done without a clear review and analysis. If you're doing it yourself, you should be able to do it effectively. You may not be required to choose to outsource if you have enough time to manage all your marketing functions.
Some firms would like to work like this because they are experts in marketing and creativity as a team instead of collaborating with an external party.
Risk of Hiring Incompetent Marketers
You must be absolutely sure that your choice of outsourcing firm would be one of the best in the business game. You don't have to choose a company that has the expertise and ability just to fulfill your needs.
Ensure that the provider you hire has something more than just SEO and advertising. Also, you should have an understanding of their brand values, vision, and mission that can help you ensure that they truly have the expertise to show better results.
You should have a better experience creating parameters for choosing the correct pros instead of just hiring someone for managing your marketing functions.
Sharing Your Financial Burdens
While it may be nice to share risks with specialized agencies, it may be quite harmful to connect your firm with another firm in the case of your financial burdens.
Most importantly, in contractual relationships, you must clearly state all consent to the sharing of your financial burdens, as you do not have to be responsible for the impact you may experience because of them.
Final words
All agencies offering marketing outsourcing services work as a daily partner or as an employee, providing financial health and other benefits.
These marketing and advertising organizations can aid your company, particularly when you require advice and assistance in the development of social media and marketing campaigns.
Not all firms require external assistance. You may only spend for a marketing agency or consultant if they can give you the quality of service that drives your brand in the proper way.