Google Penalties! 10 Easy Ways to Take Your Stress Out of It!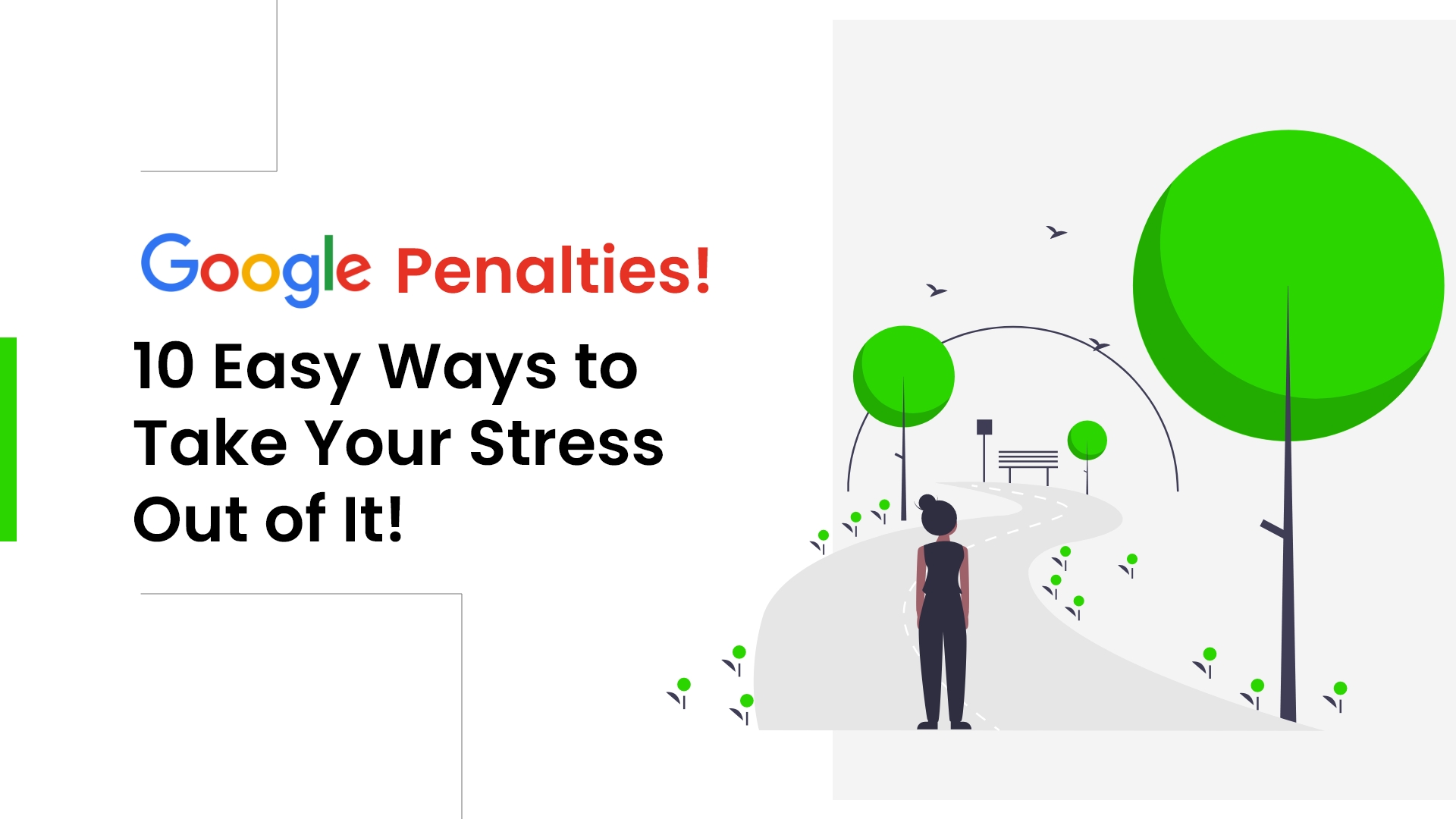 Google, the search engine giant has been a monopoly since 2019 enjoying 94 percent market share. It has now become a must-have partner for the success of any company depending on SEO and organic search traffic from Google. But, do you think Google will continue to nurture your business no matter what? Unfortunately, no!
At times, you may have witnessed a sudden drop in your web traffic for no obvious reason. You might realize this only on receiving an email from Google that reads 'penalty'. It is not as simple as receiving other spam messages.
Following this, Google will have the power to take you completely out of Google's search results. This can significantly affect your organic traffic. 
Google tightens its rules every year as appropriate and adapts to different changes in the market. And, they would not hesitate to impose sanctions on websites that engage in sketchy SEO activity, have subpar content, or continue to act inappropriately.
How to See if Your Site Already Has a Penalty
To identify problems or breaches on websites and pages with penalties, Google uses various algorithms as well as manually performed audits. You or your webmaster can search often to check if you have already received a penalty. To check the manual penalties, log in to 'Google Search Console;' and view your messages to see if you have a new note of penalty.
At times these problems can sometimes be caused by your carelessness. To avoid receiving this penalty from Google, you need to avoid the following key points. Let's see what they are.
1. Your Keyword Strategy
Do not do keyword stuffing. For more than a decade, Google has aggressively opposed and penalized websites that do not have proper keyword usage.
After all, the BERT algorithm upgrade by Google has shown that the search engine now understands all content better than humans. The update focused on the interpretation of natural languages. Therefore, search engines understand instinctively better whether the content has a flow or not.
Here, you can easily avoid Google penalties by naturally writing content as how you speak in real life, and using keywords minimally but appropriately.
2. Penalties Due to Algorithm Changes
Because the algorithms of Google are always changing, websites that breach the Google rules continue to be punished. So that when Google releases algorithm changes, the algorithm penalties occur.
Unlike manual penalties, these Algorithmic penalties are difficult to recognize because one may not receive an email warning about them.
You need to compare the day that the traffic was lost with the day a new algorithm change happened to determine what kind of algorithmic penalty your website has.
3. Plagiarized Content
Google never tolerates content duplication or plagiarized content on websites and the search engine takes it quite seriously. The search engine prevents pages that contain the same content from other websites or pages, which means that those pages will not even appear in the search result.
Also, you will get a penalty for publishing your own, but the same content such as a guest blog, on multiple platforms.
4. Show Your Real Authority
Showing your real authority creates trust. Google will show you in the search result, which can help customers with trustworthy answers for their problems or queries.
As Google aims to give searchers the highest-quality experience, the search engine is designed to ensure that these searchers have a better experience and that their lists are accurate to what searchers are searching for.
Google thus gives high ranks to websites with high-quality content, seamless user experience, and better responsiveness. 
5. Avoid Buying Links
You almost always get a penalty from Google if you buy links. If your Google search engine catches you, don't presume any justice.
Certainly, businesses selling links may have an attractive sales pitch, but don't believe it. You are most certainly trapped if you have to purchase paying connections.
6. Hidden Content
Google always expects and looks for better transparency and visibility of content. If you hide content to place your site higher in the rankings, it may not be received well and you will be penalized for this.
Many SEO experts who have not held up to date arrive at ideas such as matching their text to the page's look, feel, and color. But, always beware; if it can help the rankings, it will certainly lead to an infringement.
7. Harmful Inbound Links
If your website is a spam site or a site that has questionable content on its pages, an inbound connection is created. Since Google has found this link on this spammed website of little quality, it starts to dig skeptically into your website.
Make sure that all connections are monitored on third-party websites by using the Google Search Console or using a third-party surveillance system. For this, one can use third-party software such as Moz Link Explorer or SEMRush to test the Spam Score.
8. Cloaking
Despite their low popularity, it is not uncommon for websites and pages to use SEO "black hat" technology to trick Google.
Websites that do this will be penalized by Google as the search giant needs to ensure that users do not click on the connection leading them to believe that they are directed to a specific location, instead are redirected to a different location without the requested details.
Under the cloaking provisions, displaying these kinds of content to end-users and search engines could lead to penalties.
9. Running Spammy Services
This is for free hosting services in particular. This penalty is in breach of the guidelines for web hosters as numerous websites for the hosting provider spam are created. 
If the search leads to several spammy websites, Google initiates manual action against the specified service provider. This can be sorted by using a reliable hosting service on your website.
10. User-generated Spam
Google warns spam generated by visitors to the website via irrelevant links or even non-context content. Spammed conversational threads, free hosts, blog spam comments, and auto-generated profiles are some of the popular examples.
The websites subject to this type of penalty embrace content generated by users. This kind of punishment is not due to a breach of the guidelines for website owners, but only because of unauthorized users.

The prevention measures include moderating accounts so that comments can be turned off before they go online. The blacklisting of profiles that often are spammers and the inclusion of no-follow attributes may contribute to avoiding such a penalty by incorporating the "Captcha" or other anti-spam instruments.
Conclusion
Each month, Google hands out almost 100,000 sanctions. These Google penalties guide webmasters to complete a comprehensive website cleaning and submit a re-examination proposal.
If Google provides a way forward once the website is eligible according to the standard protocols, the penalty shall be removed. Remember that Google penalties can be avoided completely. It is just as easy to understand and escape the laws that lead to penalties.