Best Project Management Tools For Digital Marketing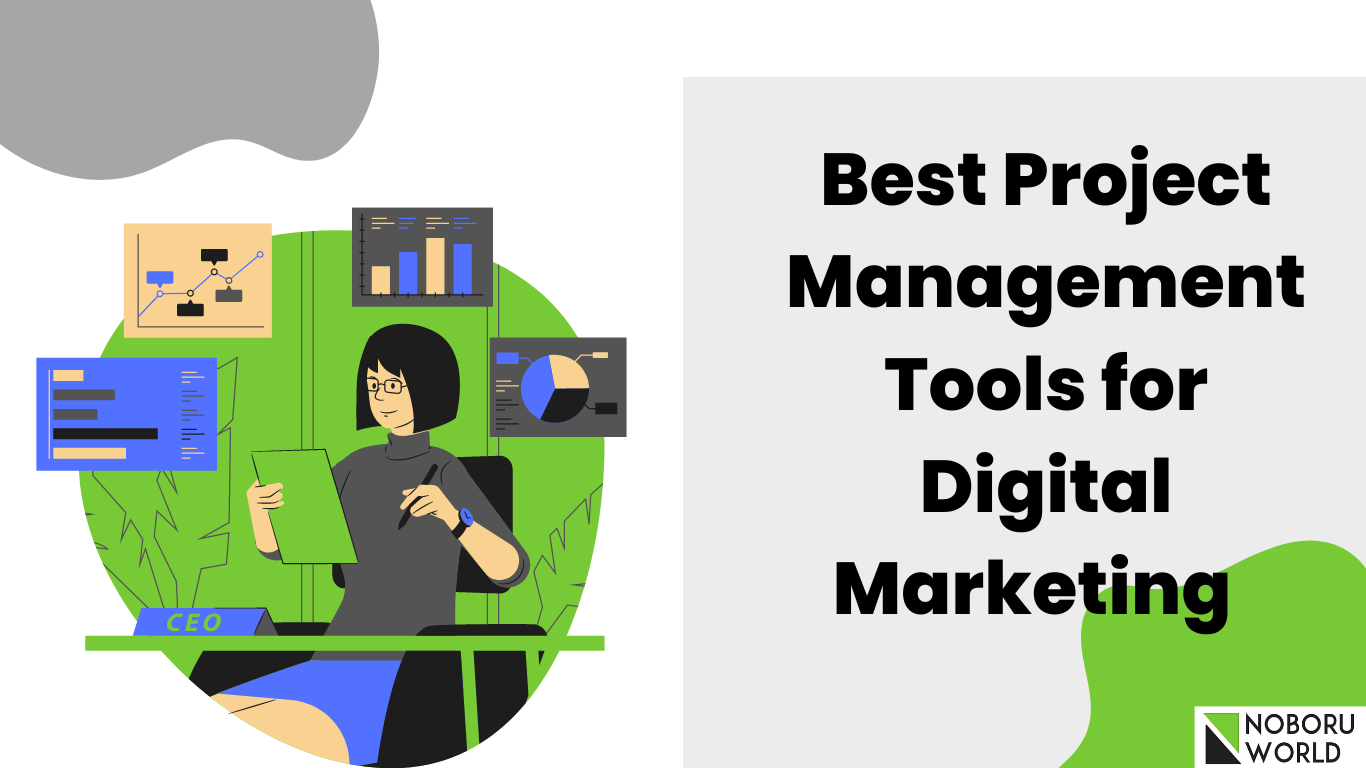 What Are Project Management Tools?
The Project Management Tools are software designed to help teams plan, track, and manage projects to achieve defined goals on time. It helps team members collaborate effectively and accelerate projects to resolve specified constraints.
Depending on the organization's needs, each project company will have different tools in its stack. These tools typically include project management, collaboration, planning, bug tracking, evaluation, customer support software, and many more.
The correct project management tools can significantly impact successful project development.
Why Is Project Management Tool Important For Digital Marketing?
In digital marketing, various teams (SEO team, Content team, SMM team, Logo design team, etc.) work together simultaneously on a single project.
So it's challenging to keep a trace of the work done and pending jobs, leading to less productivity in the organization and poor project management. It's tough for organizations to inform clients about the actual status of the work.
The project management tool helps in keeping a record of work done, planning, pending, changes required, updating the client about work (as the client can check whenever they want in the PMT), deadline, etc.
This helps keep things transparent, builds trust between the organization and the client, and allows delivery of the project on time. It becomes effortless for clients to inform about any changes from their side through Project Management Tool.
So, Project Management Tools are important for a digital marketing company for the growth of the business, help to increase productivity, and manage many projects simultaneously.
Here are the 8 best Project Management Tools For Digital Marketing:
ClickUp
Clickup is a feature-rich tool with flexible and customization options like multiple windows, time tracking, and custom project views. This makes ClickUp's user experience more interactive and customizable for both organizations and clients.
Key features of ClickUp:
Custom Views (Board view, List view, Box view, Me view, Saving Layouts)
Custom Dashboards
Assigned Comments
Time Tracking
ClickUp Pros
Many custom views with saveable layouts
Powerful mobile apps for iOS and Android
Time tracking capabilities
Can allocate resources efficiently with Workload View
For any repeatable process, there is an option of automation that can create automated workflows
Loads of combinations with apps for video calls, team chats, and other needs.
ClickUp Cons
Learning curve due to the number of features available and level of customization
The Mobile app has no table view.
Pricing
ClickUp has Four pricing options.
Lifetime Free: Best for personal use
Unlimited ($5/month per user, billed annually): Best for small teams
Business ($9/month per user, billed annually): Best for mid-sized teams
Business Plus ($19/month per user, billed annually): Best for multiple teams
Ratings

Video and Website
For Website: click here
Monday.com
As Monday is the least favorite day of the week for most of the people but here don't go by the name Monday.com is a powerful cloud-based project management tool which offers a ton of features like ease to see the status of the project in the dashboard, and third party collaboration.
Key Features of Monday.com
Third-Party Collaboration
Easy Communication
Loads of Native Integrations
Monday.com Pros
Detailed Reporting Capabilities
Can Add Freelancers and Third-Party Vendors
Automate Workflow
Mobile Access
Time tracking for each project
Monday.com Cons
No Free Plan
The Mobile app needs editing
Cannot assign comments
Pricing
Monday.com has three pricing options:
Basic ($8/month per user): Best for small teams
Standard ($10/month per user): Best for mid-sized teams
Pro ($16/month per user): Best for multiple teams
Ratings

Video and Website
For Website : Click here
Teamwork
As the name suggests, this tool helps to build teamwork among various teams and keep complete clarity with the client with multiple options of customizations to complete the project more efficiently and effectively.
Key Features of Teamwork
Intuitive Dashboard
Email Integration
Invoicing Capabilities
Teamwork Pros
Lots of customizability
Many native features such as invoicing tools for clients with integrated timesheets
Good mobile applications
Project categorization
Free plan available for 5 users with 2 projects limitations.
Teamwork Cons
Cannot handle complex project management
The free plan is only helpful for very small teams working on two or fewer projects.
Pricing
Teamwork has four pricing options:
Free: Up to 5 users at a time
Deliver ($13.99/month per user): Limited team workload capacity
Grow ($24.99/month per user): Unlimited team workload capacity
Scale (price varies): Single sign-on, priority support
Ratings

Video and Website
For Website: Click here
Workzone
Workzone is one of the oldest project management tools in the market and has been trusted by many organizations since the 2000s. It has a simple, user-friendly interface with many features and multiple customization options, and it is a powerful tool.
Key Features of Workzone
Simple Project Management
Smooth Team Collaboration
Reporting Capabilities
Workzone Pros
Simple Project Management
Powerful To-Do List
Good Reporting Capabilities
Resource Management
Time tracking for each project
Workzone Cons
Mobile App Needs Work
Missing Features like Assigned Comments and Multiple Views
Outdated User Interface
No free version
Pricing
Workzone has three pricing.
Team ($24/month per user): All the good stuff for teams of five or more users
Professional ($34/month per user): The most popular option for teams who like to get things done
Enterprise ($43/month per user): Endless customization for when you need all the bells and whistles
Ratings

Video and Website
For Website: Click here
Wrike
Wrike is a very well-recognized digital work management tool, it is used by top organizations such as Google. Wrike's easy-to-use, user-friendly interface, lots of customization options, full visibility, and control over projects and tasks make it one of the best tools in the market. Most top organizations and huge companies prefer wrike.
Key Features of Wrike
Three-Pane View
Analytics
Forms and Requests
Wrike Pros
Built-in time tracking
Detailed reports and insights to calculate results
Built-in quick file sharing
Document management
Integrated account software
Multiple view for project
Wrike Cons
Not user-friendly, especially for beginners
Cannot assign comments to project members or add multiple assignees
No advanced features like Docs and Mindmaps
Pricing
Wrike has three pricing.
Free tier: For teams getting started
Professional ($9.80/month per user): For fast-growing teams
Business ($24.80/month per user): For all teams across an organization
Ratings

Video and Website
For Website: Click here
Asana
Asana is a work management tool with many features, such as drag-drop, easy timeline management, a simple interface, etc. It has been in the market for 14 years and is trusted and used by many top companies like NASA, Redbull, and Airbnb.
Key Features of Asana
Simple and Easy User Interface
Visual Project Timeline
Loads of Integrations
Asana Pros
Project Timeline for Easy Workflow Management
Tons of Convenient Integrations
Drag and Drop Features for Task Management
Team collaboration
Customize the tool as per need
Asana Cons
Can't add multiple assignees to a task
Limited Features in Free Version
Can't assign work to team members via comments
Can't switch views of the same project
Pricing
Asana has three pricing to choose from:
A basic free variant: For individuals or teams just getting started with project management.
A Premium variant ($10.99/month per user): For teams that need to create project plans confidently.
A Business variant ($24.99/month per user): For teams and companies that need to manage work across initiatives.
Ratings

Video and Website
For Website: Click here
Trello
Trello is known as a simple yet powerful tool. It defines the phrase all-in-one tool as it has all the features required by all of your teams. Trello has power-up features like calendar view, trello's board view, and listing view interface which makes it a very user-friendly and attractive tool.
Key Features of Trello
Simple Task Management tool
Drag and Drop Functionality around Dashboard
Power-Ups Features (Calendar views, Google Drive integrations, and quick file sharing)
Trello Pros
Simple and user-friendly interface
Easy task management and scheduling
Useful power-ups features for additional functionality
Customizable board
Sends notification if any updates are done on the board
Trello Cons
No task list or box view. You're stuck with a Kanban board view
No native mind maps, documents, Gantt charts, or other advanced features
Cannot export projects on the free plan
Pricing
Trello has four pricing options:
A Free variant: For individuals or teams looking to organize any project.
A Standard variant ($5/month per user, billed annually): For small teams that need to manage work and scale collaboration.
A Premium variant ($10/month per user, billed annually): For teams that need to track and visualize multiple projects in several ways, including boards, timelines, calendars, etc.
An Enterprise variant ($17.50/month per user, billed annually): For organizations that need to connect work across teams with more security and controls.
Ratings
Video and website
For Website: Click here
ProofHub
Proofhub is a very known and trusted tool in the project management world, It's like Ferrari in the sportscar manufacturing world. Huge companies like Netflix, Nike, and Disney use Proofhub for their project management. Proofhuv has security features like custom access which marks it unique and trustworthy.
Key Features of ProofHub
Easy User Interface
Tons of Customizations
Access Permissions
Pros of ProofHub
Many customizations options
Good Security Features like Custom Access
Powerful Mobile Apps for iOS and Android
Drag and drop feature
Value for money plans
Easy learning curve
Simplicity of the software
Cons of ProofHub
Lacks more features like budgeting
lack integration of third party software
Reputation for Bugginess
No free plan
Pricing
ProofHub gives you two pricing options
Essential Edition ($45/month, billed annually): 40 projects, Unlimited users, and 15GB of storage
Ultimate Console Edition ($89/month, billed annually): Unlimited projects, Unlimited users, and 100GB of storage
Ratings

Video and Website
For Website: Click here
Zoho Projects
Zoho Project is a well-equipped tool with all the basic features required for an organization. It is best for growing businesses. Zoho Project is very customizable as it allows you to integrate other Zoho apps and third-party applications for a better user experience.
Key Features of Zoho Projects
Workflow Automation
Email integration
Mobile Access
Timesheet Tracking
Budget and Expense Management
Gantt Charts
Pros of Zoho Projects
Reporting and task tracking
Free plan for up to five users
User-friendly interface
Operate many projects simultaneously, and it's effortless to switch between projects.
Cheap and useful
The manager has complete control of the activity.
Cons of Zoho Projects
The Mobile version is almost unusable
Gantt charts are difficult to use
Reporting tools break down for large teams
Does not include pre-made templates.
Pricing
Zoho Projects gives you three pricing options:
A Free variant: Up to 3 users can work with two projects and limited storage space.
A Premium variant (₹350 months per user): Up to 50 users with Unlimited projects, 20 Project Templates, and 100GB of storage space
An Enterprise variant (₹700/month per user): No upper limit with Unlimited projects, 30 Project Templates, and 120GB of storage space
Ratings

Video and Website
For Website: Click here
Having confusion about how to find the ideal tool for your organization.
Follow These Steps To Select The Ideal Project Management Tool For Your Organization.
Establish Your Needs
First, you need to identify the current problem in your existing workflow. It's also important to look across the company, as the best project management tools should be cross-functional to scale to your organization.
After all, working with different departments using completely different project management software can be a headache.
It would be best to consider the organizational culture and project management tools methodology as you want PMT to fit seamlessly into this organizational structure.
Put together an Evaluation Team
As you move into this phase, it is essential to assemble a team that represents multiple organizational functions.
For example, the sales team uses project management software tools in a manner that differs from that of the marketing team. Additionally, while experts need to be able to navigate the complicated components of a project, managers are more interested in high-level overviews.
This flexibility is something that an effective project management tool offers and makes project management easy.
Next, you need to create the evaluation criteria. It's hard to judge the effectiveness of a tool when people have different vocabularies for providing feedback. Finally, make a list of the top tools competing for your business.
Test the Selected Tool
It's time to test the tools now that you've chosen to evaluate.
Now it's time to test your projects on PMT and see if the project management tools meet your organizational requirements. Set the time frame and try to make the most of the tool.
Learn about tools by reading help documentation, watching webinars, contacting customer service, and getting demos from our sales team.
For instance, most PMT software offers live chat and email assistance to customers around-the-clock, and support staff is available to offer platform demonstrations.
Get management group buy-in
It's time to convince the management group to adopt this project management tool after a successful trial.
When approaching the management team, it's important to keep the following in mind:
Which management problem could this tool solve?
Is there data demonstrating the effectiveness of a project management solution?
Get the tool and implement it
Once the management team has approved the use of the project management tool, it's time to schedule training for the employee so that you can use the tool to its full potential.
Plan how much training should team members receive to maximize the effectiveness of the project management tool, and who will provide it?
For example, some PMTs offer professional services to help teams transition to using the platform.
Review and Repeat.
After implementation, you should review the impact of this tool on your organization. Did it meet the needs you tried to fulfill?
Once everyone has completed the learning curve, get feedback from the team. What more should be improved?
Your project management tool may also have features you didn't know before. Stay committed to customer success and attend training workshops that may be relevant to your workflow to integrate the tool into your organization further.
Ratings in G2 and Capterra
| | | |
| --- | --- | --- |
| PMTs | | |
| ClickUp | 4.7/5 | 4.7/5 |
| Monday.com | 4.7/5 | 4.6/5 |
| Teamwork | 4.4/5 | 4.5/5 |
| Workzone | 4.3/5 | 4.7/5 |
| Wrike | 4.2/5 | 4.3/5 |
| Asana | 4.3/5 | 4.5/5 |
| Trello | 4.4/5 | 4.5/5 |
| ProofHub | 4.5/5 | 4.5/5 |
| Zoho Projects | 4.3/5 | 4.2/5 |
Rating comparison of top project management tools
Conclusion
Project management tools can make a significant impact on the productivity of the organization and will make the management of projects much more easier and transparent.
There are many project management tools in the market and selecting one of them as per the requirement is not easy but following the above steps will surely guide you to your tool.
With all the best tools shortlisted above, hope you find the right tool which perfectly fits the needs of the digital marketing organization.
Want to know the 7 reasons why Digital Marketing is essential for start-ups?