7 reasons why Digital Marketing is essential for start-ups?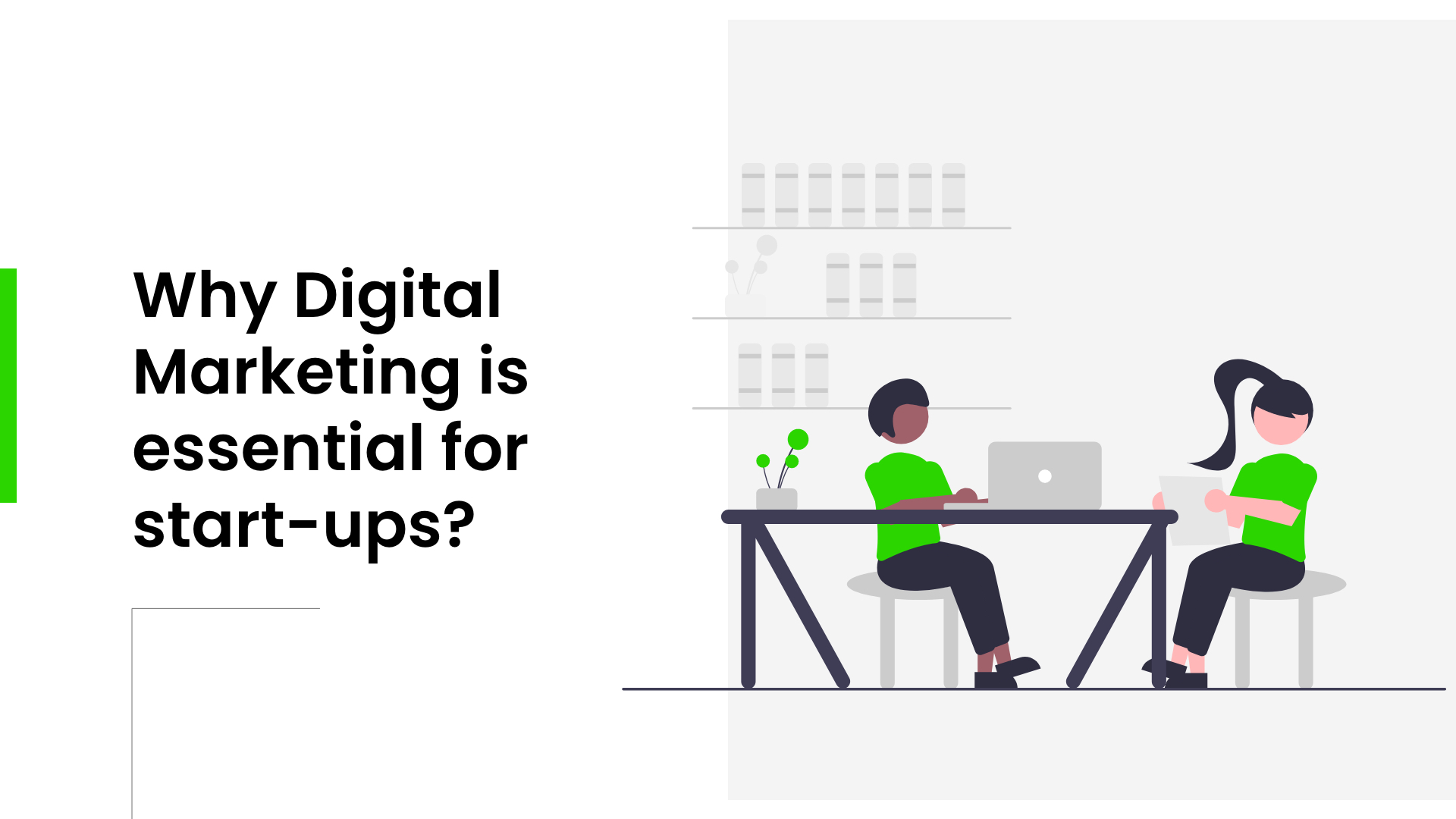 You have a presentation with a new prospect you know who can be beneficial for your organization. Prepared for the meeting in the best crisp suit, modest and well-spoken language you started after gifting a customized pen and diary. The name etched on the stationery will remind your client of you. This is an age-old trick that continues still because out of sight can go out of mind.
With the world evolving faster and competition getting fierce in the market, it is relevant and all the more important to be omnipresent. One good way you can do this is by using the internet. To market, a brand is not a cakewalk, especially in today's time. But with the tool of Digital Marketing, you can still breathe provided you pick a marketing strategy to mark your presence. Marketing is the prime requisite for any business to stand and pose in the market.
In a business, you earn when you put all your resources to devise a product and market it well to make sales. When you accomplish sales and earn money more than investment, you make a profit.
Needless to say that for more profits, you need to have a fool-proof marketing strategy. If you have a start-up and feel tight on budget, digital marketing is the solution for you. It is the trick that can put the substance in your business.
Using digital marketing, you can be locally based, but your reach could expand to anywhere across the globe. Digital marketing is the practice of publicizing your brand at a low cost. It takes your name to a point where everyone knows you.
Have you heard of the start-up CureFit? It is a Bangalore-based company that devises a healthy and powerful lifestyle across food, nutrition, and mental well-being. They made their presence online through advertisements. The brand also took care to make personal contact with its customers. They used both offline and digital platforms comprehensively, and in no-time, they grew a $174.6 million company.
Let us look more into what is digital marketing and why start-ups need it?
What is Digital Marketing?
Before you understand the relevance of digital marketing, identify what is your vision for your business. That is know the extent to which you want to fly high and rule the market. After which you will be able to best understand the application of digital marketing.
Digital Marketing:
It is a marketing activity that encompasses all marketing activities using the internet. Businesses use search engines, social media, websites, and emails to find and spot prospective customers.
Digital Marketing is spreading your business in the way in which you can sell your product/service online. Digital Marketing is a part of marketing and is also referred to as online marketing.
How suddenly could digital marketing gain substantial importance?
When the internet became ready to use service in the pockets of the common man, internet marketing picked up. Every day the number of people going online and making their accounts on social media platforms is increasing.
About 35% of internet users have increased in the age band of 29 to 35 years. This is the dominant group that puts its money in any start-up business. Which further explains the increasing relevance and requirement of digital marketing.
Using the internet for your marketing activities has several benefits. Out of this, the one major advantage is that your time to connect to the audience reduces. You can connect to a large part of your target market cost-effectively.
It doesn't imply that traditional marketing methods have lost importance. But yes, the role of digital marketing is getting stronger than the age-old methods of marketing.
The role of digital marketing for Start-Ups
Digital marketing is you being present everywhere and at all places that are beyond your physical reach. You use electronic devices and the internet. It increases your possibilities of finding potential customers exponentially than you can imagine.
Digital marketing practices are important for businesses to increase brand awareness. Your digital presence authorizes your business presence.
When the competition is tough, embracing digital marketing techniques will be the best take. Several techniques under digital marketing entail varying budgets. Get as creative as possible to experiment with the marketing tactics.
You can apply different tactics for your start-up but you can't wait for years to observe the outcomes. In such scenarios, digital marketing turns out best because it allows you to evaluate and analyze the results of every investment.
How digital marketing practice has evolved so much?
Digital marketing practice is about connecting with customers. Right? It has evolved fast because people spend too much time online. Taking the most out of this opportunity, start-up companies have got into email marketing, social media marketing, online brochures, and campaigns.
The world around is sailing forward faster because you live in a technology-enabled world. Beginning your dream venture is not difficult as that in the older times but is not easy when the competition is soaring.
Any start-up business can establish its foothold if :
It is marketed properly.
There exist needs and there are potential buyers.
In current times, the spending power of people has gotten better. The standard of living and lifestyle has also changed. Online marketing has contributed a lot to growing businesses. But always remember that condition number 1 is important. You cannot win the market with an offline strategy only. Better is to compliment the offline marketing tactics with digital marketing practices.
Let us see 7 reasons why Digital marketing is so essential for start-ups?
Traditional marketing ways can cost you several thousands of rupees whereas online marketing can only be applied for a few thousand. Techniques of digital marketing for start-ups are better comparatively because it helps to reach new clients faster and develop relations at a very low cost.
1. Engage, Engage, and Engage!
Nothing could beat this rule. If you want buyers you just have to engage your audience. For your start-up, you can try Twitter campaigns, webinars, and social media posts. If you want to have more than one happy client, the secret is to give everyone a personal touch. You must maintain a one-on-one relationship with your customers. This is how you can beat the competition.
Do you remember the television commercial for Nirma? It hit the market that no other washing brand could. It said that all the females could have that extra shine and whiteness in white clothes. The brand wanted to pitch their clients for their exclusive product that was affordable too.
You have to reach your target audience in the same way as the brand did use traditional marketing. Most commonly, the start-up brand of Digital marketers uses this methodology efficiently. They wanted to expand their email base and hence give a personal touch to each reader. The mail starts with your name and updates you with the facts. These digital marketers want to infuse in you the need to know more and market their service. These start-up brands will keep you posted on the new offers and discounts to attract you to buy their services.
The idea is to capture the clients' attention in every possible way.
2. An affordable way to reach customers
Digital marketing is the most cost-effective way which increases your reach to the target audience. After personalizing the messages or any advertisement, you get more loyal customers.
Start-up brands like Ola Cabs could maximize their profits only through Digital Marketing. Their presence is only online with the headquarter based in Bangalore. The brand now competes with the well-known competitor Uber.
They pitched the customers online and through an application. Nothing could have been so affordable than anything else. To engage the customers, Ola Cabs repeatedly offered discounts and promos to the taxi users. People could get comfort at very affordable prices.
Gradually, customers who struggled in transportation due to distance or over-crowded buses preferred these taxis. Ola Cabs hit the Indian market at the right time when people wanted luxury that too at low prices.
Another example for you to look at is Zomato. It is a well known Indian restaurant and food delivery start-up. It also operates just through an application and markets its services using digital marketing. The brand serves the customers to provide information, menus, and user reviews of the restaurants. It works extensively and fetches customer's feedback over the service deliveries.
Nothing could be better than this model because feedback is something that every start-up should collect. It allows you to broaden your horizon over some time when you can take collective efforts to rectify your marketing efforts. Apart from this, when you take feedback, you are in a way of engaging with your customers.
3. Helps to gauge the success of marketing activity
With digital marketing, you can gauge the success of campaigns or marketing activities. The number of mobile and internet users has increased over the last decades. Using digital marketing enables you to use several analytical tools. You can get real-time metrics for start-up marketing action.
It has helped to break the barriers of the old times wherein you just distributed pamphlets and never knew who checked for them. You had to wait for a long time to receive a handful of queries. These techniques can still work but only in a limited way.
With digital marketing, start-ups like yours can approach the customers to specific locations and demographics. Invest the money you have to and do not go overboard with the expenses. After each campaign and investment, you can gauge the success whether you have got the new clients or not. If nothing works, it is best that you can swiftly change the approach.
4. Help develop the Right Digital Marketing Approach
You can't pull the same results with the same set of integration for brands that belong to different segments. What worked for BYJUs won't work for any mobile vendor. It implies that depending on the industry segment, the correct digital marketing approach will have to be identified.
Digital marketing encircles aspects like content marketing, online advertisement, and email marketing. Evaluate the customers' needs and then pick the marketing strategy. For impressive digital marketing results, you must plan actions well in advance.
Some of the key aspects you must concentrate on for Digital Marketing are:
Reach the customers with explaining and detailed videos.
Try PPC campaigns.
Use Social media platforms judiciously. Show and speak what the customers look for.
Approach customers by sending them detailed and informative emails. Make sure that you highlight customers' benefits because there will be hardly any story readers. Keep your mails crisp, to-the-point, and short.
Maximize on the techniques of Search-Engine-Optimization.
For start-ups, you must make your online presence strong. Get a website ready that is attractive, user-friendly, and easy to navigate. Include the blog section on the website that will boost your online presence. The content can help your customers spot where you exist. It is important that you post the keyword researched content.
Plan everything because the budget can already be a constraint for you. Posting keyword-oriented content is crucial because it can drive organic traffic to your website. Use proper links to get the traffic on to your content. These links and readers of the blogs will help you identify the exact readers. It will also guide you about the kind of information the readers look for. Try to optimize the search engine results because only then will you be able to top the pages. And when you top the SERP, the chances of potential buyers increases.
5. Optimize sales.
Owning a website is one thing but another not to miss factor is using "Call-To-actions" links. Unless you do not request your customers to provide their email information or give them a direct link for shopping, they will not come back to you. When a customer loses interest, your marketing strategy will fail and you do not want that.
As a start-up, make sure that you do not miss a single point of contact with your customers. When you add a social media post, you guide the customer to your website. Now, if your website does not have the proper information, the customer is lost. Adding a call to action button will give you direct leads that will be uninfluenced and unbiased. These are the customers who have approached you either through referral or by seeing your product/services. Ultimately, you get to optimize sales through the perfect use of digital marketing.
6. Content will entangle the customers to you
There are thousands of start-ups in your segment to serve millions of customers out there. Agreed? Now one important thing that will help you stand out from the masses is content. Only one tip for excellent content is that -It should be Unique, effective, and informative."
The search engines are filled with information and that is what poses a challenge to you. Create a difference in the content and you will see gradually the number of active customers who will follow you.
Content marketing is a cheaper way to market your business to a wide audience. When there is a need, customers always explore the information about the product/service on the internet. Their quest could be your point of conversion of sales. When the users click on your website, they must get valuable information there.
Your content could be in any form like video, graphics, GIFs, memes, and images. The most impressive way to mark a space in your client's mind is video. Use storytelling to make videos because it is noted that the ones that could touch the emotions appeal to the clients more.
7. Digital marketing is the only way to rank in the Search Engines
When you have an online presence, no one knows that you exist. Thinking why?
Can you identify a unique zebra out of 10 same zebras? No right?
You need to pull up your sleeves and get there on the first page of the search engine to foster that you exist. Search engines like Google may change their algorithm but the pertinence of SEO will not lose its credibility. Start-ups need to post valid and authentic content that can drive traffic to their website. Further, it may lead to the conversion of sales.
Benefits of Digital Marketing for start-ups
Digital Marketing for start-ups can offer you benefits like:
Increase your visibility online
More you advertise on the online platform, the larger number of people can view your brand. Other than advertising, content plays a vital role to spread all good things about a brand. Customer reviews and feedback have their roles. This is why online marketing is crucial and a careful task to handle.
Boost your online conversion rates
With digital marketing, you are in front of a larger crowd you targeted. You might get traffic from referrals also. In both cases, the digital marketing technique of placing your brand across different social media platforms, can boost your sales. When sales increases, your conversion rate is better.
Works magnificently for you at a very low-cost rate
Digital marketing works for you at low prices. For a big advertisement, you will have to invest lakhs of rupees but this is not the case when you have to place the ad online. Display ads have contributed a lot to convert the sales that too at a lower cost.
Push your sales manifold
More visitors means, more customers who visit your website for products and services. This will increase your sales better than in the offline world.
Develop brand awareness
Advertising through digital platforms can aid in developing brand awareness. More people see your ads because the number of internet users is more than the number of people who would visit your store personally.
Engage your customers more to drive sales
Customers who find out about you may not necessarily engage in buying your products. But if you feed them with valuable information through content, they will think of buying your product/service. If despite being an online start-up, your service goes flawless, you will be the winner. You will ultimately have more customers that will drive sales figures upwards for you.
Influence the purchase decision of the buyers
Online marketing allows you to place the display ads every now and then. You buy spaces where people can repeatedly see the ads and can get motivated to buy your product. It works on the principle of always in front of the customers.
Moreover, people who are not looking for your product can buy from you because the search engine will show your ad for semantic searches. It will influence the buyer's decision leading to an increase in sales.
Helps you to track the Return-On-Investment
When you market your products using digital marketing, you can observe higher sales. There are more customers and hence the return on investment is higher.
Final thoughts
Digital marketing strategy offers proven benefits which are why the companies prepare their plans before getting into the market. Start-ups initially have a tight budget and less number of employees which puts a constraint on several marketing activities. But one tactic that will never let your business fail is digital marketing.
When you put in the market your product or service, you must understand that your customers have needs. Your commitment to serve them with excellent products can bring you more customers every year. If you remain loyal to your plan, you will have consistently increasing buyers.
If you are getting into the race of starting up your business, better is you think of :
Your target audience.
Decide your budget.
Plan your digital marketing strategy.
Evaluate your results online and shift your paradigm towards better strategies.
After you are done with these, trust your business will have no barriers to progress. Digital marketing is the ultimate non-negotiable tool that can push the revenue of your business.
Are you a start-up looking to put marketing efforts in the digital world and are confused about where to start. Do not fret, we will love to help you out. Please tell us about you, your business goals, and dreams in the contact us form, or just write to us at hello@localhost.