Author: Noboru Team
2020 was a year that marked a watershed moment for everyone and everything — all blues and doom. In spite of that, several companies look forward confidently towards the future.
As we all know, the pandemic has significantly restructured the functioning of companies around the world.
In one year, we were packed with change from new marketing campaigns and strategies to increased digitization of brands, changing consumer behavior, and many more. Broadly speaking it's not an ill fortune, though; It's a ray of hope, really.
1. Does Marketing Matter More Today?
Why do companies care about their customers more than they did before? Is it a matter of humanity or a matter of business?
Though COVID-19 has driven Indian brands to online platforms, the tone of their marketing strategies has brought in a little change in everything they do.
We have seen more products and services online and this scenario creates a dilemma too to predict what marketing and sales for B2B and B2C would look like in the future. It is a fact that for an indefinite period of time, many workers will continue to operate remotely or in a merger environment.
On the other hand, as customers struggled because of an unpredictable future, to adapt to the exalted stress levels, marketing has become more conversational and compassionate today. Empathetically, many brands have reached out with "we are together in this" to their clients and even their rivals.
2. What are the Main Trends to Watch in 2021?
We work together with businesses in a number of divisions, monitoring industry players and ensuring that we are closely linked to our customers' needs and objectives.
Any time, anything can recreate marketing trends or break them, so taking a look at the latest trends is vital to be able to compete well in the market. All these trends are necessary for agencies to stay ahead of the competition ranging from simpler techniques such as influential marketing to complicated approaches such as marketing automation and digital marketing.
In this situation, our broad observations and research give us an overview of upcoming marketing trends that are likely to govern the field of marketing in 2021.
3. Brand Visibility
Is your brand more visible and transparent? If not, why do you need to focus on it?
Because people search for products on which they have more trust. Brand Visibility is more critical than ever in this new age of marketing. Here, social media serves as a channel for brands to contact their customers directly, and being honest can help them gain the trust of more users.
A brand can deliver a message that consumers want to hear and find that they are honest by being open and transparent. Contradictorily, honesty is sparse in marketing but most customers foresee it.
4. Data and Internet security
It is observed that 57% of US marketers feel that the deployment of Data Protection Laws has improved data security. Yet, there is a growing hope in users that businesses can manage data safely.
Wisely, various privacy infringements and internet security threats have made users think more about data privacy. This means that advertisers and marketing agencies need to balance the data used for customization and comply with privacy laws.
5. Conversational marketing
Conversational marketing can continue to play an important role in a successful marketing campaign. Because brand loyalty is a buzzword in marketing today, consumers should be able to communicate with the brand at any turn and obtain a response that meets their expectations.
Also, each customer department must talk and make customers feel like the brand considers them with prior importance.
Chatbot-AI technology also leads the marketing future as it helps marketers communicate with many customers simultaneously. But, with that being said, it is a fact that machines are not always able to provide the human touch too.
6. Digital Transformation
Digital transformation remains a priority even today. The best way to make your business more omnipresent in the digital world is nothing else than finding the best digital marketing agency to transform your business with digital tools and methods so-called digital transformation.
As businesses focus more on the future aspects and clearly understand that they can never return back to the legacy technologies and out-of-date strategies, especially after facing the problems created by the novel coronavirus.
Companies in every sector should dive into a world of new technologies and change their approach and style of marketing. For this, they need to be more digital, agile, and transparent.
7. Game-Changing Impacts of AR/VR/MR
Marketing on various channels and zones has gone beyond just advertisements. AR/VR/MR combined can be referred to as XR, which stands for Extended Reality. It is widely accepted that these technologies will overturn our consumption and creation of content in 2021.
Today, this technology is fully integrated into our everyday life. We can see its intervention in these fields in real estate, video games, medicine, education, and more.
Similarly, the latest marketing strategies for these developments will flourish here! It is critical that marketers should take a closer look at these technologies and try to deploy them in their businesses as soon as possible due to their rapid hike in the marketing forefront.
8. Data-oriented marketing
Marketo predicts that Data Analytics, VR, AI, IoT, Content Management, etc. will be the most sought-after marketing skills by 2025. In particular, we expect to see an increase in Data Analytics in the coming months.
On behalf of this, it is sure that the customer journey will be more extensive, and more contact points will be used to assess the nature of the purchase.
In this scenario, the expertise, help, and support of new marketers will be a must-have for companies that require Data Analytics as it is very useful for data-oriented marketing.
9. Accelerated Marketing Automation
Another big marketing trend that we are witnessing in 2021 is an acceleration in marketing automation. With the assistance of highly integrated, automated tools and technologies, using minimal and appropriate tools and by saving resources, marketers can do all the work with maximum possible outcomes.
Thus marketers continue adopting automation more than ever to improve efficiency and deliver results.
10. Cookies are Dying
Cookies will die soon; Google says!
Google Chrome officially announced that soon they will put a stop to cookies. This then will definitely create an upswing to the alternative techniques used for targeting, creating an urge for marketers to learn and deploy them.
Mostly they rely on SSO or 'Single Sign-On authentication, and other possible ways also may emerge. What a business can do is focusing or revamping cookies so you fit the bill perfectly here.
11.Short Videos to Thrive
It is well known that after the ban on TikTok in India, Instagram takes the role better. This creates a promising voyage to companies targeting new generation people.
It was revolutionary when TikTok made people become celebrities just by doing short videos with quick edits. Its influence on the young generation motivated companies to start generating attractive and short video ads and thereby gain access to a wider audience with similar likes and interests.
For marketers, it has become a great opportunity to run campaigns and increase the number of leads with fewer efforts.
And it is understandable that these kinds of apps will continue to gain more and more popularity worldwide. The trend and popularity started by TikTok and now followed by Instagram will continue to hike the marketing opportunities.
12.eCommerce Advancements
Last but not the least; eCommerce!
eCommerce now is the most-used and widespread way of purchasing after the Covid 19 virus outbreak. As a result, the eCommerce industry quickly picked its turn.
We have also seen a wide variety of services and eCommerce purchase options that are compatible with the digital landscape. This happened not only because of the pandemic but also due to the growth of increased use of smartphones and the internet which will continue to grow 2X more in the coming years.
To get a better idea about the growth of retail eCommerce, the following graph clearly shows the estimated growth of the eCommerce industry from the present to 2024.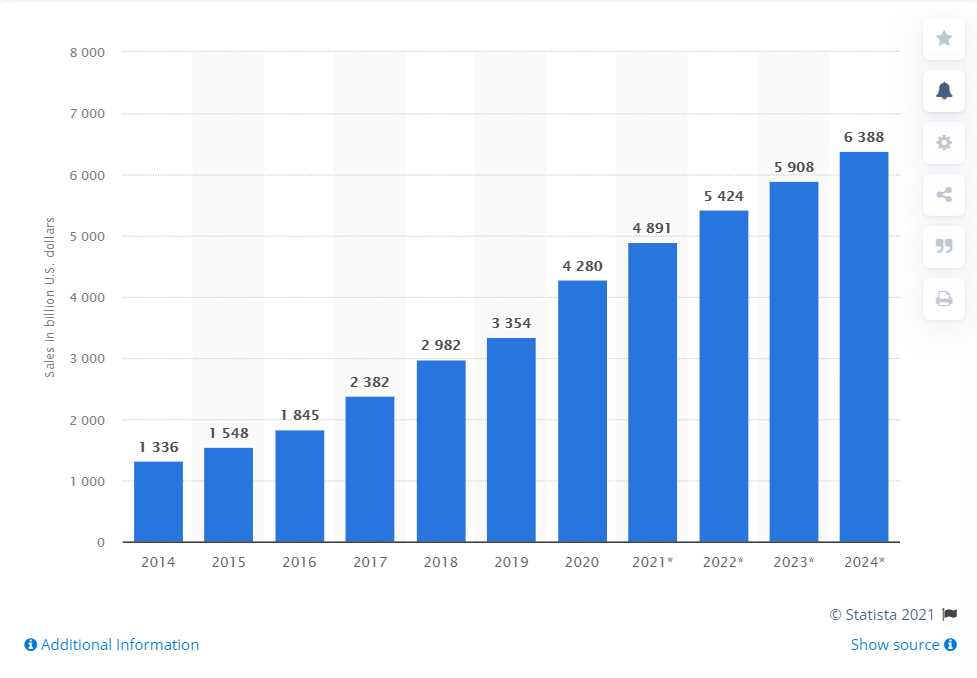 Final thoughts
Everyone knows it is a little difficult to run a business smoothly today. Opportunities are being seized and new developments in consumer behavior that emerged from the pandemic situation are ready. Interestingly, many marketers understood and learned to build their strengths to lead the brand in the right direction.
As the COVID-19 pandemic fluctuates the global economy in many ways, be it SME/ mid-size or large scale businesses, you need effective food for thought to build a successful business in 2021. Watch the video below to get a clearer understanding of this.
Video link: https://www.youtube.com/watch?v=bOoVn6UR5PI