10 Most Common Marketing Mistakes That Startups Need to Stop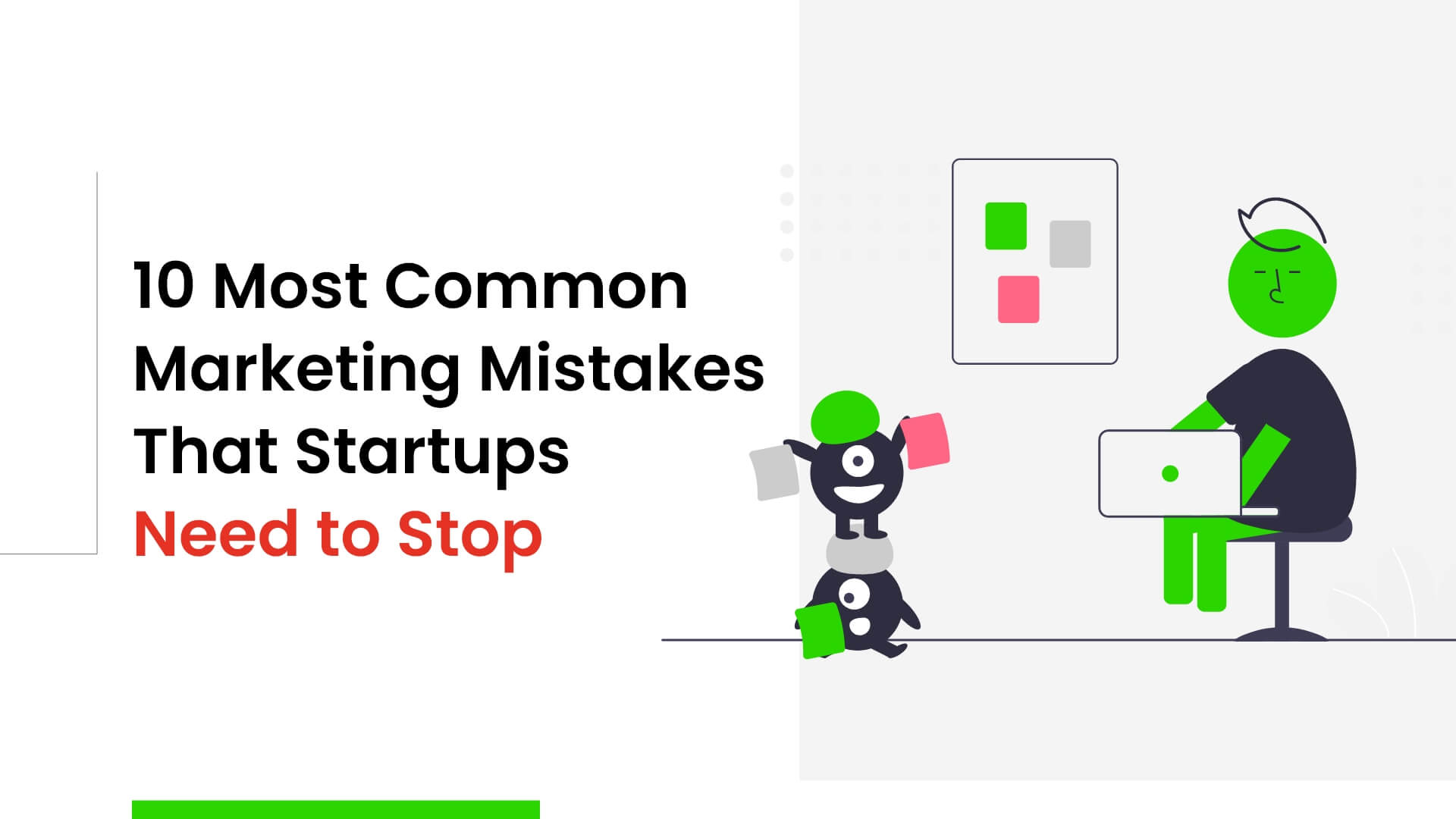 You can commit mistakes in your examination, but startup marketing mistakes could end up maligning the brand image or stir up communalism.
Introduction
If you are a startup marketing agency, there are ample chances to commit mistakes due to various reasons. Either you could be an amateur to the field or an experienced team desperate to create an attractive clientele.
However, if you hail from marketing agencies such as Webchutney, Watconsult, or Gozoop, it's hard to commit glitches because you are not dealing with an average clientele.
Instead, you deal with tycoons like Mumbai Indians, Warner Bros, ONLY, Microsoft, or Airtel.
Why is Marketing So Important?
Marketing spreads brand awareness, increases the reach, generates a potential target audience, and helps the business to sustain. If you need to grow your business and make it known across the world then lucrative marketing ideas and tricks are the keys to success.
If we observe closely, the recent decades are all about turning the tables in every genre.
Earlier, there were few brands that startups couldn't imagine surpassing or even gear up next to them in competition, but that era of prejudice is well in the past.
It is the phase where startups are trying to conquer the conglomerates in their genre. But, it doesn't happen overnight. Along with tiring and quality work by the organization/startup, it takes an efficient and creative team of marketing geeks to shift a brand from scratch to success.
Let's look down to the reasons why marketing is required:
For brand awareness
Increase sales
Long term audience relationship
Build a brand
Helps in taking decisive and calculated steps (which isn't always necessary)
Drive-in lucrative ideas
Helps in weaving ideas for tangible results
Does Marketing Always Help?
It is a dicey question because marketing's sole purpose is to ideate and helps the brand to bloom and thrive in the limelight. However, there is no guarantee that every marketing measure would reap a positive result because audience response matters.
As discussed above, marketing is needed to help an organization grow and lure the audience towards liking their brand's product/service. Furthermore, is it necessary to reap the same results guaranteed or speculated by the marketers?
It could be and couldn't be. It entirely depends upon the marketing tactics you weave together and the audience you serve. Apart from that, you also understand the dynamics of how society would consider your assertion of the idea.
The Blockbusters and Blunders of Marketing
Marketing can only be a success when the audience welcomes it positively, and it is the audience's choice on how to absorb it. At times the marketing campaign can be a blockbuster like Ariel's #ShareTheLoad, where the men in the society (father, husband, and son) were encouraged to change the patriarchal structure existing in the Indian turf of women doing the laundry.
P&G's campaign was nothing less than a whirlwind of success where millions of people interacted and shared their experiences. But, marketing doesn't always guarantee success.
Tanishq Ekatvam: If you watch this endearing advertisement, you will see a Muslim family celebrating a baby shower in South Indian style to elate their daughter-in-law, as she belonged to a Hindu South Indian family.
The brand's concept was to highlight 'unity in diversity and the selfless companionship' seen in India. But, what a few citizens decoded was 'Love Jihad'.
Tanishq had to take down the advertisement because it invited many trolls, hatred, and hurt the sentiments of selected communities. Therefore, pure intent won't run effective marketing because, with content, the audience is also the king. 
Similarly, there are many other blunders and blockbusters in the marketing field.
What are The 10 Mistakes to Avoid for Your Startup Marketing?
For instance, you are a startup marketing agency with an efficient core team and other needed resources. But, being a startup with non-bigger or zero brand experience, there are always the chances of committing blunders on different scales.
Therefore, you must look at these 10 mistakes for your startup marketing:
Have The Right Knowledge
Like, duh! an obvious point, right?
Though, it seems to be an obvious point; many marketing startups aren't aware of the ongoing trends or path-breaking marketing tricks from history (national or international).
Apart from feeding on theoretical knowledge about marketing, one should
Understand the current trends
Monitoring the trends
Who are your competitors?
How does the international market look?
What are the methods and variations seen in the foreign marketing market?
What are the latest ideas and resources used in marketing?
Think Big Gradually!
For instance, you launched a marketing agency two weeks back. In the beginning, you will get clients that are startups. You can't expect a clientele such as – Birla, OnePlus, Bata, etc.
As a startup, you need to be patient about the process and motivate your team that big things shall arrive soon on their platter with consistent hard work.
You never know, the success of small-size clients could reap you a decent clientele.
One Mistake Doesn't Mean the End of The World!
"Everything you want is on the other side of fear." ~ Jack Canfield
Everyone is scared of committing mistakes, thinking of reputation. But, trying hard to make ends meet, we forget that perfection is bluff. None gets a 100 apart from mathematics.
We all commit mistakes, apologize, strategize, and mend the potholes. One glitch should never put a full stop in your life because we are humans, and we tend to commit mistakes.
Never consider committing mistakes is the end. Period.
Always Have A Plan
Never go for a war against your enemy without weapons. It's like moving around without wearing a mask.
Always have a plan because an organized work structure helps in weaving better marketing strategies.
For instance, your startup marketing agency has a client that sells digital and analog watches (the brand is just a year old in the market). Now, if you have a plan:
You set a mission.
List situational analysis (happenings in market and competitors)
Set up a marketing strategy
Curate marketing mix
Map the expenses
But, if you don't have a plan and take impromptu actions, it will lead to disaster because there are no pre-set ideas or speculations for potential threats.
Learn to Take NO!
For many, it's hard to take a no positively. But, one should always learn to take no and feedback. If you take no or feedback because if you don't, speculations such as your bosses are crushing your ideas or imposing authority swirl up creating mental chaos, which creates a creative blockage.
In anger or frustration, when you take a no, it could lead you to work prudently.
But, if you take feedback positively, you could come out with better ideas, at times better than the ones in authority, because a happy mind can be constructive and curate out-of-the-box content.
Think Long-Term
Relationships with clients are necessary for your startup to grow and attract other customers.
For instance, you have a client who wants to take their offline grocery business online and provide organic groceries in the international market. As a marketing agency, you should not limit yourself with ideas and tactics for growth. Instead, you should help them sail through their mission and assist them to conquer more than what they aimed for.
It shows that you are considerate and interested in a long-term relationship of steady growth but also a reliable partner.
It will retain clients.
Existing clients will spread the word, which will attract more companies.
It will help you grow your company.
After Applying The Tactic, Map The Growth!
You have a structure, you apply, and you map the growth.
Every story has a beginning, middle, and end. However, in marketing, you have a single story (brand) with multiple beginnings, dramatic/static middle, and unpredictable ends (that has to be mended if gone wrong).
You never leave the marketing process mid-way because you need to measure the outcomes and make necessary changes if required.
Never Copy
Never be a follower. Always be a trendsetter.
Always have fresh ideas because content impostors never grow and be a credible brand. More original the content, the better the image.
For instance, similar to Ariel's #ShareTheLoad campaign, Cadbury launches the #BreakTheMonotony campaign, where girls are encouraged to propose and express their feelings via love letters and 80s romantic gestures.
Though genre and demand are different, the concept is similar. For a few weeks, the target audience would be in awe of the campaign, but after some time, a few think tanks will decode how skillfully Cadbury manipulated the P&G's Ariel campaign.
Watch Your Expenses
Money is something that comes gradually but goes in the blink of an eye. Therefore, you should always calculate your expenses and spend wisely.
For instance, you are allocating the budget for media mix – ₹20 lakh for TV commercials for a smartwatch, ₹5 lakh for a newspaper, and ₹2 lack on social media and influencer marketing.
To begin with, as it's a smartwatch brand, you should focus more on social media and OTT platforms because your target audience lies between 15 – 35 years.
Television is losing its essence as exciting content is available online, and social media has become a necessity (for the target audience) as it's a combo of all amenities.
Here, you could see wastage of money because you didn't bifurcate your expenses and end up wasting money on one of the least required mediums for the product type.
Know Your Resources
Know what you are recruiting because you are investing both money and training sessions on your recruits.
Therefore, apart from falling for the luring resume, you should also have aptitude tests to map theoretical and practical. It assures you that you aren't hiring a learned amateur.
Prevention is always better than cure.
These were the 10 mistakes one should avoid for their startup marketing.
Conclusion
Always remember "perfection is a myth" ~ Anjan Prasad, CEO Noboru World
We are humans and destined to commit mistakes (not deliberately). Progress happens when you learn from those mistakes and come out with better ideas.