Retargeting
Retargeting
Definition
Retargeting is a digital advertising strategy that targets users who have previously interacted with a brand or visited a website to encourage them to take a desired action.
Description
Retargeting is a digital marketing technique that displays targeted ads to people who have previously interacted with a brand or visited a website. It uses tracking technology to collect user behaviour data, such as visited pages, items viewed or added to the cart, and searches made.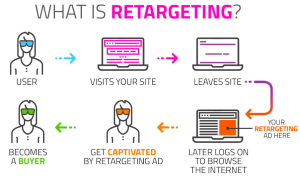 This data is then used to serve personalised ads to these users across various channels, such as social media, search engines, and other websites. Retargeting aims to keep the brand or product in mind for these users and ultimately encourage them to purchase or take a desired action.
Importance of Retargeting
Retargeting is an important digital marketing strategy for several reasons:
Increased conversions: By targeting users who have already shown an interest in a brand or product, retargeting campaigns have a higher chance of converting those users into customers. This is because retargeting ads remind users of their previous interests, encouraging them to return to the website and purchase.

Improved ROI: Since retargeting campaigns target users more likely to convert, they tend to have a higher ROI than other types of digital advertising. This is because the cost of serving an ad to a retargeted user is typically lower than the cost of acquiring a new user.

Personalization: Retargeting allows brands to serve personalised ads to users based on their previous behaviour. This creates a more relevant and engaging advertising experience, increasing the chances of conversion.

Brand awareness: Even if a user clicks quickly, retargeting ads can help increase brand awareness and keep that user's brand in mind. This can lead to future conversions or recommendations to others.
Steps in Retargeting
The following are the general steps involved in a retargeting campaign:
Set up tracking: The first step in retargeting is to set up tracking technology on your website, such as a tracking pixel or JavaScript code. This will enable you to collect user behaviour data, such as visited pages, items viewed or added to the cart, and searches made.

Define your audience: Based on the data collected from tracking, you can define your retargeting audience. This could include users who have abandoned their cart, visited a specific page, or spent some time on your website.

Create ad content: Once you have defined your retargeting audience, you can create ad content that is relevant to them. This could include product recommendations, promotions, or reminders of items left in their cart.

Choose your ad platform: There are various ad platforms you can use for retargeting, such as social media, search engines, or display networks. Choose the platform(s) that best match your audience and ad content.

Set up your campaign: Set up your campaign with the chosen ad platform(s), and select your retargeting audience. You can also set parameters for ad frequency and duration.

Monitor and optimise your campaign performance regularly, and optimise it as needed. This could include adjusting ad content, targeting parameters, or bidding strategies to improve ad effectiveness and ROI.
Effective Strategies for Retargeting
Here are some effective strategies for retargeting:
Segment your audience: Divide your retargeting audience into segments based on their behaviour on your website. For example, you can create segments for users who have abandoned their cart, viewed a particular product, or spent a certain amount of time on your website. By segmenting your audience, you can create more personalised and relevant ads.

Use dynamic retargeting: Dynamic retargeting involves serving ads tailored to the specific products or pages a user has viewed on your website. This creates a more personalised and relevant advertising experience, which can increase the chances of conversion.

Experiment with ad formats: Test different formats, such as static images, carousel ads, or video ads, to see which ones work best for your audience. Use engaging visuals and compelling copy to grab users' attention.

Set frequency caps: Be mindful of how often you serve retargeting ads to users. Setting frequency caps can help avoid ad fatigue and prevent users from feeling annoyed or overwhelmed with your ads.

Offer incentives: Consider offering discounts, free shipping, or other incentives to entice users to purchase. This can be a powerful motivator for users who are on the fence about buying.

Test and optimise: Continuously test and optimise your retargeting campaigns to improve their effectiveness. This could include adjusting ad content, targeting parameters, or bidding strategies to improve ROI and conversions.
Future Aspects of Retargeting
The future of retargeting is likely to involve the following aspects:
Advanced audience targeting: As digital advertising technology advances, retargeting campaigns will likely become even more sophisticated in their targeting capabilities. This could include using AI and machine learning to analyse user behaviour and serve personalised ads to users based on their individual preferences and interests.

Integration with other channels: Retargeting campaigns will likely become more integrated with other marketing channels, such as email and social media. This will enable brands to create a more cohesive and consistent advertising experience across different channels and touchpoints.

Increased emphasis on privacy: As privacy concerns grow, retargeting campaigns must become more transparent and compliant with data privacy regulations. This could include using first-party data and consent-based marketing to ensure user privacy is respected.

Focus on customer experience: Retargeting campaigns must create a positive and engaging customer experience rather than simply bombarding users with ads. This could include personalised recommendations, interactive ad formats, and other tactics that make a more engaging and relevant advertising experience.

Use of new ad formats: Retargeting campaigns will continue experimenting with new ad formats, such as augmented reality (AR) and virtual reality (VR) ads. These immersive ad formats can create a more engaging and memorable user advertising experience, leading to higher engagement and conversions.
Example
Suppose you are browsing through a clothing retailer's website and add a few items to your cart but ultimately decide to wait to complete the purchase. Later, as you browse the internet or use social media, you notice ads from that retailer featuring the items you added to your cart.
This is an example of retargeting, where the retailer uses cookies or other tracking technologies to identify you as a potential customer who has already shown interest in their products. The retailer hopes to encourage you to return to their website and complete your purchase by serving you with targeted ads.
Many brands use retargeting as part of their digital advertising strategy to stay top-of-mind with potential customers and increase the likelihood of conversion.
FAQ
What is retargeting?
Retargeting is a digital advertising strategy that involves targeting ads to users who have previously interacted with a brand or visited its website.
How does retargeting work?
Retargeting uses cookies or other tracking technologies to identify users who have previously interacted with a brand or visited its website. Once these users are identified, the brand can serve them with targeted ads as they browse the internet or use social media.
Why is retargeting important?
Retargeting is important because it enables brands to reach users who have already shown interest in their products or services, making them more likely to convert into paying customers.
What are some effective retargeting strategies?
Effective retargeting strategies include segmenting your audience, using dynamic retargeting, experimenting with ad formats, setting frequency caps, offering incentives, and continuously testing and optimising your campaigns.
What are some future trends in retargeting?
Future trends in retargeting include advanced audience targeting, integration with other marketing channels, increased emphasis on privacy, focus on customer experience, and the use of new ad formats such as augmented reality (AR) and virtual reality (VR) ads.
Is retargeting ethical?
Retargeting can be ethical if it is transparent and respects user privacy. Brands should be clear about their use of tracking technologies and allow users to opt out of retargeting ads if they wish.