Customer Persona
Definition
A fictional assumption of an ideal buyer based on actual data about present customers and market research is called building a customer persona.
Description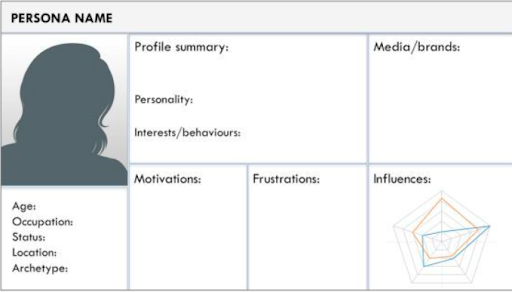 Building customer persona helps the brand identify key traits of the customers in different segments. Customers can be segmented based on demographics, motivation, interests, and objectives.
Customer persona helps you to serve your customers with the things that are of their interest. A persona-based marketing approach enables brands to improve customer experience. It allows the brands to remarket campaigns more effectively.
Companies can use the insights for remarketing campaigns to:
Increase retention
Reduce customer acquisition costs
Reduce cost per lead
Stimulate your conversion growth
The three types of customer personas in marketing are:
User persona: A user persona will be dependent on the people who will buy your products or services irrespective of whether they can influence the buying decision.
Buyer persona: Buyer persona relates to people who are directly involved in buying your products or services. These people directly affect your marketing strategies and communication.
Website persona: Website persona defines the characteristics, motivations, needs, and environment of the key types of website users.
Example
Online shopping brand Myntra created a user persona. They keep an eye on the ideal target audience that keeps trying new and trendy outfits and also ensure the quality of clothes they buy.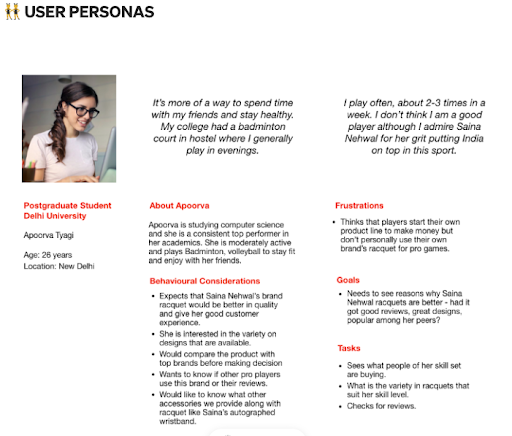 Myntra also focuses on removing frustrations and pain points of the brands. Their idea is to improve their sales by making the customer experience better.
The brand considers the user persona- the search and query to finally make recommendations for products. It makes the user experience better and pushes the revenue upwards.
In the image above Apoorva Tyagi is looking for reasons why Saina Nehwal's racquet is better to use. Myntra considered her queries to evaluate how they can launch the racquet for sales on a huge platform that sells multiple products.
Importance of Customer Persona
Customer persona helps brands in marketing, sales, customer service, and taking business decisions. For marketing, creating customer persona can help with marketing strategies like:
Identifying customer pain points to offer them products or services that interests them.
Develop a deep understanding of customer's requirements and find ways to solve them.
Distributing content through the right channels after knowing where the customer spends their time.
Prioritise which campaigns should you invest their resources and time in.
Documenting a customer's persona helps to align all marketing efforts to meet customer's needs.
Ways to create Customer Persona
These are the ways in which you create customer persona:
Step 1: Segment and analyse the existing customers.
Step 2: Run qualitative and quantitative research to dive deep into what your customers feel, see, think, and perceive about your products and services.
Step 3: Evaluate the responses like customer feedback and customer support requests.
Step 4: Set your team to communicate with the customers.
Step 5: Use tools like Google Analytics to back your decisions for customers. Use customer insights to understand the expectations of the customers.
Step 6: Share the information with the entire organisation so that everyone is on the same page to offer services to the users.
Step 7: Never stop updating and observing the personas when needed.
Key Insights of Customer Persona
Alan Cooper, a pioneer software developer, started with the concept of Customer Persona.
In 1983, he thought of creating a persona using data from interviews.
In 1995, he recreated the thought to know how in general someone will use the software.
Cooper mentioned the persona technique in his book The Inmates are Running the Asylum.
Further the concept of understanding the customer segments was developed by Angus Jenkinson. It was internationally adopted by Ogilvy One. Companies then started by creating imaginary characters.
FAQs
How can you leverage personas to create better customer experiences?
A customer persona can help you understand in depth:
Customer's needs.
Ways to address their needs.
Design campaigns, features, and ways to initiate them.
How do you engage customers when you create customer personas?
These are the strategies you use to create customer personas:
Focus where the customers spend their time, that is, on which platform.
Create customer personas oriented content to engage them more with your brand.
Speak the language that customers resonate with. If the customers are more into using slang, brands should speak in the same tone to mirror how customers speak.
Establish partnerships with influencers or brands that help you connect with your audience.
What is the difference between qualitative and quantitative research to make a customer's persona?
Understanding customers to create customer personas:
Quantitative research
It allows you to test and prove a hypothesis.
It uses large sample sizes through surveys and site traffic analysis.
Helps to observe statistically significant trends and then serve the customers accordingly.
Qualitative research
It allows us to discover insights using small samples.
It involves using interviewers data and usability testing.
The results might not always be beneficial because it involves a small number of people.