Biddable Media
Definition
Biddable media is the process of buying advertising space through real-time bidding. Advertisers bid to get maximum impressions or leads.
Description
Suppose you own a shop which is in a new mall that is in the centre of the city. You sell electronic items there. The place was high in demand and for the shop you had to go for a lottery system. When your name was chosen in the lottery, you got the opportunity to sell your products.
Similarly, for ad space on the website or blogs, you have biddable media that helps advertisers to bid and buy the ad space.
The interest in a particular ad space is high because of the high probability that the number of visitors will be more.
More the number of customers, higher will be the traffic which will generate conversions and improve sales.
Facebook shows a 38% YoY growth in terms of increasing investment in terms of advertising revenue into these social media channels. Other than Facebook, Google's advertising revenue rose by 69% whilst that of YouTube grew by 84%.
For auction, the top spot on a popular Google Search Engine Results Page (SERP) is costly.
This is why a little bit of research like monitoring the ad performance before bidding is helpful. If at a particular place, an ad is performing well, it is important that you as an advertiser offer a high bid for it.
Example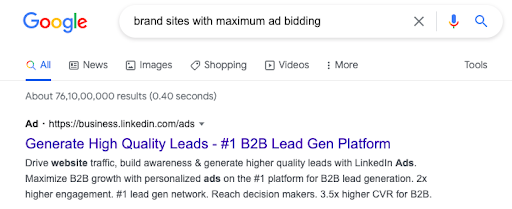 Above is an example of how the website google.com provides advertisers an opportunity to display their ads. It is the most fancied and high-in-demand place where advertisers look to place their products. Though Google has its own criteria to select the display ads still the bidding process is up for it.
FAQs
What are the prominent biddable media channels that advertisers can consider?
These are the biddable media channels that advertisers can consider:
Pay-Per-Click: The display ads that are shown in the Google SERP amongst the top results are PPC ads. Businesses bid for this position to get the attention of the users.
Social media platforms: Amongst the few biddable platforms, Facebook offers to target the audience based on their interest, activities, and behaviour. It also allows bidding after segmenting the audience based on location, age, and gender.
YouTube: YouTube is the most popular video sharing platform that allows users to bid for ads. YouTube works on ads per view. The prices for bidding is higher when the ads are placed on the most popular search terms.
What do you think are the benefits of biddable media?
These are the benefits of biddable media:
Helps drive increased traffic to your website.
With more traffic, the sales increases.
It helps you to connect with the target audience.