B2B Marketing
Definition
B2B marketing is selling and advertising for products or services from one business to another business.
Description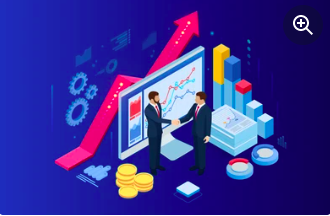 B2B marketing provides product and services to another business for reselling or to use it in production of their final product.
The idea behind marketing is to improve the lead quality and sales conversions to generate higher return on investment.
Example
The best example of b2b marketing is that of ANY Limited that sells SaaS products. It is the software making company that sell their products as the raw product to another company ABC Tech Limited.
ABC Tech Ltd makes antivirus softwares but to run its own operations the company would need enterprise resource management software (ERM) for employees to meet the project requirements. The marketing and selling of ERM software from ANY Limited to ABC Tech Ltd is categorised as b2b marketing.
Importance of B2B marketing strategy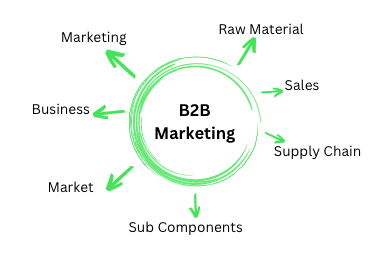 Here are the reasons why B2B marketing strategy is important:
Extended Sales Cycle: In a B2B business, the sales cycle lasts longer because it depends on what stage of the life cycle the prospects are in. Older the product, the easier the marketing strategy gets. It is important because you need to put the products in front of the buyers telling them that you have come up with a value-oriented product.
Products and services are complex: B2B products are complex and hence with the right b2b marketing strategy the product should reach the right audience. The marketing can help brands market their products in intricate, subtle and persuasive manner.
Less sales if less emotions: No doubt that in a B2B marketing environment, there is less interaction with the masses but ultimately the business is owned by humans. And to influence their buying decisions, it is important that the products are pitched with the right strategy.
Differential pricing: B2B marketing is important because of differential pricing. Every seller brings up their unique proposition which increases the competition. Hence with the marketing, the marketers can highlight their USPs and aspects of determining the pricing along with the cost benefit.
Fewer data points: B2B marketing has less data history to decide whether the product will fail or succeed. This is a challenge which is why marketers should start with B2B marketing and help brands know about their services.
How to create a B2B marketing strategy?
This is how companies make high level B2B marketing strategy:
Step1: Develop a mission
Before you start building your advertisements, content and campaigns, it is best you ideate the mission. Select measurable business objectives and then you can make a strategy of how you will achieve the goals.
Step 2: Identify the market's or buyer's persona
It is very important for B2B businesses because the audience is specific and niche. You cannot market your products to a wider audience. Narrower the audience is, the more you will be able to define what their requirements are.
Research what the competitors are offering, what is trending in the market, interview people in the market, and analyse your best customers to prepare a set of attributes that can match your leads.
Step 3: Identify the channels to reach the target audience
In the next step, you will have to identify how you will connect with the target audience. This will be easy as in the previous step you might know the platforms at which you could connect with the target segment.
You will have to know in detail where your targets spend their time, which social media platforms they use the most, what events they attend and questions they search.
Step 4: Design and Run Campaigns
Using insights you can create effective campaigns and reach the target audience. Within each campaign, ideally you must build around 3-5 ad sets.
Step 5: Evaluate and Improve
After running the ad campaigns, now is the time to evaluate which ads are high performing and which ones are low performing. Understand and then revise the budgets allocated to each campaign.
What does a best B2B campaign look like?
The best B2B marketing campaigns will have these:
The campaign speaks to their target audience telling them that the brands care.
Tell a story about how the company's product works.
The campaign helps the audience solve their problems.
Show their company's competitive edge rather than speaking about it.
Use imagery to support the brand's ideas and set the brand's tone.
B2B marketing trends to look out for in 2023
Brands will be able to make it big even during the recession if they take care of these things and set these things right in 2023:
Diversify content and provide value over everything else.
Make use of the big data and decide how you want to provide service to the customers.
Create best practices for demand generation instead of lead generation.
Improve the quality of SEO.
Build trust through the brand and communicate your services.
A State of Marketing Survey derived these about B2B marketing:
83% of B2B marketers use a company's website as the marketing channel.
91% of B2B marketers use content marketing in their overall strategy.
62% of B2B organisations have a successful documented strategy for content marketing.
78% B2B marketers say that high quality content led to an increase in content marketing success.
51% of B2B markets claims that they can prove how content marketing has increased their sales.
61% marketers say that generating traffic and leads is a top inbound marketing challenge.
94% of B2B marketers ensure that the content is fact-based.
FAQs
How is B2B marketing different from B2C?
There are many differences in B2B and B2C marketing but the major one is that of the audience. In B2B marketing, the major audience is business houses whereas in B2C marketing, the audience is customers.
In B2C marketing, the needs and the interests of everyday consumers are taken care of. On the other hand, in B2B, solution-oriented products are sold to business houses. The sales funnel in B2B is longer as there are many people involved in decision making whereas in B2C there is only one buyer. Other difference are:
| B2C | B2B |
| --- | --- |
| Many buyers | Small number of customers. |
| ROI is not that important | ROI is very important |
| In B2C, only a few product changes are made. It is more a game of content revisions | The B2B products are constantly updated. |
| More need for brand awareness | B2B has more dependence on the need of the demand from businesses |
What are some of the best B2B marketing practices?
These are some of the best B2B marketing practices:
Be Plan Ready: Carve out a plan because without a plan that will be a no-goal marketing. Know who the audience is and then move forward with the target marketing.
Use data wisely: Rely on data-driven marketing that helps you make better decisions for marketing.
Create visual content: Spice up your content with visuals to encourage user's engagement and strengthen brand's image.
Build a brand identity: Create a brand identity because always remember whether B2B or B2C, an audience will think of your brand if the communication is clear. Maintain transparency and be consistent with what you serve.
Watch the trends: Always watch and monitor what the competitors are doing. It keeps you ahead of the competition.
What could be the 4 types of B2B?
These are the different types of business customers in B2B markets which include:
Producers
Resellers
Institutions
Governments
Is retail giant Amazon an example of B2C or B2B marketing?
The retail giant Amazon is an example of both B2C as well as B2B marketing. It is because the number of products available on Amazon is wide and it can also act as a supplier to small businesses.
Is there a challenge to B2B marketing?
Yes, B2B marketing can be a time-framed process but converting actual sales from it is cumbersome. Using digital marketing for B2B channels can be more complex.