Ad Group
Definition
Ad Group refers to more than one ad created for the same target. Each campaign you create has more than one ad in the group. These ads have a common theme which relates to your business.
Description
The Chinese cuisine you prepare will have the same spices on the general levels. They may have a standard procedure of cooking which is why they fall under one category.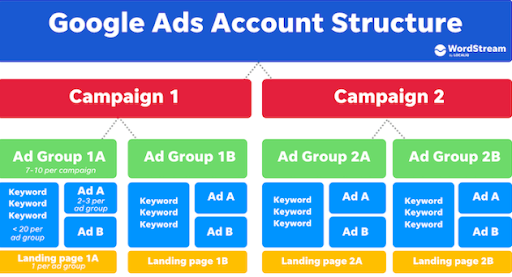 An ad group is a home to keywords, text ads, and landing pages. An ad group is the main tool for running PPC campaigns after making an account. Search engines look for ad groups to check for which keywords the ad will show and what will the ads show after they run. It will also show where the users will be directed after they click the ad.
Creating ad groups focused on keywords help companies better reach their audience. Brands can have more than one ad group for a campaign, distinguished by common theme keywords.
These campaigns drive business faster to get the target audience. And to make the campaign successful, you must divide the budget accordingly. When you make an ad group, you must decide on whom to advertise to, what to exactly say to your audience, and what will you say exactly when you design the ad.
Example
Anant wanted to market his newly built restaurant that served exquisite dishes. So he thought of running an ad campaign on Google so that he could reach his audience sooner than expected. His marketing team handled the ad campaign for him.
They began by selecting the keywords and dividing them into groups with a common theme.
Some of the keywords they used included "Restaurant near me", "Mexican restaurant near me", "best Enchiladas", etc. These ad groups were used in the marketing campaign for the new restaurant.
Importance of Ad Groups for Marketers
An Ad Group contains one or more ads that share a similar target audience. The marketers set a price, set a bid for the keywords the ad triggers to appear. The marketers can use form ad groups to:
Increase Ad Relevance: You can tailor ads for the respective keywords to increase the ad relevance for Google and your target audience. It gives you a higher Clickthrough Rate (CTR) and influence quality score. Ultimately, the ROI gets better.
Optimise Ad Extensions for Each Keyword: You can create an ad group to optimise the ad extension. What applies to the ad group will apply to sitelinks, call extensions,etc,. Further the relevance of the ads increases for users which further leads to better CTR.
Achieve Higher Relevance with unique keywords match types for an Ad Group: The keyword match also helps to trigger ads that are up for campaign in Google. For better ranking and high quality score, you can place each match type in a separate ad group.
Comprehensive Marketing Campaigns: Ad groups help to create comprehensive marketing campaigns. It drives the traffic to your business and brings in leads in a cost-effective way.
Create multiple ad groups: The benefit of having a multiple ad group is that allows you to create multiple ads based on keyword related themes.
Ways to create Ad Groups
A marketer can create multiple ads or individual ads for the campaign. This is how you begin with:
Login to your google account on Google Ads Account
Select Display Campaigns on the left side of the navigation panel.
Then click on Ads and Assets from the menu on the left side.
Next Click on '+'.
Click on Upload Display Ads.
Select an Ad Group
Choose to upload a file either as GIF, PNG, and JPG.
This is how a marketer can create an individual ad:
Go to "Type" and select Ad Groups
Go to Toolbar and select Add Ad Groups
Select the Destination Campaign and then click OK.
Enter the Name of the Ad Group and create a Bid.
For group ads, this is what marketer can do:
Select Ad Groups from the list.
Then Click on Make Multiple Changes.
Click/Select on Selected Destination.
Paste the changes to your grid.
Finish and relook the changes you made.
Click on Keep to keep the pending changes to your accounts.
Best Practices for creating Ad groups
This is how you set up the best practices for an Ad Group:
Set up a dedicated budget for the Ad Group: It is important you set up a dedicated budget for an ad campaign. This way the ad campaign can be managed very easily.
Set target parameters: Set Ad group level bid modifiers to create separate campaigns for each targeting segment. Keep budget management separate for long-term keywords.
Check the network setting: before you start with the ad campaign, select the search results settings. Choose the network where your ad should be displayed and where it should not.
Separate campaigns for different audiences: Create separate campaigns for remarketing. Create data-driven decisions that guide the structure to create an ad.
FAQs
How many ad groups should you have in a Google Ad Campaign?
You should have a minimum of 3 ad groups in a Google Ad Campaign. This makes your campaign strong and allows you to focus on different keywords. Then, all you have to set is optimised ad rotation. The optimization will help your ads for clicks.
What are the benefits of creating multiple ads?
Ad groups contain more than one ad based on a single theme. Different ad groups separate a campaign and help you to run your campaign successfully. These are the advantages of creating multiple ad groups:
Convenient monitoring: Running an ad campaign with a single ad is no offence, but it makes performance monitoring difficult. You can divide the ad groups based on keywords, location, theme, and products, making monitoring convenient after running the ad.
Bidding: Creating ad groups allows you to set bids according to keywords and location factors. This controls your cost of bidding but takes an increase in revenue.
Easy targeting with long-tail keywords: Long-tail keywords work better than normal keywords. Add similar long tail keywords to create one group as it can lead to better targeting.
Stop a particular ad group: If you observe that a specific group of ads is not performing well, you can stop it immediately. It saves you from getting fake expectations and spending more on ads.
Will a single ad group campaign fail?
Running a campaign based on a single ad group will not fail. You can aim to focus on single keyword themes and approach your target audience. A single ad group also enables you to make the best use of your budget.