Account Based Marketing
Definition
Account-based marketing is the art of direct marketing to best-fit, high-value accounts. It is a highly personalised marketing strategy that uses data and insights to build relationships with customers.
The strategy helps to build reputation and drive revenue in business.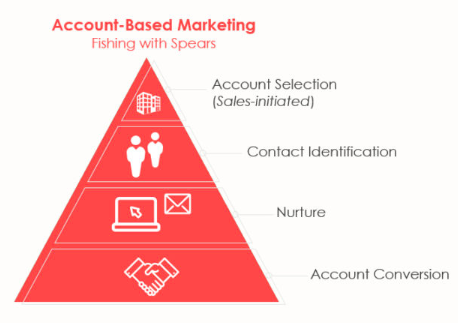 Description
Account-based marketing is fit for b2b companies that have high prospect clients. If you try to sell silk sarees to those who sell cotton kurtis, you will not get buyers as their target market does not have demand for silk apparels.
To expand business, you can pitch your product but you cannot end up wasting time and resources. This is why Account Based Marketing is essential, but it has a higher customer acquisition cost.
ABM is a part of marketing strategy where the company works closely with the sales team. It does not mean that the entire attention is shifted here.
ABM helps businesses ward off less valuable customers and brings marketing and sales teams in alignment. When both teams align all the processes, your business can generate better ROI.
With a more valuable audience, the teams can personalise the buyer's journey, communicate with them, and tailor content as per the preference of these accounts. Gradually, you have more loyal customers and higher revenue.
Account-based marketing is a long-term approach to expand the customer base that gives you more loyal customers.
Example:
ACS is a Resource Management Software making company. They offer the product to IT companies who work on large projects. To approach their clients, they implemented a smart account-based direct mail campaign.
They added a personalised note to all the customers saying, "we know how you struggle to align the deliveries and resources." And then they offered their product.
This tactic of offering the solution by hitting the problem helped the company increase their sales. After the emails were sent, the company took a personal follow-up after the event.
Importance of Account Based Marketing for marketers
Account-based marketing helps brands in one-to-one or one-to-many methods that help to foster relationships with high-value clients. It ensures that customers have great experience. Some reasons why account-based marketing is important:
It is a great opportunity to increase revenue. 85% marketers claim that account-based marketing brings higher returns (www.optimizely.com )
In account based marketing, the resources are used more efficiently than traditional marketing focusing on high-value clients. It saves time also.
Improved customer relationships. A few companies found that with ABM, they can have better customer relationships with direct marketing.
How to start with Account-Based Marketing?
Every business must try account-based marketing considering the percentage increase in the business revenue.
Marketers observed an increase in the conversion rate through increased web traffic. For Account-based marketing, the marketers and sales team align together for a common goal to increase revenue of the business. These are the steps that are involved in Account-based marketing:
Step 1: Finalise the account selection
To start with account-based marketing, you have to understand the accounts and audience you want to target. The marketing and the sales team must make strategies to nurture the audience and increase their engagement.
The marketing team should design the persona to convert and grow with the client. While developing the target company's persona, the marketers should consider demographics like HQ location, total number of employees, psychographics like purchase decision patterns, technographics to identify the technologies used by the organisation, and life cycle.
Step 2: Build ABM strategies
For successful account-based marketing, an ongoing coordination between marketing and sales team is more than required. Both the teams must build a personalised campaign across multiple channels.
Offer personalised communication to the target audience and gather information that motivates the users to make purchases.
Step 3: Get the right stack of tools
Fortify account-based marketing with the right stack of tools and technology. Two ways in which a company can do that is either by installing an end-to-end ABM platform to provide all necessary functions for each step or establishing an ABM program using tools.
The end-to-end account-based marketing tools must have features like prospecting tools, analytics, engagement monitoring, lead scoring, and marketing automation.
Key Insights about Account-Based Marketing in 2022
These are the important insights about Account-Based Marketing in 2022:
Globally Account-Based Marketing will read 1.6 Billion:
ABM was valued at $750 million in the year 2020. It grows at a CAGR of 11.6% up till 2022. Some of the expected growth projections include:
India, Australia, and South Korea will lead ABM in the region.
The US ABM market will read close to $202.3 million.
90% of the companies say that the top goal of ABM is new business generation.
94.2% of respondents have an active ABM programme.
49% of marketers have shifted their focus on growing business with the existing accounts.
67% of brands leveraged account-based marketing.
57% professionals confirmed that their companies target 1000 accounts or less with ABM.
Budgeting and finding a perfect resource is a big challenge for 37% of marketers.
New ABM strategies like relationship analytics (to understand analytics with B2B accounts), journey analytics (exact status of lead position), and attribution analytics (to study resources that drove conversion).
Future of Account-Based Marketing
Account based marketing is not going anywhere even though the economy is taking full swing. The marketing strategy brings more efficiency and more and more companies are using it to bring higher Return on Investment.
The use of the strategy will not fail as:
More and more businesses will get online: We are moving fast to the virtual world and we see a huge growth without any hindrance. Approaching all the customers with personalised content gets convenient with Account-Based Marketing.
Increasing brand awareness is mandatory: With more and more businesses growing online, you can increase brand awareness with Account-based marketing. You can build trust and there can be a connection between the buyer and the seller.
New platforms and new strategies: With new brands coming in, there are new platforms and channels where you can market your products. If you want to impress your customers, account-based marketing is a must. Technology will help adapt to changing behaviours and expectations of the customers.
FAQs
Is Account-based marketing the same as inbound marketing?
No account-based marketing is not the same as inbound marketing. But together, ABM can create a magical effect on your business.
While ABM is a highly targeted strategy to connect with high-value customers, inbound marketing increases brand awareness by posting valuable content. In inbound marketing, the idea is to optimise websites and improve customer experience.
Can you apply both ABM and inbound marketing together?
Yes, you can apply Account Based Marketing strategy and inbound marketing together. These are how the two can give a push to your business.
With inbound marketing, you can approach the target customers, and then ABM can help to pull those accounts. You can then offer a great user experience, ultimately making them your loyal customers.
Using both methods, you attract a wider audience than you would with just one method.
The same type of content, like a personalised story, can be used for ABM and on your website.
How to find a high-value account for Account Based Marketing?
You are looking for a high-value account to push your business towards growth. However, before you make an effort for ABM, you must verify these things about a target account.
Check financials: You must check what the potential of the client is. Verify how much revenue can be generated from this account against the company's sales goals in mind. If the account shows the prospect of growth, it can be considered for account-based marketing.
Scalable: Check if the account has some potential to grow its business. You can consider additional offerings to retain and grow the account.
When you prepare strategies around account-based marketing, also evaluate competitors. Understand what they offer to give you sufficient scope to improve your chances.
What are the problems that ABM can solve?
Account-based marketing is a targeted approach that is beneficial compared to broad-level marketing. As a result, ABM can boost growth, sales, and revenue. These are the problems that ABM can solve:
Problem: Not increasing ROI in B2B business.
Solution: ABM can increase ROI as it focuses on high-level customers. It delivers high ROI.
Problem: Save budget, time and resources.
Solution: Account-based marketing is pretty focused on high-value customers. This saves time in focusing on broad-level marketing. Companies can run marketing programs that are focused on target accounts.
Problem: I do not see an increase in engagement with the customers.
Solution: ABM is more personalised and engages more with the target customers. In this case, buyers are more likely to interact.
Problem: Our sales and marketing teams are not aligned.
Solution: The first activity in account-based marketing is aligning the sales and marketing teams. Because it is a target account-based approach, both teams can align their thoughts to stay on the same page.
What are the components of Account Based Marketing?
Account-based marketing is for target accounts that require the company to adopt a very focused approach. ABM involves targeting, engagement, and measurement. Read further to explore each step in detail:
1. Targeting: You need to identify the accounts worth investing money in, which can result in high ROI. This cuts down your efforts to half, which would attract a lot of time when you focus on a large target segment. You can concentrate on these factors before you target an account:
Product fit
High yield
Competitors
Quick wins
2. Engage the target accounts: You can run and design a personalised campaign across marketing channels.
3. Measure the success: Find methods that help you build account dashboards that look at specific accounts and help evaluate ROI.
What are the steps involved in Account Based Marketing strategy?
These are the steps that are involved in Account Based Marketing Strategy:
Step 1: Discover your high-value customers after considering their revenue potential, the likelihood of repeat purchases, etc.
Step 2: Identify the key internal players: Identify how the target accounts make decisions and how they are influenced.
Step 3: Create personalised messages: Define content you will send your customers with a personal touch. Make sure that the content is solution oriented and excites your customers.
Step 4: Determine the optimal channels: You must effectively leverage the media in communicating with the target accounts. Make use of web, mobile, and emails.
Step 5: Align marketing and sales campaign: Align marketing and sales campaign for the impactful implementation of account-based marketing strategies.
Step 6: Measure the success: Test, measure and optimise ABM to ensure that your efforts are all practical. You should evaluate the campaigns so that the results should continuously improve.