Superstitions Cease, SEO is Not Dead! How Do You Prepare for 2021?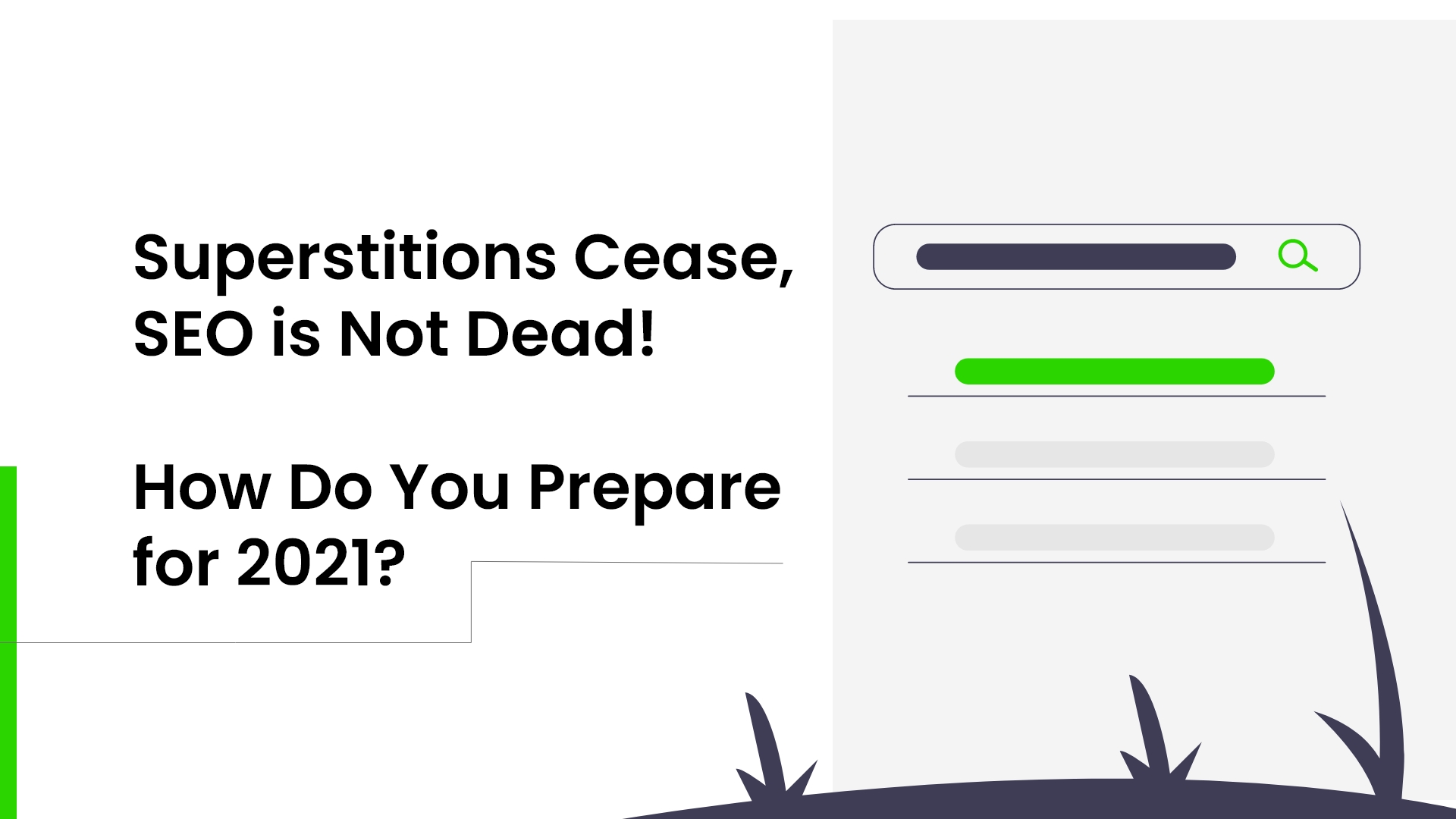 Google is not God but they have almost 3000 algorithm changes every year. And this continues to multiply further. This is what accelerates the rapid changes in SEO — and makes an illusion in the naysayers' minds that SEO is dying. So, it is 'food for thought' time.
Around 6 billion searches per day! Approximately 2 trillion per year! Nearly, 51% of the website traffic is organic. So do you still think SEO can simply die?
What actually happens to SEO?
Subsequently, you might have heard this whispering many where online across the globe. But, we don't wish to repeat this cliche question again. So now is the time to say adieu to all your doubts, confusion, and superstitions about this topic. Let us reinforce that SEO is not dead; instead, we can say that it is evolving and revamping itself day by day.
Though there are a plethora of websites giving plenty of information regarding this topic, it can be more advantageous if you bag a few tricky ideas to prepare your 2021 SEO strategy. It will just take a few minutes to read this, but it can be a game-changing learning experience to cope up with the changes in SEO in the future. And this blog would be proof that SEO is still alive.
1. SEO – How to Prepare for 2021
As we see revolutionary changes in Google as well as the mindset of the customers today, it is no more than just stuffing keywords in blogs, title tags, and meta descriptions to get ranked on Google. Instead, SEO today is all about User Experience. Rather than creating a blog article with a good amount of content, you should think of addressing the users' problems and queries. In short, the user experience offers you the business.
Let's have a look at a few of the changes we can expect in 2021.
1.1 Ranking Fluctuations
You may see that your ranking fluctuates more frequently than before. For example, the top-ranked post/website of today could be in seventh place tomorrow, back to the top the next day, only to slip downward again on the third day. You notice a see-saw effect that may put you into confusion. Don't waste much time thinking about it. Do the right things correctly, the ranking graph will always go up.
1.1.1 Why do these Fluctuations happen?
User intent:
These fluctuations sometimes happen due to the search criteria and intent of the visitor. As said before, user experience plays the game well here.
Google algorithm changes:

On the other side, it can happen through the new algorithm changes, upgrades or refreshes of an algorithm. Any algorithm changes to the search engine could lead to a rating fluctuation several weeks after the roll-out.
Technical issues:
Technical problems like HTTP/HTTPS migrations, link redirects, and redesigns can also cause fluctuations in rankings. With this issue, the website will not be accessible to web crawlers. Also, you will not be provided with decent uptime from certain web hosting providers. It will affect the credibility of your website.
1.2 Search Engine Positioning
Google constantly makes new changes. Thus it is very important to keep your website on the first page — but, it is not without challenges. It now becomes more crucial as most of your organic traffic comes from search engine positioning. The more customers visit your website, the more likely you would have a chance of transferring them as new leads.
1.3 User Experience
UX is SEO now and they are not different units anymore. It blends into SEO as both have similar objectives. SEO has now stepped away from keywords and Google rankings alone. UX and SEO begin to communicate here as it aims to offer information to searchers that address their questions. As mobile phones now have almost 52.2 percent of the market share, it is essential to optimize your website, especially for mobiles. Indeed, in terms of gross worldwide internet use, it exceeded the laptop back in 2016. Apart from this, image tags, headings, page speed of your site can also play a vital role in improving your UX. Visitors even get offended sometimes if they have to wait for more than 2 seconds.
1.4 Importance of Niches
SEO covers your product, service, or content material that requires a specific value. However, this can only be achieved if you know the competition and your target group. You need a micro-niche market to easily reach the values of this target group. Although it is almost difficult to achieve this with traditional marketing, SEO makes it much easier to aim to advertise directly to customers that are likely to be engaged. So your progress will depend on niche markets.
There is little point in attracting the audiences to your homepage on a website dealing with a certain niche; they want visitors who passionately or strongly want what you sell. So only the appropriate content must be provided. Therefore the businesses should continue to offer valuable content and to get loyal follow-up from raving fans in their niche.
1.5 Content Marketing Matters
Content is not only written. As people today get attracted to the titles, images, or videos before reading something, you need to think of altering the content strategy you currently have. Also, the quality and readability of the content need to be there on the list. It would be better to not attempt a 2000 word piece with a bundle of keywords if you're not able to provide answers through your content to today's customers. Simultaneously, you don't have to build too many backlinks that are sometimes unwanted and broken.
1.6 Branding, Banding, and Branding!
You always need to be an authority within your niche. Do you know why Google thinks more about the web design, responsiveness of the website, the quality of the content, user-friendliness of the website, mobile-friendliness, and more? It is about branding and improving your user experience — like SEO. If your brand is credible, usable, useful, findable, and accessible, Google analyzes the UX of your website and decides whether to rank you or not.
So much that in 2021, as a company you have nothing else to focus on other than building your brand authority. The SERPs will feature large and authoritarian brands. And the remaining would be left to local businesses.
Tips to Succeed in 2021's SEO
According to 'Safari Digital', 61% of marketers agree that SEO is vital to online growth; with that modern companies spend an average of 41% of their marketing budget on SEO. In fact, you should now take the time to detail a correct and appropriate SEO plan, not only for your web traffic but also for your entire business growth and success. To attain this, use the following tips.
Be the best and uncover the whole search intent
Not only keywords but also the problems customers face
It is not about getting traffic; it is about getting the right traffic
Create values that can easily convert visitors to your loyal customers
Write catchy headlines and appealing meta descriptions
Create engaging video content and images
Write FAQs — helps improve rankings
Create loyal customers who can think of coming back to your site again
Adopt a multi-channel approach – Social media, paid ads, content marketing, and more
Final words
Indeed Google's 'giant-ness' controls the internet with more than 40,000 search results per second with an unprecedented 62,19 billion visits per year. Thanks to Snippets, Google Images, Google Maps, and other Google-owned assets, more than half of Google's searches do not direct traffic to your website. Here's where we should think more about revamping your SEO strategy. With that being said, SEO cannot be silent or dead. On the other hand, there isn't enough strong and substantial competition out there for this well-functioning search engine. It would be a good idea to trust your business with one of the best digital marketing consultancy firms or SEO experts to get the job done.