Author: Noboru Team
What did one of the biggest operational crises of 2021, the 'Suez Canal blockage' teach us? Emblematically, it made the world sit up and realize that size doesn't matter. You could consider yourself big, but a small hiccup would do the trick to push you into a pit of losses.
From the perspective of marketing, a similar outcome is quite likely when your SEO fails. Today, SEO acts as the spinal cord of marketing as everything runs online, thanks to continuous advancements in technology.
Ever wondered why you might be failing at SEO when others seem to be thriving and getting high ranks in Google?
It is a fact that despite spending extra time and effort, many people still struggle to be the first in Google and the results may not be favorable. But, what are the factors that cause enterprises to fail in SEO and drive them to go beneath breakeven or even loss?
What might be the ideal step to relieve you of this stress? No doubt; find the choicest Digital Marketing agency.

If you're looking for a quicker way to revamp your business or looking for a complete SEO strategy, read this to keep you on the go!
1. Why do you fail in SEO?
Failure!!! No one likes that word, notably startups!
It may be temporarily satisfying to justify the 'failure' of your website with some cliche excuses. But, your business is slowly dying because you fail to make progress in the organic SERPs. It is crucial to know that there could be a multitude of global explanations for why SEO campaigns fail. Let's check some of the crucial and most important 'reasons for failure' among them.
1.1 Hoping for quicker results
It is likely that you will be disappointed if you look for sudden outputs or results. SEO is a long-festering exertion, but not rocket science either. Even so, it is a misapprehension that one can get results very quickly. Many companies blindly believe that the increased ranking will start soon. Keeping this in mind, it is essential to have a sense of reality for your SEO campaigns. One should discard the 'fast results' train of thought, follow the real, and expect realistic, fruitful results that take 4 to 6 months of solid effort. It might be time to consider revising your campaign if you fail to see improvements in rankings within the sixth month.
1.2 Giving lesser importance to Social Media
Nearly 59% of the world's population daily uses social media mainly for both entertainment and information sharing. This creates a great opportunity for marketers to promote advertisements and run their marketing campaigns. Advertisers cannot ignore their chances of marketing in these digital forums as they can easily find and influence the most potential customers.

This leads to better brand visibility, increased brand loyalty, better SEO, heightened customer satisfaction, increased traffic and engagement with the customers, and lots more.
The key to maintaining a powerful social media presence is creating convincing and attractive content to immediately connect the prospective customers. So, before the customers read something, they should be fascinated with what they see at first sight. There should be eye catchy and enticing material for this. It can be a social media message, a video, and even a picture of your product that is graphically or creatively made up.
1.3 Using short content
Longer and fuller content plays the game well in SEO. The recent algorithm updates from Google such as Hummingbird, RankBrain, etc. often look for longer and readable content. But, this doesn't mean that you can write longer content and articles with low-quality content — as quality matters for everything. Go for a minimum of 1100 to 1500 words for a blog and your maximum can be of your choice.

As an example, if you look at the graphical representation of the word count analysis of two years, you get a clear idea about how to play with content. The top ten come under the category of articles that have an average of 1,285 words. This simply indicates the better you create longer content with good quality, the better you succeed in search results.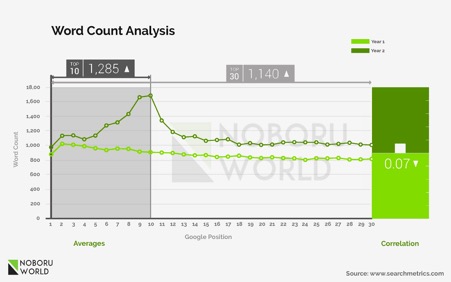 1.4 Using outdated Tools and Techniques
Traditional marketing strategies still get revised by marketers sometimes, if not always, make SEO tasks outdated. Some still aren't aware of the day-by-day changes in Google algorithms and SEO. But, those who know it, accept these changes and deploy new strategies that help improve organic search visibility – Google ranking, in particular. So, if you want a thriving SEO, keep yourself updated with the latest news.
1.5 Unresponsive website / poor UX
A difficult and unresponsive site could result in lost business. So, one should always make sure one's company website offers better responsiveness for multi-device users. Imagine, if the web page loads slowly or confuses the users with its complex UX and navigation; 95% of them are surely going to leave the website without wasting much time — as 'time is money.'
1.6 Choosing the wrong SEO agency/partner
Choosing the wrong SEO partner can harm your business as much as you get dumped in the garbage by the wrong person. Especially, startups that struggle for a 'skyrocket in rankings' may move towards disaster. Therefore, when you choose an SEO consultant, choose the right one. With that being said, you can undoubtedly choose Noboru as your SEO company. Our dedicated tech team better comprehend, analyze, and solve your issues through highly prolific and cutting-edge technologies to offer maximum possible results.

In addition, while choosing digital marketing companies, the below points should be taken into account as a preplan for getting the best SEO services –
Know your business goals
Know your budget plan
Evaluate the transparency of the SEO company
Research their brand visibility
1.7 Backlinking from waste and unwanted domains
Backlinking from waste and unwanted domains causes a drop in your Google rankings. The process of cleaning up the bad backlinks and broken links provides your On-page SEO with worthwhile outcomes. The more deep and important internal links you have, the better for user search and your higher ranks.
Also, finding and cleaning broken links can be a lucrative decision if you have a broader website with hundreds of pages. It is highly recommended because broken links harm page indexing, push users away and lift the bounce rate.
1.8 No tracking on results
Everything you do with SEO and all the implemented strategies should get tracked on behalf of understanding the results and success — and the SEO team should be responsible for continuous monitoring.

You should be able to notice when the problems don't give the right results. It is difficult to monitor KPIs and assess success without analytical evidence and a continuous evaluation process. A simple roadmap will streamline and enhance the SEO strategy by assigning roles to individual team members.
2. How Can Noboru's SEO Be Your Best Partner to Increase Revenue?
Team Noboru firmly helps the marketer and the consumer in many ways. Clients are at a pace of a complete digital transformation after choosing Noboru, and they foresee their assured growth after knowing the efficiency of our digital marketing strategies and techniques that are highly quantifiable, result-driven, adaptable, and quicker. With that being said, the reasons why companies embrace Noboru are various, namely –
Equal opportunities for all businesses of all sizes regardless of any constraints
Fruitful targeted conversion of audiences and prospects to leads, subscribers, supporters, and customers
Guaranteed business growth by working out with larger and niche markets – both global and local
Higher competitiveness
Cost-effectiveness
Device compatibility of products and services
Professional and result-oriented interaction with targeted audiences
Increase brand reputation, brand visibility, and brand loyalty
Creatively attracts prospects towards CTA
Quicker tracking and analytics to foster business growth
Spot on design development
Authoritative and error-free content marketing
24*7 online presence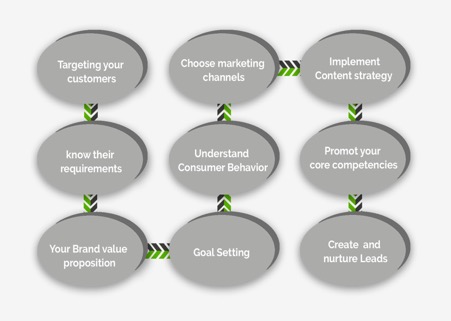 3. Final Words
Many businesses still consider SEO as just a function of marketing. But it is much more than that today. A good company with the best digital marketing services can provide you with exciting business growth and conversion rates 10X more than you get from traditional marketing practices such as direct selling. Noboru offers greatly productive and comprehensive SEO solutions that can help connect the missing links between you and your customer possibly through various online channels with guaranteed outputs. On the other hand, if you already chose an SEO agency that follows the mistakes listed above, or you either teamed up with a company that only looks for money rather than results, it's time for you to join Noboru's band.

Team Noboru does the best to lift a brand to cloud-nine with agile and dexterous handling of SEO; thus we exist as the best-in-class digital marketing agency in India and the USA. And, your business! Be it small or big sized, we fit the bill perfectly here.