How brands are leveraging Experiential Marketing in Covid Times?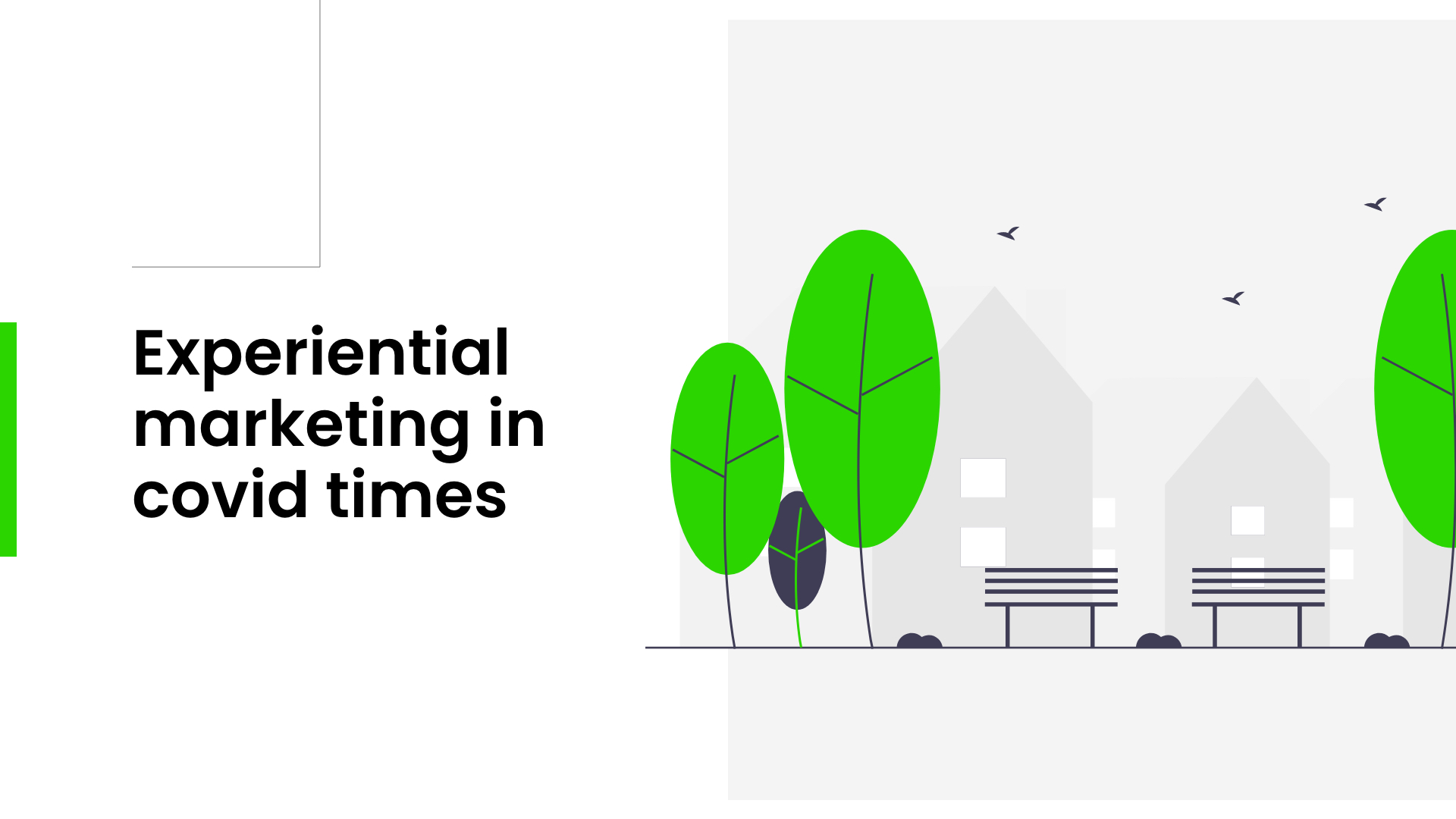 Why do you watch a movie in Cinepolis when you can watch the same movie at your home? The answer is simple, you do not want to be disturbed while you enjoy the show. For the maximum percentage of the population, comfortable seats in the theatre can be another fact to fascinate you. Theatres brands could attract customers only by offering them a great experience while they relax.
Experiential Marketing is not new, but it's all about a focussed approach to involve the audiences in a way so that they feel like a part of the brand and can experience it.
Automobile companies offered test drives to their customers only to make their expectations feel true. The owners of the brands believe that the pleasant experiences of the buyers can affect their buying decision.
During Covid, as more and more people are at homes, not attending events, gatherings, pop-up shops, etc across the globe, the experiential marketing industry is re-emerging rapidly.
There is no doubt that Covid19 has created many challenges for experiential marketers across the globe but the data signals that millennials are equally comfortable experiencing a brand virtually as compared to physically experiencing a brand.
Companies understand that the situation is not going to change anytime soon because they cannot put the customers to danger of Covid. The infection can spread anytime until there is not a solution to it.
Experiential Marketing is beneficial because of versatility: The reason it rose during Covid-19
Interestingly, a significant increase in digital media consumption and a decrease in advertising expenditure has pushed the marketers towards exploring experiential marketing more than ever before.
Fashion brands started hosting musical performances, guided drawing sessions to create music playlists like #McQueenCreators for their social media followers and surprisingly, many of them like, Chanel is doing these for the first time.
Throwing challenges like #DrawMeASwipeBag where Coperni challenged their followers to create a digital version of one of their best-selling bags. While Reformation reached out to employees, friends, and followers to have them clicked in their home set-up to use those photoshoots as part of the marketing materials, It's a great move, trying to involve your audiences into the brand and make them feel special.
Brands have understood that the brand recall will be higher for those who can "deeply connect" with the audiences in these tough times and not just reaching out to them multiple times using media tactics to build higher frequency in the quest of brand recall.
Physically being present and experiencing a brand cannot be challenged but with the new normal, increase in digital technologies like AR, VR, and AI-based experiences entering our life in many formats, the following trend is PHYGITAL.
What is PHYGITAL?
The concept of bridging the gap between the digital and physical world using technology to provide interactive user experience is called Phygital.
Phygital can provide an immersive brand experience to a consumer using the hardware and software at the same time to augment the reality at the comfort of home for people staying at home now, too busy millennials in the long run.
We are in the early stages of technology-based experiential marketing and till today it's majorly driven by fresh ideas. More interesting work in experiential marketing will happen when more technology will be integrated into it.
Experiential marketing and changing trends during pandemic
Experiential marketing is about moving the overall marketing space from traditional marketing with the high level of involvement in the lives of the consumers.
The interesting fact will be to see the residual impact of these inclusive, immersive, experiential work done by these brands in the next 6-12 months' time.
During the pandemic, brands are observed adopting and recording higher viewership for their:
virtual product launches,
virtual events,
branded content,
brand shows,
virtual shops to experience and buy products,
hosting parties and giveaways to prized customers,
partnering with E-commerce companies to send personalized inserts/messages to their audiences, involving followers/customers/prospects to crowdsource their marketing materials,
distributing masks/face shields and medical kits to the society.
Another interesting trend on the rise in the experiential marketing space is cross-brand marketing collaborations which are primarily seen in fashion brands but have huge potential for other fast-moving categories.
How can brands win the market with Experiential Marketing strategy?
Survival became a question when the pandemic hit the world. Gradually, the market revived and thanks to the digital platforms for it. Customers had no place to spend much but wanted a change for themselves. Hence, more people resorted to online shopping which got better with experiential marketing.
Proving worth in the existing marketing is the major stress. But the experiential marketing agencies will regain work and brands will succeed better who are:
more adaptive,
responsive,
inclusive,
refreshing as ever.
The new generation who is more attentive towards the values and responsibilities a brand exhibits in its behavior connects and relates well with them. As compared to these, traditional brands just try to lure customers with offers, discounts and talk only about their brand. It keeps them disconnected from the lives of their customers/followers/prospects.
Ikea Spain tried to connect with people by shifting their perspective from homebound feeling to a stable world they have created in their homes where they enjoyed all the small and big moments of their life with a video campaign. Another brand named Cottonelle, a leading producer of toilet papers globally has urged people to "Stock up on generosity" and tried to discourage the panic buying of their products with a campaign #ShareASquare. It's a great way of connecting with today's consumers while being relevant in today's tough times.
How did Experiential Marketing make brands successful during the pandemic?
Experiential marketing changed the dynamics of the marketing. Unexpectedly, companies sold better despite there being many challenges. Several factors that helped brands keep up or make their image includes:
Brands made community: Customers expect all the brands to be present everywhere. To answer the public, brands connected digitally with their customers. They made strong communities and sent messages that kept the customers close to these brands.
Encouraged Confidence: Brands are trying hard to ensure their customers about safety and precautions. Companies are consistently establishing trust and confidence from the audience. It will allow them to get the customers when everything turns to normalcy.
Being Creative: Brands are using their creativity to use online platforms to connect with customers.
Maintaining Customer Data Privacy: Despite all the initiatives in experiential marketing, companies do keep customer's data private. Without this, the trust on brands can be soon lost.
Thinking of offering a unique brand experience to the people? Great! Experiences are undefinable but super personal, so conducting a memorable and unique experience around your business is the most powerful way to create true brand love. And brand love is something that brands and advertisers have been striving for decades and we are now in the age of experience. If you are unsure of how to conduct an experiential marketing campaign, you can contact us or write to us at hello@localhost to guide.
The team at Noboru specializes in crafting the right action plan for you. Our practice starts with research and analysis after which we chart the marketing plan.
We understand that making this brand successful is your dream and hence we give our best to steer you swiftly from launch till the end.
Still thinking? Connect with our team and know more.