Target Audience
Target Audience
Definition
Group of people bound by their common interests, demographics, and behaviour whom a brand wants to approach is the target audience.
Description
Knowing the target audience is important to channelise marketing efforts so that businesses earn profits. Knowing the target audience, companies can create buyer's personas which are helpful in developing useful content.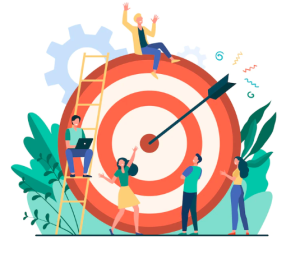 Target audience helps a company identify who all are interested in their service or products. And to keep these customers engaged with the company, they need to create content to convey a message that appeals to the target audience.
Importance of identifying Target Audience
Identifying a target audience is important when you decide to start a business. This is how you can be benefitted :
Marketing efforts are more channelised that helps you stick to your budget.

Increases the scope of competition for small businesses that can compete with the bigger ones by defining their audience.

Lead generation is made more cost-effective and is focused.
Ways to find target audience
These are the ways to find your target audience:
Consider the needs or problems that your product or service aims to solve. If your company creates websites, you might be able to connect with small business owners that lack access to design resources internally.

Analyse your rivals: If you are aware of who they are, consider their market. There is a good potential that they will make connections with individuals that could be beneficial to your company.

Obtain data and information about your existing clients: There are several resources available that can assist you in discovering more about your target market. You can use tools like Facebook and Instagram to know the demographics of the audience.
Future of Audience Targeting
Defining target audience will hold more relevance in the future. 
In future, audience targeting will bring increased ROI if the audience is defined considering their behavioural data. 

Engagement on the digital channels is expected to rise.With the rise of the internet users and the social platforms, it is obvious that the engagement on the digital channels will rise manifold in the future. And to keep understanding such a massive audience, it is important to combine the contextual data and behavioural data to build a clear picture of the target audience for effective marketing.

Gradually, demographic segmentation will face its death because it treats all the consumers equal, ignoring the fact that some of them are active while others are not.
Example
Nike sells its apparel, shoes, and accessories to the people who play sports. Their product stands for durability and good quality that justifies the product's price. The brand target young and aspiring athletes and runners to motivate them to push themselves beyond limits.
FAQs
What are the tips to consider when looking for a target audience.
These are the tips to consider when looking for target audience:
Decide what you want to achieve?

Consider the existing market research.

Have a plan B

Make wise decisions about your products and services

Always evaluate what you decide and execute.

Use social media reports and metrics to engage your target audience.

Create an omnichannel marketing strategy.

Team up with complimentary business.
Why should you think about the target audience?
Target audience helps you to create effective marketing campaigns for your target audience. It is generating business in an affordable manner.
Some audience targeting strategies from the experts.
These are the audience targeting strategies from the experts:
Use Facebook custom audience and retargeting

Add chatbots to your plans

Start tracking 

Remarket with Google Ads

Expand reach with Google's in-market audience feature

Try LinkedIn for keyword research

Target with organic SEO