Inbound Marketing
Definition
Inbound marketing is a strategic approach in creating valuable content that aligns with the needs of the target audience.
Description
Marketing of your product or services is important to increase awareness, make loyal customers, and earn revenue.
It is equally relevant to keep the audience informed and updated about the products and services.
One of the tested and cost-effective ways in which you can also establish a communication with your audience is inbound marketing.
The intent of inbound marketing is to attract new prospects, engage them and delight them individually.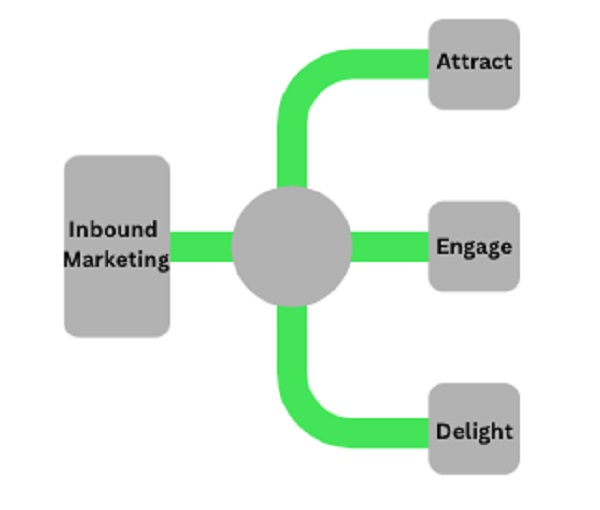 Creating content is the most meaningful way in which you can interact with your target audience and inspire them for a long-term relationship. Inbound marketing methodology revolves around:
Attract:
It implies that you can attract your audience with meaningful content. The content should build the trust in the readers who willfully come back and read your content.
You can create content such as blogs, content on social media, and other posts that offer value to the readers. It is wise to include "How To Guides" and Customer testimonials to increase credibility and trust in your content.
For a deeper level of inbound marketing, optimise the content on SEO strategy. After SEO optimisation, the chances of your content appearing organically on Google will increase.
Engage:
Craft and engaging content that touches the pain points of the readers. It will be a plus to engage the audience so that they buy from you.
Establish customer relationship management to offer solutions to the customers.
Talk to them more about how the product and service will help them instead of just talking about the products.
Delight:
Empower your customers so that they make the purchase easily. Well-times chatbots and feedback from customers is a mindful way to delight the customers.
You can send a feedback form and know their views about your product. Ensure that you add some responses on social media accounts also.
It delights the customers and makes them confident when they make a purchase from your brand.
Example
In an inspiring example of inbound marketing, Cheetos brought up a remarkable social media campaign. The brand was planning to launch a new snack product-Cheetos Crunch Pop Mix.
They thought that a Super Bowl Sunday commercial just wouldn't do. The Cheetos marketing team used Snapchat AR.
It allowed the Snapchat users to point their camera at Cheetos TV commercials and grab a bag off the screen. The people who used this, they received a coupon for one free bag of Crunch Pop Mix.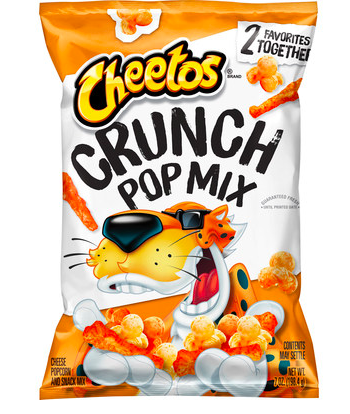 The result of the commercial was that about 50,000 bags were stolen and traffic to Cheetos site increased by 2500%.
This act of inbound marketing became a success, because it could blend the digital experience with the real world. The AR visual was aired for a limited duration but the free snack was real.
Importance of Inbound Marketing
74% of the marketers think that inbound marketing is a primary approach to marketing. 40% marketers say that content is important to their marketing strategy. 70% of people prefer content over advertising. (Source: Analytico)
Long-term marketing strategy:
Inbound marketing is a long-term marketing strategy. It is sustainable and hence it takes a little longer to build an inbound strategy. Planning email and other social media content takes time.
Apart from organising content, it is also important to select which channel you should reach the right audience.
Inbound marketing assists you to generate leads through the content you post on social media. The content can generate leads with high potential to convert. Inbound marketing allows you to create personalised content and reach your target audience.
After you know the people who are interested in your content and what they would like to read, it gets easier for you to engage them in meaningful content. You can send them content that increases their awareness and builds their trust.
Marketing is all about shelling money to reach your target. In this course, inbound marketing is a cost-efficient way as it gives you lead and an opportunity to convert it through content.
Increases visibility on SERP:
Creating SEO optimised content for inbound marketing will help increase visibility of your brand on Google's result. Hence, optimise the articles for high ranking keywords and improve your ranking in Google. It helps you stay ahead of the competitors.
Build trust and credibility:
When you consistently produce quality content for your audience, you delight your customers. It helps these customers build trust in your brand. Alongside, it encourages them to gain new customers.
Inbound Marketing Strategies
These are the inbound marketing strategies:
Start with researching the buyer persona: Know their habits, needs, behaviour, lifestyle and demographics. Create compelling content that resonates with them.
Segment the customers: Further divide the customers based on their demographics such as gender, age, and location. Segments help you to cater different needs and characteristics of the customers.
Start with email campaigns: You can start sending emails to the contacts who have subscribed to your email list.
Create social media campaigns. There are about 3.5 billion social media users. You can make social media campaigns to encourage the target audience to participate and show their love. It also helps to attract new customers.
Optimise for mobile, because the current number of mobile users is way bigger than the desktop users. Going mobile-friendly is important otherwise also because Google will eliminate website that are not mobile optimised.
Use words and create powerful posts. It increases the chances of visitors on the website. For example the post by Brian Dean on "How to Write a Blog Post: The Definitive Guide" got approximately 10k+ visitors on the website.
Host an online course: Host an online webinar to create events. It will help you to increase the size of the email list and you get to know your prospects. The online sessions build your credibility and make sure that the subscribers learn valuable information.
Key Insights About Inbound Marketing
These are the key insights about Inbound Marketing:
More budgets are required for the marketing team to try different channels to reach a wider target audience. 48% of marketers expect that their budget will increase for inbound marketing.
Data privacy has improved for marketing with many browsers who kill 3rd party cookies and GDPR.
Interactive content is on the rise as brands want to encourage their target audience to participate with them and stay loyal.
83% marketers believe that quality content will win over quantity in content.
Video remains the top content marketing media format. It shows the high engagement level by the target audience. Videos can be tutorials or short-form, it keeps the audience stick to your brands.
Organic queries represent 27% of the website traffic. This is why SEO optimization is important for online visibility. And the content should be optimised for mobile, desktop and tablets.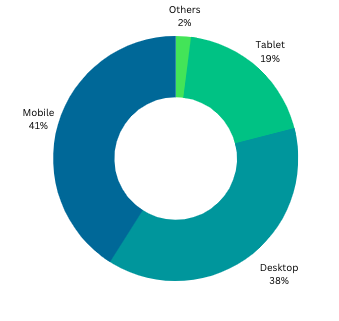 FAQs on Inbound Marketing
What are the Things to keep in mind when planning for inbound marketing?
These are the things you should look for when planning for inbound marketing:
Problems people are looking to solve.
Create content that is aligned with the solutions that people are looking for their problems.
Use analytical tools to see the performance of the content.
Analyse the content and the channels where it should perform for maximum output.
Think to include paid advertising platforms like Google Ads.
Evaluate the readers' behaviour and then create content to keep them engaged.
What is Difference between Inbound Marketing and Content Marketing?
These are the difference between the two types of marketing:
| Inbound Marketing | Content Marketing |
| --- | --- |
| Inbound marketing is positioning yourself to be found when some audience is looking for you. | Content marketing is creating useful content that people are looking for. |
| Inbound marketing cannot be done without content marketing. | Content marketing can go without inbound marketing. |
| Inbound marketing involves attracting the target audience to your content. | Whereas content marketing can be without attracting the customers. You can use any of the techniques like posting content on social media, emails, live presentations, and webinars. |
What is Difference between Inbound Marketing and Outbound Marketing?
This is the difference between Inbound Marketing and Outbound Marketing:
| Inbound Marketing | Outbound Marketing |
| --- | --- |
| Inbound marketing involves informative digital content for a target audience and helps them to solve their problems. | Outbound marketing is created to capture the audience's attention but it is not a digital content. |
| Content in the form of blogs, emails, reports, webinars. | Outbound marketing is for magazine ads, billboards, etc. |
| Messages can be tailored to specific target audiences. | Messages stand out among millions of other consumers each day. |
| Output can be measured through digital marketing software. | It is difficult to measure the attributes. |