Customer Journey
Definition
Customer Journey is a metric that helps marketers understand a series of customer's experiences earned when they connect with the brand.
Description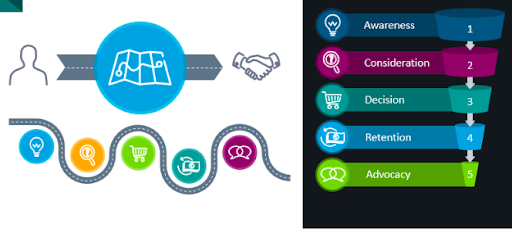 Acquiring customers takes a lot of effort. It is not easy to motivate the buyers to make a purchase for a product or services. If you do not interact with customers or do not serve them with what they want, it can get a bit complex to keep them engaged with your brand.
There is a high relevance of strategic customer journey to observe customer's experience with your brand and retain them to grow business.
Customer's journey helps to map how the customers interact with your brand, or your product/service. This is referred to as customer journey mapping.
The ease of interaction with your brand you offer assists the customers make their final purchase decision. It offers them a great customer experience and motivates them to stay loyal to your brand.
There are different stages up until a customer completes its journey. A full-interaction of the customers with the brand throughout before making the final purchase defines the customer journey. If during or after buying your product or service, the customers feel pleasant, their customer journey is said to be great.
Example
Vinita was out shopping for an artificial jewellery store. She was new to the city and went to the mall that was in the centre, easily approachable. While she entered the mall, she saw a board of a Swarovski jewellery store. She followed the ground map of the mall and found the store on the first floor.
As she entered the shop, the staff welcomed her and showed her exactly what she wanted. Vinita could purchase what she was looking for and she was completely satisfied with her shopping experience.
Her journey was smooth and she immediately gave feedback on the store. Not just this, Vinita also spread good words about the brand and their exclusive jewellery designs.
Importance of Customer Journey for marketers
Customer journey is important for marketers. They can create a customer journey map and increase the conversion rate.

When marketers map customer's journey, they get:
1. Valuable Insights
Observing customer's journey is important for marketers to help the buyers serve exactly what they are looking for. It improves the customer's experience and ultimately takes them to the last point of the purchase journey.
2. Understand customer's expectations
Observing customer's journey helps brand marketers understand their customer's expectations at different stages. They can take care and remove what frustrates the customers.
3. Influence customer journey
By observing customer journey, marketers can offer the customers what they prefer at different stages and optimise the conversion process.
Customer Journey and the Future of Digital Marketing
This is how customer journey will decide the fate of marketing:
1. Customer's require high-end experience
Every customer in today's time requires a highly personalised digital experience based on their interests, preferences, and requirements.
If you do not offer the same, the customer will easily move on to some other brand. Today, customers are powerful and they quickly share their experiences on social media.
Understanding the customer's journey is important to increase the sales and conversion and will remain relevant for future marketing tactics also. It makes it crucial for the marketers to offer things that pleases the customers.
2. Businesses have moved online
Today almost every business is conducted online and with the quality of experience the customers receive, the brands can determine whether or not they will lead to sales conversion.
The marketers need powerful strategies to influence the customer's journey for a confirmed conversion.
3. Evolve in the future
Marketing needs complete evolution with the changing times and mindset of people. Brands have to run account-based marketing campaigns for existing customers. They need to efficiently target the customers with predictive analytics.
4. Get efficient to optimise the ROI
The brands will have to leverage data, technology and marketing tactics to offer the best to their customers. They will have to find out barriers and problems of the customers and how efficiently they can affect the decision making process.
5. Focus on brand relationships
Word-of-mouth publicity has always been crucial when it comes to brand marketing. The brands should focus on customer relationships and motivate them for brand loyalty with improved customer journey experience.
Ways to start with Customer Journey Mapping
These are the six steps to start with customer journey mapping:
Step 1: Identify all the touchpoints of the brand
You need to identify all the touchpoints of the brands through which the customers can interact with your brand. It makes creating a customer journey map easy for you. For example if you have an app, website, social media account, print and digital advertisements.
Step 2: Define your target persona
Find out who is interested in your brand, it enables your brand to create a framework to approach the clients. It creates personal touch and a point of reference for customer journey mapping. For example, a male, aged 24-30 years showed interest in buying sportswear.
Step 3: Understand what customers want
Understand and evaluate what the customers want from your brand each time they interact. Like if the customer's touchpoint of your brand is a social media platform then possibly they are looking for the brand's personality and their presentation for the customers.
Step 4: Map out customer's flow of interaction
See the exact flow of interaction how customers move with your brand. The ultimate aim is to make a purchase but at times, the customers interact as they are loyal to your brand. See where the customer's move and how they interact.
Step 5: Prioritise brand touchpoints
See where and for how long the customers interact at a particular touchpoint. The aim is to improve interaction and offer them more of what they are looking for.
Step 6: Review and update customer journey map
Review the customer journey map and see what more you can offer to your customers. You get to know how customers interact with the brand because it helps you remain in competition. And when you update the customer journey map, you will always keep ahead of the competition.
FAQs
What do you include in the customer journey map?
A customer journey map has details of all possible touchpoints with a brand or a company. The 4 key components of a customer journey include:
Buyers Persona: A buyer's persona is evaluating buyer's experiences. It helps to predict consumer behaviour and moods.
Customer Stages: Customer journey map helps to identify different interaction stages with the brand.
Touchpoints of a customer: A consumer can have a touchpoint of interaction via call or a chatbot. The brand should include it in a customer journey map.
Emotions: Include customer's emotions in a customer journey map to understand customer's pain points and help the brand strategize their approach better.
What are the benefits of a customer journey map?
These are the benefits of a customer journey map:
It explains the path the customers take to make the final purchase.
It helps the brand to meet the gap of customer experience.
Brands can predict the path of prospective customers.
Brands can maximise the path's efficiency and makes sales at a faster rate.