Brand Strategy
Definition
A long term plan that focuses on the development of the brand is referred to as brand strategy.
Description
A brand becomes successful when it serves its clients well and offers them what the brand promises. Taking the brand longer in its journey with all length and breadth is all dependent on the brand's strategy.
When a brand has a strong and influential strategy, the customers associate well with it. And when customers associate strongly with the brand, it helps drive the purchase decision.
For a successful brand strategy, things must fall into place from planning to execution. A brand should start with setting up their goals right. They should identify their target audience that strengthens the purpose of the brand.

Importance of Brand Strategy
These are the reasons why brand strategy is important:
A brand strategy communicates your core value: A brand strategy helps you lay the foundation on how to attract loyal customers. It makes it easy to communicate your brand message to your customers.
Brand strategy helps to identify weaknesses: Defining a brand strategy enables a company to offer consistent experience to their customers. When a brand meets expectations of the customers, it gains popularity.
Increases accountability: Strategy building helps you stay on track. Every stage of development can be followed to keep productivity in line.
Saves money and efforts: With strategy building you can hit the maximum return on investment. You can quickly put A/B testing to keep business strategy aligned with the goals.
Increases the valuation of the company: Brand strategy helps you increase the valuation of the company. With a clearly defined strategy you can approach the investors and ask for funding to push the growth in the business.
Aligns all departments: A strategy pulls every department to remain aligned with the organisational goals. It gives an opportunity for a quick process check where the deliverables are not met.
Future trends of Brand Strategy
Branding is neither a one time activity nor does it bring results overnight. After the pandemic and the global recession, brands will have to reconsider their brands. They will have to rethink their mission, vision,and strategies.
Change in the perspective of how the target audience perceives the brand and what they are expecting in the future will affect the branding strategy for the companies. To make a lasting impression and keep the target audience engaged , this is what the brands can do in future:
1. Make it nostalgic yet modern
The first trend for branding strategy that brands can follow is to pull the heartstrings of their customers and approach them to keep them engaged and vibrant. The trick will help to ensure that the brand remains timelessly active over the years.
2. Use powerful colours
Brands can use impactful colour combinations that yet suit the tone of the brand. Because digital platforms are the major spaces that can catch the attention of the visitors, use of vibrant colours can help companies touch the mind and memory of their customers. Using brand colours with a touch of vibrance will boost brand recognition.
3. Break the boundaries
Breaking boundaries will be the crucial trend when the competition amongst each brand is to rise. Companies can refer to the archaic and traditional styles of branding and choose broken design rules with bold colours.
4. Eco-branding
Brands can choose eco-branding to move in a minimal futuristic direction. Brands can prefer earthy tones as well to impress in a unique way.
5. Animated Logos
Animation will still rule the branding purposes. It is a distinct way to connect with the audience in an intriguing and entertaining way. The current moving logo of Google is a perfect example to represent search engine's services in speed and style.
6. Impressive Typography
A brand can choose statement typography to spread the message in an impressive way. Try to keep the font consistent across all touchpoints for branding purposes.
How to make a brand strategy?
Making a winning brand strategy is important for a business to flourish.
Step 1: Find your core beliefs
Establishing your core beliefs is the first stage in developing your brand strategy. Your brand's core values are the ideas that guide your behaviour. These essential principles connect to the specific issues you want to resolve for your consumers and are the reason why your business exists.
These principles were frequently created at the company's foundation, and they are unlikely to change significantly as your business expands. They serve as the main tenet of your brand strategy.
Step 2: Create a positioning statement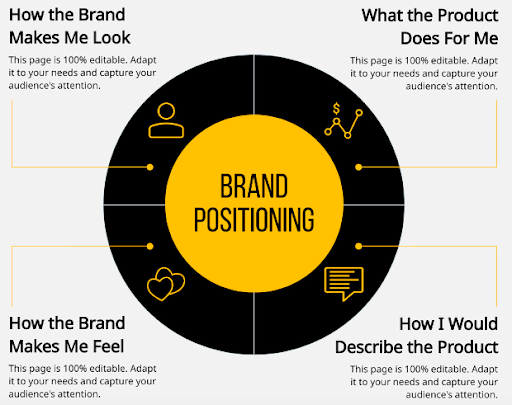 Your product and your target market are both described in your positioning statement.
Its goal is to demonstrate precisely how your product meets a specific need in a target market. Make use of a positioning statement as a tool to ensure that your marketing initiatives and brand strategy are complementary. To develop brand positioning statement, you have to find clarity on these:
Who do you serve?
What do you offer them?
How do you offer your target audience?
How are you different from the current offers?
Step 3: Understand your customer profile
A description of the kind of consumer who would benefit greatly from your product or service is called an ideal customer profile.
They are the most straightforward to offer, have the highest retention rates, and adore recommending your goods to others. The ideal customer profile, in essence, is a description of potential clients who have the traits of your most significant successes.
Step 4: Prepare a brand promise
A tagline's succinctness and your USP are combined to create a powerful brand promise. Any brand's brand strategy gets more successful the more they live up to their promises. In contrast, if you fall short of your customers' expectations, your brand strategy is failing.
It is crucial to develop a worthwhile brand promise that is both thrilling and realistic given the danger of not living up to it.
Step 5: Have a visual identity
Your brand's overall description of its pictures and other outward manifestations is known as its visual identity. Everything related to your website, business cards, and social media profiles is part of your visual brand.
Step 6: Review customer touchpoints
Keep the brand strategy consistent across all brand touchpoints. It is a contact between you and your brand.
Step 7: Define brand voice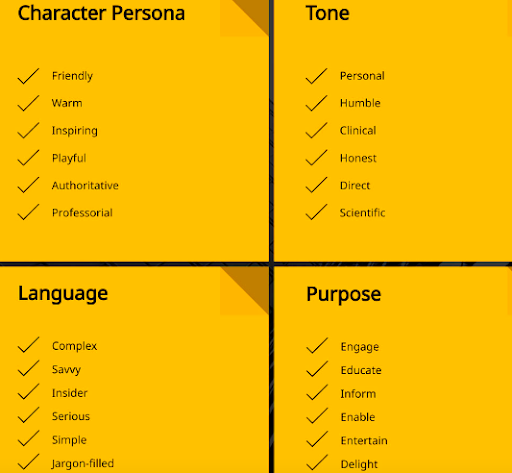 The key to a successful brand strategy is to define your brand's voice. A brand voice defines how you always speak to your audience. The brand voice should connect with your ideal client. Easiest is to stay true to the brand to define the brand voice.
These two components work together to create an authentic look. The voice adopts a more authoritative tone for some businesses. Others find that a voice that is more jovial sounds more genuine.
Step 8: Brand audit
Check how brand strategy performs in comparison to other goals. Evaluate how well you have been able to represent your core values to connect with the audience. Audits help you to establish performance benchmarks enabling you to consistently improve brand strategy.
Example
Apple's branding strategy started with the "Think Different" Campaign. They had to think uniquely to convince people to buy their products to exhibit what they believe.
Apple's products look and work differently. It gave a message of creativity that people can try with Apple's products.
FAQs
What are the components of Brand Strategy?
These are the components of Brand Strategy:
1. Purpose: A brand has to establish the purpose of their existence and that of their products. They should know how their products will help the customers and then they can make a strategy.
2. Consistency: Consistency involves aspects of the same colour, same fonts and style of language. It makes it easier for customers to recognise the brand.
3. Emotion: Learn what emotion a brand feels to evoke in the customers. Company needs to foster an emotion to connect with the target audience.
4. Employees involvement: A company cannot sail in the market without the efforts of its team and employees. The employees must carry the same ideas as that of the brand. The team should be trained so that they resonate the same thoughts about a brand.
What are the five elements of a good brand strategy?
These are the five elements of a good brand strategy:
Brand design
Brand voice
Brand values
Brand vibe
Brand story
What happens without a brand strategy?
Without a brand strategy, a company can fail because :
They do not have a mission, values, or purpose.
They lack a marketing plan without which moving will be non-directional.
There will be no team alignment and the outputs will be derailed.
The brand will takes ages to carve a niche for itself.