Affiliate Manager
Definition
An affiliate manager is an individual who takes care of managing online affiliate publishers for advertising of products and services.
Description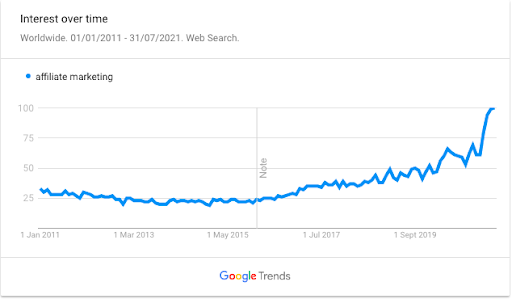 Stats show that affiliate marketing growth has an annual growth rate of 10%. And 15% of the digital media industry's revenue is generated from affiliate marketing.
Advertisers have realised the relevance of affiliate marketing, and more than 80% of advertisers allocate more than 10% of their budget towards it.
The role of the affiliate manager is to:
Reach out to affiliates and manage their accounts.
Target the problem long before it occurs.
Optimise the ad campaigns.
Build strategies and align them with the company's goals.
Keep an eye on the program so that there is no breach in part of the job.
The job of an affiliate manager is to manage an end-to-end affiliate program for an online advertiser. They have to push the performance of affiliate programs by creating promotional content that influences the target audience.
In addition, they have to create banners or engage with email marketing to ensure the campaign runs smoothly.
Example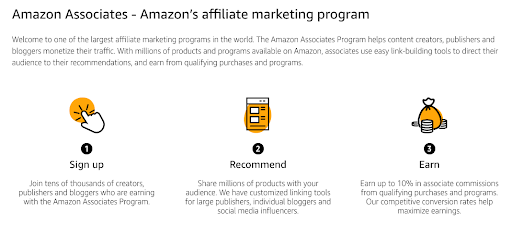 One of the popular affiliate marketing programs for affiliate managers is the Amazon affiliate program. The Amazon Associate's Program helps the content creators and bloggers earn money by driving traffic to their site.
The affiliates can choose from the millions of products that fit their niche. The affiliates can use easy link-building tools to direct their audience to their recommendations. In return, the brand gets to see higher sales conversion and affiliates earning some percentage of commission which is their earning.
Importance of an Affiliate Manager
Affiliate managers have vast affiliate marketing experience. The managers have their importance because:
The professionals are expert in affiliate marketing experience. They are aware of affiliate networks to target and know how to profile your ideal affiliates.
Affiliate manager helps to monitor the cost. They help you track how much you spend against how much revenue you make. The managers know how to deploy resources, marketing materials, and engage to maximise earnings.
Affiliate managers help to streamline affiliate management efforts. They make the communication efficient and strategise well to retain the affiliates.
Affiliate managers run the affiliate relationships deeper. They turn the affiliates to brand advocates. The affiliate managers know with experience how best they can keep affiliates connected.
Affiliate managers bring in new ideas in the business to promote growth and revenue.
Affiliate Managers Role in 2023
Affiliate promotion is a great way to boost traffic on your website. It helps the crowd gain awareness and authority for the brand.
Affiliate marketers have options to choose and move ahead when metaverses have captured their attention. And the affiliate managers can help to monitor the work. Affiliate managers can:
Promote virtual products by becoming an avatar.
They can manage creating a virtual world of the brand and help utilise several metaverse platforms to increase user engagement like in games.
Moving towards a cookie-less future, affiliate marketing will witness a digital revolution on social media platforms, search engines, etc. The affiliate managers will have to use on-page analytics, social listening, and conversational marketing.
Mistakes that Affiliate Managers Should Avoid
These are the mistakes that affiliate managers should avoid:
Competing with other affiliates
Not concentrating on affiliate marketers
Not supporting affiliate marketers
Not paying affiliates properly
How to become an Affiliate Manager?
Without a goal there will be no results. If you want to be an affiliate manager, you will have to understand internet marketing, social media, and affiliate programs. To become an affiliate manager one can take up courses or can take on-job training also.
An affiliate manager will have to recruit website owners who want to participate in the company's affiliate marketing programs. Interested candidates who want to pursue affiliate management.
FAQs
What are the jobs and roles of an affiliate manager?
These are the jobs of affiliate managers:
Recruit new affiliates for the programs and screen their applications.
Ensure to receive referral traffic from affiliate marketing.
Provide proper tools for affiliate marketing.
Monitor day-to-day operations of affiliate campaigns so that the returns on investment are maximised.
Develop brand-specific strategies to drive the volume of sales in a definite period.
Maximise performance with the improvement of marketing practices.
How can affiliate managers maximise the performance of affiliate programs?
An affiliate manager can maximise the performance of the affiliate program by following these steps:
Share content that educates the affiliate marketers.
The content should be created after a complete SEO analysis.
Explore new opportunities for conversion through YouTube, Instagram, and PPC.
Collaborate with influencers, bloggers, YouTubers, etc., to divert the organic traffic to the company's main products.
Resolve issues for the team and help them work better.
How do affiliate managers find affiliates for their program?
Affiliate managers have an extensive directory of affiliates to whom they can reach out when they start with a program. The affiliate managers can also find affiliates using affiliate recruitment tools like Publisher Discovery. These tools can help in finding affiliates of their own vertical or domain.