Social media management
Recognizably social media has been around since 1997, yet the buzz about posting on social platforms and receiving enormous engagement began only by 2007. That is when brands started to talk about their products on social media and gained a massive following and easy engagement. But over the last few years, the algorithms of these social channels have changed the game in a way that social media management requires more than just creating, scheduling, and analyzing.
Introduction
Nearly 60 percent of the world's population is on social media, spending an average of 6 hours across platforms. This lets social media advertising give brands a considerable window to connect with their consumers. Our hand-crafted approach to social media using advanced tools, relevant content and new-age strategies provides brands a honed edge to stay ahead of the game.
PROCESS
Social Diagnosis:

We begin with an analytical investigation of a brand/business and review their online presence to identify the pain points before defining a social media game plan. In this step, we ensure to study the market and keep a keen eye on the competition.

S.M.A.R.T Plan Of Action:

The primary reason for a social media plan not working is that it lacks a strategy specific to the problem, and that is why we tailor a plan of action that preludes to social media success by being

S.M.A.R.T - Specific, Measurable, Attainable, Relevant, Time-bound.
Heartfelt Content:

The secret to gaining virality on social media is by creating content that sparks strong emotional reactions among users. Hence we embed brand love along with relatability in every piece of content that goes out on social platforms.

Publishing & promotion:

Attention crises have become a real thing with Netizens consuming a plethora of content every day. To make the business stay ahead of the race we tactfully use a combination of tools to publish and promote the social content.

LAR: To establish credibility, and strengthen a brand's reputation, we LAR i.e Listen, Analyze, and Respond

to everything around a brand's social media page. Timing is everything on social media, so our emergency response team ensures quick TAT along with the use of intelligent listening and analyzing tools such as Hootsuite, Unmetric, Brandwatch, Vidooly, Buzzsumo, Meltwater and more.

Evaluation & Optimization:

Data matters most to us and when it comes to social media evaluation we use tools such as Brandwatch, Meltwater, Reputology, TapInfluence, Hootsuite and more to analyze followers, identify influencers, compare platforms and improve ROI to optimize social media growth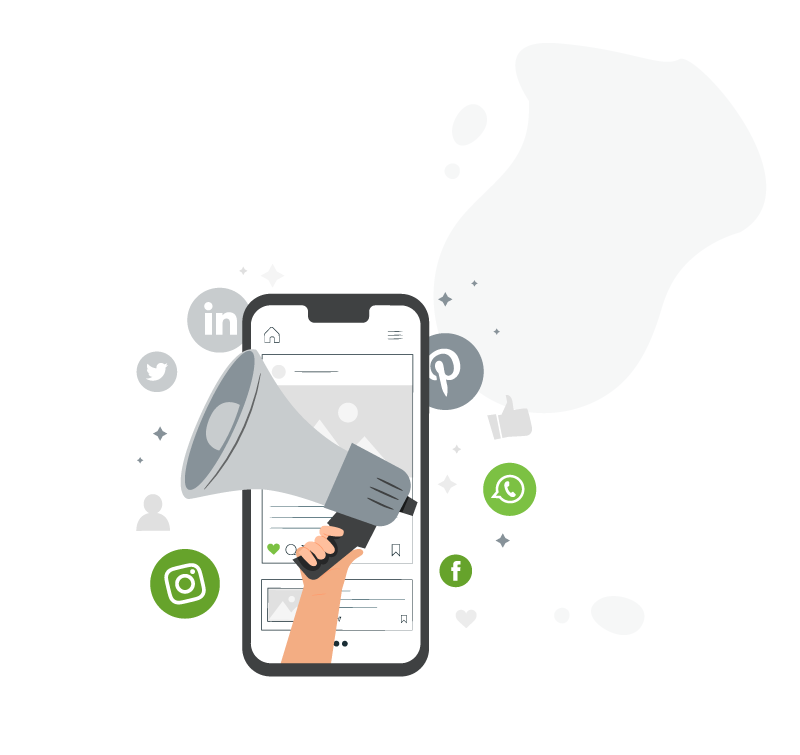 Why this is Important
With over 3.484 billion people active on social media, 90% of brands build brand awareness through popular social media channels.

Social media advertising is key to drive traffic onto any website. This is why 61% of businesses use social media to increase conversions.

Social media marketing is an essential part of any company's marketing strategy. 50% of them use it to gain customer or market insight
What is Social Media Management?

1

min read
Social Media Management is a process of engaging the audience about the products and services of a brand through social media channels such as Facebook, Instagram, LinkedIn and Twitter. It helps in creating an interaction with the audience and also helps in converting leads through aggressive social media marketing.
How do I create content for Social Media?

1

min read
Before creating content for social media, you first need to have a social media strategy in place. Identifying and setting the goals, planning and setting the tonality of social content, building a content calendar, and drafting content strategies are some of the key points before beginning to create social media content.
What are the benefits of Social Media Marketing?

1

min read
Social Media opens a strong possibility of acquiring customers throughout the internet, and social networking is the most significant advantage of Social Media Marketing. It is a cost-effective practice of reaching out to in numerous users. It improves brand loyalty and customer satisfaction. It also helps in creating brand awareness and improved search engine rankings for the brand.
When can I expect the results for Social Media?

1

min read
Social Media is a platform which uplifts the customer experience, hence, to develop an effective social media strategy across platforms can take more than 3 months to start getting organic attention.
Together we can build and grow above our challenges
Feel free to drop us a line at any time