Content Management
Content has been around since the time cavemen gathered around the fire to tell stories. In the present time, we heard marketers say 'Content is King'. What does this mean exactly? 'Content is King' means that content rules all. It is the driving force behind a website's success. With ever-changing online platforms creating compelling content has become vitally important for brands with the objective to drive profitable consumer action.
Introduction
Every brand has a story to tell and certain content narratives like blog posts, videos, audio can attract a niche set of audiences that add value to a brand. Our content services include a tailor-made strategy apart from content creation, marketing, planning, and execution. This customization ensures flexibility and makes a brand look more authentic, with the advantage of gaining better returns.
PROCESS
Setting Objectives:

For any given business, we start with a detailed analysis supported by data to define a fresh set of goals.

Content Strategy:

With the insights gained while defining the objectives, we craft a strategy that converges data, creative, media, and technology.

Content Creation:

This is where the magic happens, our wordsmiths and design experts work together in creating strong yet compatible content that is capable of driving the desired engagement.

Distribution:

With the power of our advanced tools, we distribute and promote your content across owned, earned, and paid platforms.

Review & Repeat:

Every published piece of content that goes through a detailed analysis at this stage. We dig deep and extract insights that will help in optimizing the content and strategy.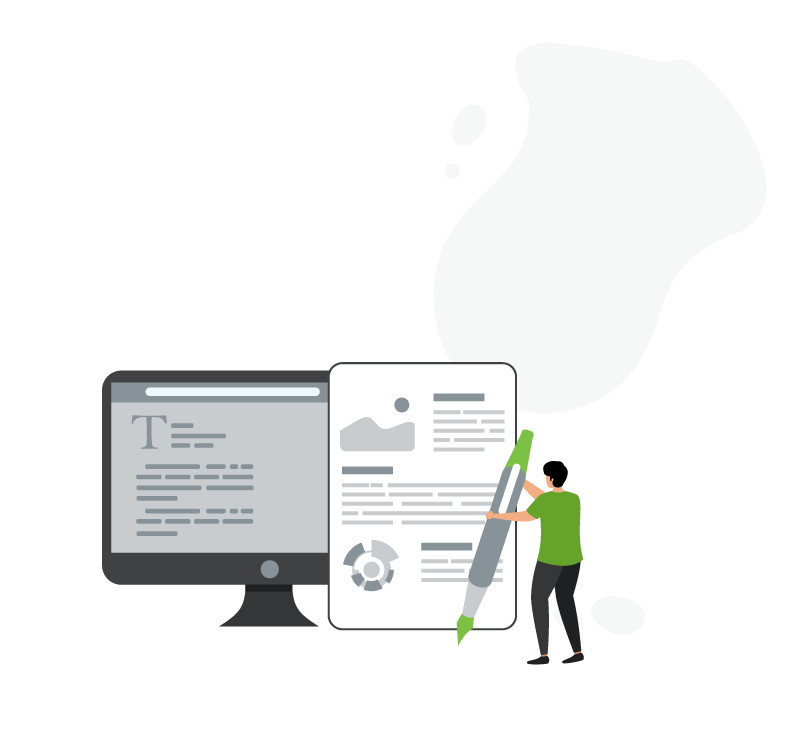 Why this is Important
More than 53 percent of businesses have their content marketing established, and with search engine algorithms changing, a well-planned content strategy is essential for a business to rank higher and for longer in the search engines.

Over ¾ of internet users read blogs that relate to them regularly, giving businesses a great opportunity to drive inbound leads.

Engaging content helps build credibility and in this day and age, it is one of the best ways to build awareness of your business.
How do I write an effective blog?

1

min read
An eye-catching blog should have a compelling headline followed by including what, where, when, why, who, and how, in the entire blog content. Try to segregate the blog into three pieces: Introduction, Transition, and Conclusion. Always try to write jargon-free words that convey the message to the desired audience efficiently. A blog should have characteristics of calling the reader to action. A blog should be written SEO-friendly and in the trending topics.
What is a blog?

1

min read
Blog is an informal style of text which can be a journal or a weblog updated daily to create more conversations between the reader and the blogger. The opinions written in a blog are solely from the author. A blog can be written about anything from personal interests to commercial purposes. Freelance bloggers are on the rise as blogging has become a famous subscription-based model and a vital digital marketing strategy for companies across the globe.
What are the benefits of copy writing?

1

min read
Copywriting is a crucial component of branding. It can drive profitability and help in achieving business goals by convincing the target customer about the value of the product. Copies catch the attention of the user at once and can encourage the user towards Call-to-Action. Copies connect with the emotions of the audience.
What are the benefits of creating video content?

1

min read
Video content is the most circulated medium of impacting users and the audience about the brand. It maintains customer loyalty and reveals the personality of the brand. Videos help in conveying the information efficiently and also impact in boosting the conversion rates. Video content builds trust and credibility among the target audience.
What are the benefits of Content Marketing?

1

min read
If you have an effective content marketing strategy in place, it will help in increasing website traffic, building brand identity, driving more sales, acquiring more customers, and creates a sense of trust among the existing customers. Content Marketing positions a brand as an expert in the industry. A brand is molded through Content Marketing as users can share their opinions and feedback about the business.
Together we can build and grow above our challenges
Feel free to drop us a line at any time