Author: Noboru Team
The user is now a big cheese and retaining users on the website can be a daunting task for brands the UI/UX design tools fit the bill perfectly for UI/UX designers.
Because user experience is ineffable for brands to thrive today, these tools play a vital role in helping UI/UX designers to demonstrate multiple forms of their concept mockups to the clients.
It enables the designers to create precise hi-fi wireframes, mockups, and prototypes that could be a crucial component in their business relationships.
If you are designing a wireframe or a prototype, the tools that we discuss here can help you do it more quickly by mitigating all the hassles you may face.
UI/UX tools also enable developers, designers, and customers to cooperate actively together with standpoints in the designing process. Thereby, clients get a snapshot of what will probably be implemented.
This enables developers to understand the different opinions that are only apparent when creating and testing the designs thereby take appropriate action accordingly.
Moreover, these tools have now become a winning platform for the product development team to be completely creative and experimental.
Best Tools for UI/UX Designers
Selecting the correct tool is essential in order to describe your ideas and work with your customers effectively. Picking the appropriate tool isn't a simple process with several digital prototyping tools presently being used widely by mainstream designers.
Every tool has its own unique functionality and perks to distinguish between each other. So, let's have a look at some of the top UI/UX tools that ease your creative development process.
1. Sketch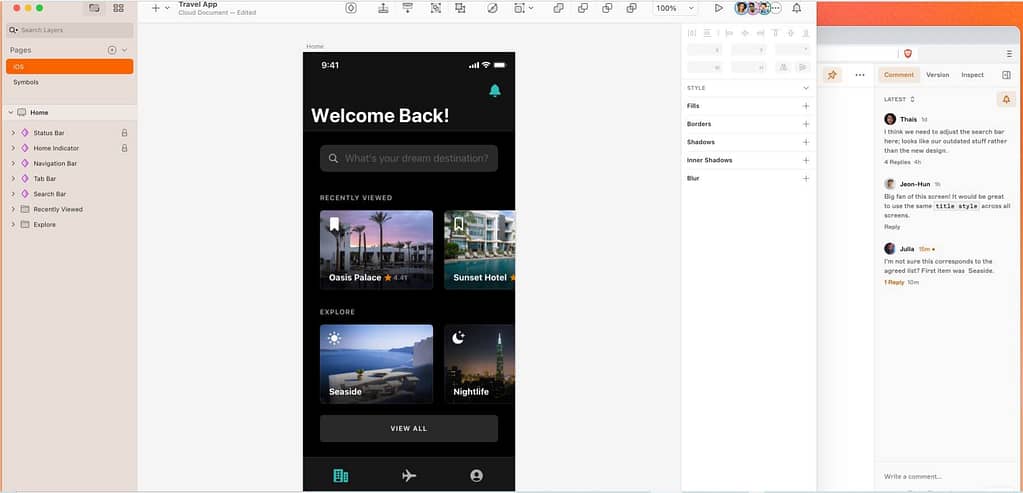 Sketch is a popular player in the industry. It offers a convenient and simple design that makes creating great mockups effortless for any designer. However, collaboration is a problem— particularly since Sketch only works on macOS.
If you are an experienced UI designer, this tool might be definitely a #1 choice. So there are a plethora of factors why it's such a beloved software application.
The main factors such as the symbol library set up, layer styles, text styles, and the redesign and alignment features in Sketch allows developers to generate identical prototypes. There is no lack of enough tools and sketch can employ many third-party plug-ins that connect problem-free.
2. InVision
InVision is a multi-faceted software application that focuses on providing a great UX development experience. Using Invision, a UX/UI developer can describe the customer engagement via early design, wireframes, and prototypes, and eventually, his creative elements.
It is really useful to have a unified platform that enables designers to ideate and develop through early creative ideations. The prototyping tool of Invision paves the way for all of these functionalities.
Designers and their collaborators can easily develop interactive prototypes Invision – the new-age independent UI/UX designing tool. InVision Studio provides a wide range of functionalities, including a vector sketching tool, dynamic designs, and integrated animations.
3. Adobe XD
Adobe XD is one of the most chosen and efficient platforms for UI/UX designers thanks to a wide range of design tools available in the creative cloud.
Its basically provides vector-based prototype interfaces for UI/UX designers who have used previous Adobe products with the knowledge of the interface. In order to create meaningful interaction within the team and with the client, Adobe tools are a beneficial move for several designers.
It contains various advanced designing tools, but there's also plenty to stir up collaborations and other interactive aspects that may be built within prototypes. And Adobe is one of the unique platforms for design which combines several professions, Industries, and disciplines.
4. Axure
Axure works in prototyping and monitoring workflows. With its seamless designing interface, the Axure program enables high resolution, culminating in full-fledged designs.
Many other prominent functionalities in prototyping and UI design are available from Axure. It permits testing activities and puts it all together to facilitate the design and development process.
This guarantees everybody is kept up to date with developments and modifications simultaneously occur .
5. Webflow
Webflow provides solid functionalities without writing a single line of code. Motion graphics, interactions, and responsive graphic designs are a major focus of attention.
Simply, the graphical UI allows you to construct, create and publish the full site. You may turn it into a manufacturing-ready site with simply one click after you tweak your UI mockup.
These characteristics appeal to developers who are now able to export the prototype without the necessity of programmers.
6. Proto.io
Proto.io is yet another state-of-the-art tool that allows UI/UX developers to generate prototypes that are amazingly useful while being pretty welcoming for novices.
It is not simple to bring out this mix, although Proto.io is a smart way to create actual products that look like a final piece.
Due to its simple learning curve, it is popular with young designers and provides a wide range of facilities to start creating prototype experiences.
Commonly, developers use Proto.io to build and evaluate hi-fi mockups and it enables team cooperation during the entire designing procedure.
7. Marvel
Marvel can be your coolest and easy designing tool even if you are a beginner or an experienced UI/UX designer for years.
It helps UI/UX designers with the process of constructing collaborative prototypes, low complexity, hi-fi wireframes, and Mockups that can be experienced and are packed in a highly attractive and interactive interface.
Handoff, a cutting-edge tool from marvelapp, helps designers with all the HTML code and CSS styles in the designing process.
8. Figma
Figma is a prominent tool in the priority list of UI/UX designers today. It helps designers to create prototypes with magnificent design aspects using a cloud-based software system.
This tool can also be used for the creation of wireframes and other components, such as mood boards. The interface is broad, allowing several revisions to be arranged on the same project.
The collaboration functions of Figma are a major bonus. This enables many people to concurrently edit a project, without having to download data into your computer.
Figma also has a browsing feature in it. This feature allows designers to operate it with better and faster design works.
9. Framer
Framer is not only a prototype tool but also a platform that provides an array of UI/UX tools for the creation and testing of Mockups and prototypes.
It has the capability to work with React and this makes it a more viable application for UI/UX designers who love to be updated with the latest technological advancements.
Framer also has an array of extensions in their program with features including UI designer kits for social network integration (Snapchat, Twitter, and etc.), grids, and more.
Some basic tools have even been designed to evaluate users, making FramerX a valuable, all-in-one solution at a medium cost.
10. FlowMapp
FlowMapp provides a group of UX/UI design tools with interaction, brainstorming, and content preparation solutions.
By emphasizing UX designing tools, FlowMapp allows developers to design and even offers user-search functions for the user interfaces of apps, digital services, and websites. The sitemap tool is incredibly simple and the designers work in a collaborative environment.
UI/UX designers have to focus on the framework, flow, and appropriate maps that form the basis of UX when establishing a UI/UX design plan.
While many other tools strive to integrate UI/UX solely on a single application, FlowMapp is specifically made for UX design development. UX is important to create user journeys and sitemaps, and this is a cornerstone of the FlowMapp.
Bottom Line
These new tools and techniques must be adapted to UI and UX in addition to developments and trends in web design. And, they are a must-have today as clients require uniqueness, creativity, and inspirational user journey in their websites.
The selection of tools is crucial now while we have a wide range of distinct featured applications, and with all these alternatives, you improve in every aspect of your website designing process.
Make sure your choice is based on three things including simplicity, integration, and interaction in order to pick the right one for you.